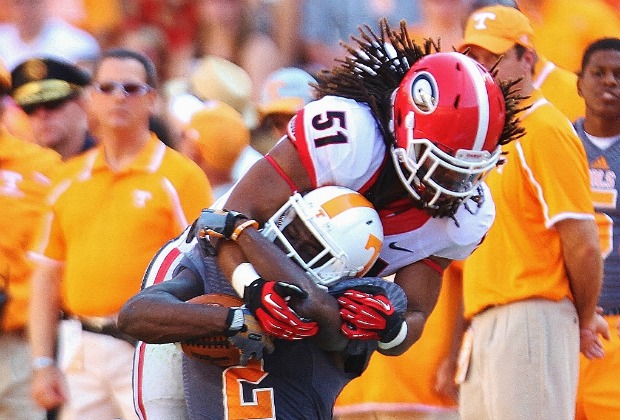 Photo by Rob Saye
Monday we took a look at the offense and if you missed those grades you can find them on the main page. Now, it is time to take a look at the defense and special teams.
I think we can all agree these two phases of the game for the Bulldogs have drastically improved from 2013. This defense is fifth in the SEC for total defense, giving up 320.6 yards per game. Georgia also ranks 16th nationally in that same category and now leads the nation in turnover margin with 17 gained fumbles and interceptions combined. They have only turned the ball over four times this season.
Special teams is another facet of the game that Georgia has improved in 2014. Teams are averaging about 19.5 yards on kick returns and 1,9 on punt returns. Plus, this special teams unit has also forced teams to miss three out of six field goal attempts this season.
Last season it seemed like a muffed punt, mishandled snap, or even worse seemed to plague the Bulldogs in their 8-5 2013 season. This year place kicker Marshall Morgan hasn't had any of his field goal attempts blocked. Same can be said for punter's Collin Barber and Adam Erickson.
So let's not waste any more time and hand out some grades. We start first with the large fellas (not as large this season). That would be the defensive linemen.
Defensive Line: C
This position group has seen a lot of turnover from the three previous seasons on the coaching front. After the 2012 season, Georgia said goodbye to defensive line coach Rodney Garner. He's since returned to his alma mater Auburn to coach the same position. Same could be said for last season's defensive line coach Chris Wilson. He is now out west coaching the USC Trojans defensive line. This group has been consistent and yet not great. They really haven't been asked to do that. There's no doubt the strength of this defense is the group right behind them, the linebackers. The most consistent performer on the line this season has been Toby Johnson. So far this season, he's picked up 12 total tackles (nine solo tackles) and four and a half tackles for a loss. Plus, he's picked up a sack and a half this season. Others who have made good contributions for this defensive line are senior Ray Drew, junior Sterling Bailey, and senior Mike Thornton. They've done their jobs, just not done anything really too extraordinary this season. That's not a bad thing. This defense doesn't need them to be that way. They just need the linemen to be good at their jobs. They have been.
Linebackers: B+
Many I'm sure think this group deserves an "A" for the way they've played through seven games. I just feel like they could do a little more to help in say the pass rush or getting other types of pressure in the backfield. This is not a knock against this group. When you have high expections, then much is to be expected of you. If you were to ask any of these players in the position group, they'd probably tell you there's plenty of room to improve this season. Seven out of the top 12 tacklers on this defense are in the linebacker group. In fact, The top players in terms of total tackles and tackles for a loss are linebackers. Inside linebackers Amarlo Herrera and Ramik Wilson are in that trio. Same goes for outside linebacker Jordan Jenkins. Sophomore outside linebacker Leonard Floyd has continued to impress with his six tackles for a loss and five sacks have been huge for this defense. Not to be forgotten this season are the contributions from sophomore inside linebackers Tim Kimbrough and Reggie Carter. How about the freshman campaign that Norcross-product Lorenzo Carter is putting together? So far, he's got seven total tackles, one and a half tackles for a loss, and a sack. This group no doubt has the talent to be an "A+" unit as the season rolls on. If they can, wow this defense could get even better!
Secondary: A
This group is by far the most improved in the entire defense. Sure, they had their rocky times at the beginning of the season. However, defensive coordinator Jeremy Pruitt is also their position coach. His track record at Alabama and Florida State speaks for itself and this group is playing with some confidence. In the most recent wins over Missouri and Arkansas, the defensive backs accounted for seven turnovers. The players responsible for most of that damage are senior cornerback Damian Swann, sophomore safety Quincy Mauger, and freshman defensive back Dominick Sanders. The group has also gotten meaningful contributions from redshirt freshman cornerback Aaron Davis, senior safety Corey Moore, junior cornerback Devin Bowman, and sophomore JJ Green (if he's not needed at running back). This group's progress has been nothing short of outstanding and they're gained confidence comes during a very crucial time of this season. If this group continues to cause turnovers, then the skies could be the limit for UGA come December and January.
Kicking/Punting Game: B
This part of the Georgia special teams unit has been very consistent so far this season. Yes, I know that Marshall Morgan had two very costly missed field goals earlier in the season against South Carolina. That said, he's made 80 percent of his field goals this season and is 38-39 on his PAT chances. He has also been strong in the kickoff game, with 20 touchbacks this season. In the punting game, the Bulldogs have immensely improved in this area. As I mentioned earlier, they haven't had a punt blocked. Junior punter Collin Barber has averaged almost 40 yards a punt this season.
Punt/Kick Return Game: B
Like the punt/kicking game for Georgia this season, the return game has been improved. How many times last season did we see this portion of the team prove to be a huge weakness for them? This season, Georgia had found success early in the year with Todd Gurley returning kickoffs, including the 100 yarder for a touchdown against Clemson in the season opener. The Bulldogs have been able to get good results out of the kick return game out of freshman Isaiah McKenzie. The Miami, Florida product has five returns this season for 130 yards. Let us also not forget that he did return a punt to the house against Troy. He has also gotten the majority of the punt returns this season, with 12 to wide receiver Reggie Davis's 10.
Special Teams Coverage Units: A
Again another part of the team that needed to improve after last season… Teams averaged almost 22 yards a kick return last season and almost five yards a punt return in 2013. This year, the numbers are less than that. Before his injury, freshman running back Sony Michel proved to be a huge player for the Bulldogs on special teams. Every week since then it has seemingly been a team effort to keep the high production out of the special teams going.
Defensive MVP: OLB Jordan Jenkins- 38 Total Tackles (17 Solo), 6.5 Tackles For a Loss (Most On Team), 3.5 Sacks (2nd behind Floyd), 1 Fumble Recovery, & 1 Forced Fumble.
Top Defensive Newcomer: DB Dominick Sanders- 19 Tackles (13 Solo), 1 Tackle For A Loss, 2 Pass Breakups, 1 Interception, 1 Fumble Return For a Touchdown (54 Yards vs. Arkansas)