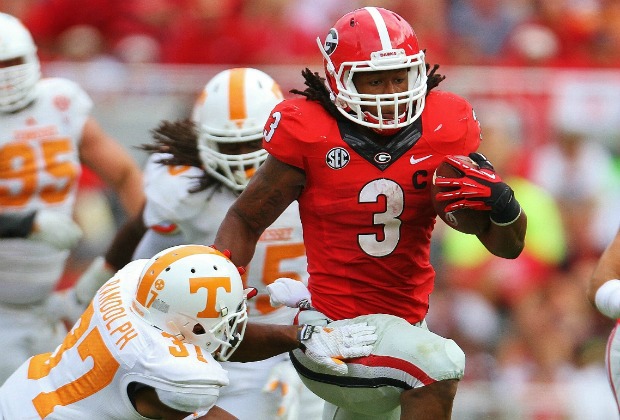 Photo by Rob Saye
Since completing its initial review of the eligibility matter involving UGA student-athlete Todd Gurley on October 9, the University has been supporting Todd and cooperating with his legal counsel as they review the matter.
Todd has confirmed his desire to seek reinstatement, and the University fully supports Todd's request. The University plans to file the necessary paperwork with the NCAA later today.
"I want to thank the University, coaches, teammates, and the Bulldog Nation for their patience and support," Gurley said. "I take full responsibility for the mistakes I made, and I can't thank the University, my coaches, and teammates enough for supporting me throughout this process. I'm looking forward to getting back on the field with my teammates."
Gurley's attorney, William King, said, "Todd has taken responsibility for his actions and is ready to rejoin his teammates. The University has been great throughout the past two weeks and has done everything it can to support Todd. I would especially like to thank President Morehead, Greg McGarity, and Coach Richt for standing by Todd."
The University hopes for and expects a prompt ruling by the NCAA so that Todd, his coaches, and teammates can adequately prepare for our next game.