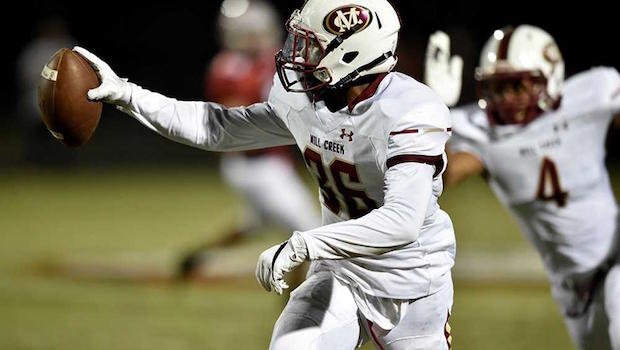 Jonathan Gipson of Mill Creek. Credit: Brant Sanderlin/AJC
It has not been long since Shannon Jarvis' Mill Creek Hawks faced off against Kyle Hockman's McEachern Indians, and McEachern should be looking for redemption on Saturday at 5:45 p.m. After each Class AAAAAAA team won its region in 2016—McEachern winning Region 3 and Mill Creek winning Region 6—the two programs met in the state quarterfinals.
In that game, McEachern held the lead until the Hawks' Cameron Turley found Ace Williams on a 64-yard touchdown pass with 3:09 left in the game, giving Mill Creek a 31-28 win in the final minutes. Regardless of that result, however, both programs are excited and have been focused on the rematch at Georgia State Stadium all summer.
"It is obviously a great honor to play in it," Hockman said. "The kids are excited and I think the 'Turner Field' newness will be a huge part of it. It will be the first games in there, so that will be a really cool thing for our guys."
The sentiment was the same on the other side.
"When I knew we weren't going to be able to play in Mercedes-Benz Stadium, I was hoping we would be able to go play at Turner Field, mainly because of the venue and the experience for the kids and the coaches and the community," Jarvis said. "We get to play in it before even Georgia State, so it really is an honor."
This season, McEachern will be led by senior Malik Evans after Bailey Hockman was lost to graduation and Florida State. Evans has had limited playing time, but he has been the backup quarterback since his sophomore year and has a good understanding of the offense. In 2016, Evans passed for 71 yards on 5-of-9 passing with one touchdown and one interception. If Evans has an off night, sophomore Isaiah Lee could be an option. Last season, Lee, who runs a reported 4.59 40-yard dash, led the freshman squad during the weeks and dressed out on varsity on the weekends.
One bonus for the Indians is depth at the wide receiver position. McEachern graduated three key receivers, but the talent still on the roster is top-notch. Genuine Potts (6-3, 205) is the team's top target. Potts has garnered attention from Wake Forest, West Virginia, Colorado State and Western Michigan, to list a few. Last season, he had 30 receptions for 392 yards and two touchdowns, averaging 15.2 yards per catch. Another playmaker at the receiver position is junior Valerian Agbaw. The 5-foot-10, 176-pound speedster reports a 4.45 40-yard dash and a 40-inch vertical.
On the opposite side, quarterback Brady Longnecker and the Hawks are waiting. Last season, Longnecker had little playing time, passing for just 13 yards on four attempts, but like Evans, he has a deep knowledge of his offense.
"Brady has come up through our system and was Cameron's backup last year," Jarvis said. "He is a little bit more of a dual threat than Cameron, but don't be surprised if you see junior Caden Cullins, he is a very athletic quarterback. Don't be surprised if he plays a little bit. I am not saying we have a rotation—Brady is our starter—but Caden will be in there some too."         
Tight end Adrian Jackson will be back as well. Last season, Jackson had three touchdowns on 11 catches for 172 yards.          
"We have a lot of new faces this season, but it is kids that have been in our program and come up through our system," Jarvis said. "But I think this team will improve as much as any team we have had the last couple of years."
One of the familiar faces anchoring the defense will be cornerback Jonathan Gipson. In 2016, Gipson had 54 tackles, three interceptions and 10 pass deflections as a junior. Gipson has committed to play for Will Muschamp at South Carolina.