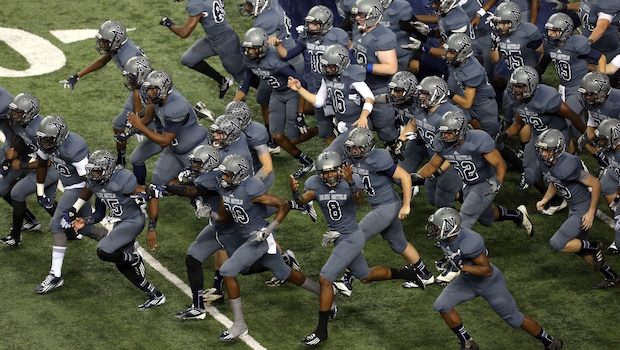 Jason Getz/AJC
When Keith Maloof's Norcross Blue Devils take the field against Rush Propst's Colquitt County Packers at Georgia State Stadium on Saturday at 2:45 p.m., fans can expect a playoff atmosphere. This will mark the third meeting between the two programs, and the Blue Devils hold a 2-0 lead, both December games in 2012 and 2013. This will be the first time the teams play in the mid-August heat, which both coaches agree could be a factor.
"Playing at [the former] Turner Field, it will be unique and we are going to be in the heat of the day and a lot of it will depend on how hot it is," Maloof said. "It is always going to have an effect. It all depends on how the kids take care of themselves between now and then. Also, it matters how we handle them in the heat and how well we get them in shape. X's and O's might not be a big deal; it is going to be about what team is well conditioned."
The last time the programs met, they reigned supreme in the state's highest classification, then Class AAAAAA. Norcross, which won that classification's title in 2012 and 2013, made it to the second round last season. Colquitt, which had back-to-back undefeated seasons in 2014 and 2015, lost to Grayson in the quarterfinals last year. This year, Norcross is bringing a more experienced team to the field, and Colquitt lost key players to graduation.
"We are very young," Propst said. "We only have three seniors on offense. We probably have five on defense, maybe six. So we are really young."
Leading the Packers offense will be Steven Krajewski, a 3-star recruit who had a 71.4 completion percentage as a backup last season.
At the wide receiver position, Cameron Singletary is the only player with real experience, catching 22 passes for five touchdowns as a junior. Propst expects Singletary could catch as many as 70 passes this season. K.T. Wilson and Marvion McDonald, who combined for just six catches last season, will likely be the outside receivers. Ty Shealey and Tyrique Williams will be cutting their teeth at the inside receiver positions. Regardless of experience level, the goal for Colquitt is to stick to the game plan.
"Hopefully, by what we do and how we do things here, that will allow us to stay in the game and be able to compete with them," Propst said. "I do know that, talent-wise, they will be better than us. From what I have seen, I watched them in the Corky Kell 7-on-7 Tournament myself and they definitely have some good-looking players."
For Packers fans, running backs Ty Leggett and Daijun Edwards will be back on display. As a sophomore last season, Leggett rushed for 662 yards and eight touchdowns. Edwards, a freshman last year, rushed for a team-high 887 yards and 14 touchdowns. Junior tight end Josh Hadley has been compared to former Packer Ty Flournoy-Smith.
On the other side, Norcross has talent at quarterback after losing Baron Radcliff to graduation. In 2016, Radcliff led Norcross to an 11-1 record and a region title while throwing for 2,429 yards and 25 touchdowns. Currently, Louis Williams is in the starting spot. However, if needed, Jaquez McWilliams, at 5-foot-10, can also step in. McWilliams is more of a runner than Williams and has more experience, throwing for 74 yards and a touchdown last season. But Williams, at 6-foot-1, has a few inches on his competitor and is more of a pocket passer.
On the defensive side of the ball, Norcross is led by 6-foot-2, 326-pound defensive tackle Nazir Sy, a Western Kentucky commit. Last season, Sy was good for 61 tackles and 6.5 sacks and garnered second-team All-County and first-team All-Region honors.