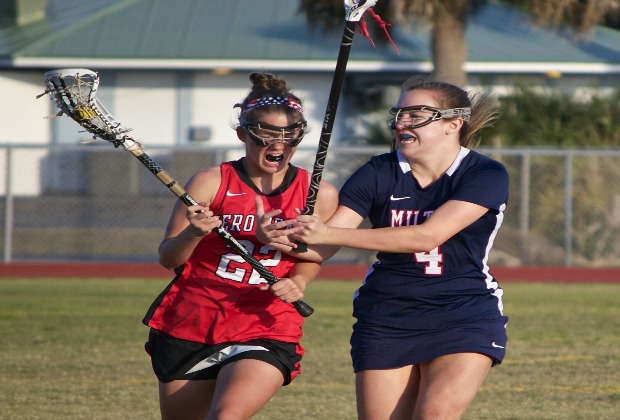 Kevin Laughlin
The Mill Creek Hawks stayed atop the boys Class AAAAAA rankings despite an idle week thanks to spring break. No. 2 Centennial threatened to move past Mill Creek after beating Class A-AAAAA No. 10 Marist last Tuesday, only to fall to Tennessee power McCallie in double overtime. The Knights remain at No. 2 for at least this week. No. 3 Milton went 1-1 against out of state foes, falling to McCallie but beating Lake Norman (N.C.) to hold on at No. 3. No. 4 Lassiter was inactive last week. No. 7 Chattahoochee picked up a nice win over West Forsyth on Saturday.
In the boys Class A-AAAAA poll, Lovett moved up to No. 5 after beating Westminster, which slipped to No. 6. No. 7 Whitefield Academy also jumped No. 8 McIntosh after taking out the Chiefs 14-10.
Girls Class AAAAAA No. 1 Milton was impressive against Winter Springs (Fla.), Kent Denver (Col.) and Good Counsel (D.C.) last week, posting a 2-0-1 record. Milton resumes action against Georgia schools this week with a game against Roswell. No. 5 Chattahoochee and No. 6 West Forsyth also moved up in the AAAAAA poll.
Class A-AAAAA No. 1 Westminster notched a win over Lovett while No. 2 Cambridge scored a pair of wins over Lambert and North Forsyth. No. 3 Kell went 1-1 against teams from North Carolina while Starr's Mill climbed to No. 7 after defeating Marist and Whitewater.
Boys
Class AAAAAA
1. Mill Creek
2. Centennial
3. Milton
4. Lassiter
5. North Gwinnett
6. Etowah
7. Chattahoochee
8. Roswell
9. Johns Creek
10. Lambert
Class A-AAAAA
1. Northview
2. Decatur
3. Allatoona
4. Blessed Trinity
5. Lovett
6. Westminster
7. Whitefield Academy
8. McIntosh
9. Holy Innocents'
10. Marist
Girls
Class AAAAAA
1. Milton
2. Centennial
3. Walton
4. Mill Creek
5. Chattahoochee
6. West Forsyth
7. Lassiter
8. Etowah
9. Kennesaw Mountain
10. Alpharetta
Class A-AAAAA
1. Westminster
2. Cambridge
3. Kell
4. McIntosh
5. Northview
6. Woodward Academy
7. Starr's Mill
8. St. Pius
9. Blessed Trinity
10. Columbus