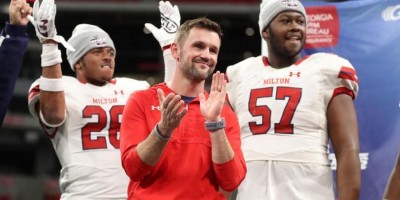 High school football coach Adam Clack, who led Milton High School to their first state football championship two years ago, tested positive last week for COVID-19.
Last Monday during the GHSA's "Dead Week'' where schools are not allowed to hold any workouts or practices, Clack began feeling poorly and by Wednesday was feeling flu-like symptoms and was told by his physician to come in and get tested for the virus.
The test came back positive in 20 minutes.
Clack alerted his staff immediately as well as the school's administration and Fulton County athletics director Steven Craft. The next day Clack spoke with Milton parents and players through a virtual conference.
Clack said his positive results came as a surprise because he didn't know anyone who had the virus and not one of his players and coaches have tested positive for COVID-19. He is unsure where he contracted it.
"(My wife and I) are the only people I know who have COVID," he said Thursday, adding that his wife has also shown symptoms of the virus but has not been tested for it. "I don't know anybody else, no other kids on our team or the coaches. Nobody. I even reached back out to people that I spent some time with over the weekend before and even during the week and … nobody."
Clack says he misses his players and is lucky that his symptoms are only mild. More like a "mild hangover" with a bit of a sluggish fever, he said.
He added, "My symptoms, other than the loss of taste and smell, everything has been pretty mild.''
Clack's team have been spending their summer – since the GHSA eased restrictions — practicing and training with proper precautions which includes face coverings and social distancing in place. Fulton County allowed Milton coaches and players to return to practice on July 6 after no other cases were observed in the program. Also, despite Clack testing positive, the county decided the program did not need to do a full 14-day quarantine of all players and staff.
"I am excited to get back to work," he said. "I would definitely be working right now, I feel fine. That's kind of where we're at. But now I am in the 14-day quarantine from the time you get tested. So, it'll be mid next week (until) I can actually go back."
Clack has been at Milton since 2017 after spending three years as the head coach at West Forsyth. In 2018, the Eagles won the AAAAAAA state championship with a 14-13 victory over Colquitt County. The Eagles finished 13-2 during their championship season and posted an 8-4 record last year, losing in the second round of the playoffs to Marietta who went on to win the state title. Milton is scheduled to begin its upcoming season on the road at Cambridge on August 21.