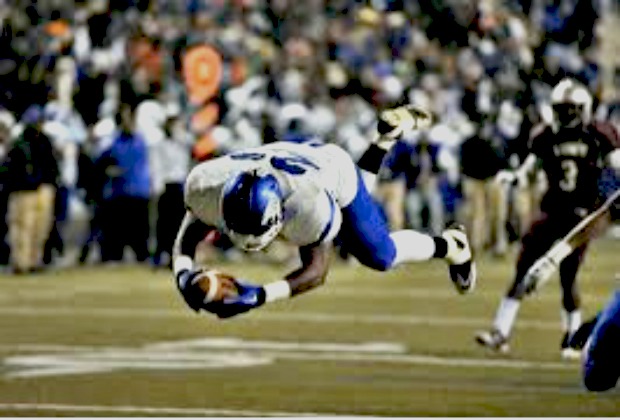 Stephenson Jaguars Football
We took an in-depth look at Georgia's most competitive regions heading into 2013 and ranked a top five. The criteria was based on the amount of playoff contenders in the region, performance outside the region and overall depth. Region 6-AAAAA always delivers and is well-known as the most talent rich region in the state. The top teams are excellent on both sides of the ball and the numbers speak for themselves. ML King, Tucker and Stephenson all had offenses that averaged 30.0 points or higher, and defenses that averaged less than 15.0 points per game. No other region in the entire state of Georgia had three teams with that type of offensive and defensive balance. The race for the region crown is one of the most intense you will see and the only reason this region is not number one is because it appears to be a couple years away from being a top to bottom contest, since this region is continuously building.
Stephenson, ML King, Tucker Miller Grove, Mays and Southwest DeKalb highlighted the region last year. Last season DeKalb County for the third straight year produced over 100 college football signees. ML King led the way with 21 college signees. This region is so difficult that making the playoffs often provides a sigh of relief for these teams that are left standing in November and many would argue it is the toughest in the state. Producing college athletes and some of the most thrilling games of the year is what 6-AAAAA is all about.
Players can make a name for themselves every snap, and even the role players have the talent to become big time players at the next level. This community celebrates its excellence on the gridiron and one of the highlights of the entire athletic year for me was going to Tucker High School on National Signing Day. These teams appreciate good football, and this truly is a unique brand of football in the state.
GEORGIA'S MOST COMPETITIVE
5. 8-AAAAAA (click for story)
4. 7-AAAAAA (click for story)
3. 2-A (click for story)
2. 6-AAAAA
1. 1-AAAAAA (click for story)
2012 Final Standings
11-1 (9-0) ML King
10-3 (7-2) Tucker
9-3 (7-2) Stephenson
6-3 (5-3) Miller Grove
6-4 (5-3) Southwest DeKalb
5-5 (5-4) Mays
4-6 (3-6) Arabia Mountain
1-9 (1-8) North Atlanta
1-9 (1-8) Dunwoody
1-9 (1-8) Lakeside-DeKalb
5-5 (0-0) Clarkston
In Cortez Allen's first season as ML King head coach, he lead them to the prized region crown. Allen was born in DeKalb County and graduated from Southwest DeKalb. The Lions head coach was defensive coordinator during MLK's inaugural years and helped lift the program to a 25-12 start in its first three seasons and establish itself among Georgia's top programs.
This year Allen returns six starters on offense and seven on defense. The Lions allowed a region-best 11 points per game and the return of defensive back Wesley Green will definitely keep the unit strong. Green is a South Carolina commit and part of ESPN's Top 150. Quarterback Roland Rivers is a towering 6-foot-4 and has a chance to lead a balanced Lions offense.
Tucker had a tough 10-3 season in 2012, and lost all three games by one possession, including a 23-20 loss to Northside-WR in the state quarterfinals. The Tigers won the state title in 2011 and 2008 and the offense returns 10 starters this season. The one starter needing to be replaced will be the explosive quarterback Juwaan Williams who is now at Oregon. Defensively Detric Dukes could be the best linebacker in the state when this season is all said and done. Dukes is 6-foot, 220 pounds and is committed to UGA.
"Our entire group of 31 seniors are phenomenal leaders," said head coach Brian Lamar. "All of my seniors are doing a great job,"
Manning the trenches is NT Elisha Shaw who stands 6-foot-5, 295 pounds and is listed as a top 10 recruit in the state. Kirk Tucker and Justin Hughes will play outside linebacker and Dominick Sanders and Devanta Reynolds lead the secondary.
Stephenson is returning six guys on both sides of the ball, but according to head coach Ron Gartrell at least 35-40 guys return that logged playing time last year.
"There is no reason why we shouldn't appear in the state playoffs," said Gartrell. "We feel like we had a good team last year and we feel like our team will be a little better than last year. But we also feel that other teams are better as well. I take it one week at a time and hopefully by the end of the year we will be in the state playoffs. We have done it for the last 15 years."
Gartrell believes the strength of his team is in the secondary and defensive line, but the talent is everywhere.
"The league that we are in is no doubt one of the best in the state of Georgia," said Gartrell. "We had some games we won last year that could have gone either way and some that we lost that could have gone either way. We expect this season to be just as tough this year as it was last year. Its got some great teams with some great athletes."
Junior Javan Barnes helped the Jaguars in the postseason last year as a sophomore and will be a big part this year on the offensive and defensive line. Malik Ricks was hurt last year, but the 6-foot-2, 231-pound linebacker returns this year. Kicker and punter Wisdom Nzidee returns after leading DeKalb County in kicking and scoring the last two years. Safety Jared Tucker is committed to Ketucky and Gartrell believes he is one of the best athletes he has ever had in his program. Montez Sweat is a 6-foot-6, 230-pound tight end. Cameron Glenn is a 6-foot-2 safety committed to Wake Forest. Tyler Games is an offensive guard committed to Mississippi State and Dallas Rivers is an offensive playmaker that is committed to Vanderbilt. The talent on the Jaguars this season may be enough to win Stephenson its first state title.
Arabia Mountain went 3-6 last year in region play, but the Rams and head coach Stanley Pritchett are quickly closing the gap entering just their fifth season of existence. Last year they were within striking distance in nearly every game, and their 39-20 loss to Tucker was the biggest deficit of the season. Leading the Rams this season is defensive tackle Kayton Samuels who has offers from Arkansas State, Louisiana-Lafayette, Ball State, Buffalo and FIU.
Gregory Phillips is a 6-foot-0, 181-pound wideout for the Rams who is committed to Purdue. On defense, Demetro Stephens Jr. has received interest from Florida State, Georgia State, Georgia Tech, Tennessee and Vanderbilt.
Southwest DeKalb posted a 7-4 record last season and lost to Kell 19-14 in the playoffs. They won the Class AAAAA state title in 1995. Dunwoody will still be adjusting to the region this year, but head coach Jim Showfety has the experience to guide them moving forward. Dunwoody moved from Class AAA in 2009 and last won a state title in 1993.
Mays is the team that makes this region so difficult and adds the depth to its possible playoff contenders. Behind the familiar four playoff teams are the Raiders who appear to be ready to move into the top tier any minute. The Raiders finished with a 5-4 record in the region last year and all four losses were one touchdown games and to the four region playoff teams. One more win would have gotten Mays into the postseason.
Miller Grove missed out of the playoffs last season, but Ray Tillman and Quinton Turner are going to return for a solid Wolverine defense. Miller Grove had a signature 32-29 win over Stephenson midway thru the season, but dropped three consecutive games to Tucker, SW DeKalb and ML King.
Lakeside-DeKalb is still in the rebuilding process and will need to continue developing a consistent brand of football. After going 0-10 in 2011, last year's 1-9 is something to build on. The good news is each week Health Hinton and his Vikings will get the opportunity to go against some of the best talent in the state and get an opportunity to make a name for themselves.
If you are a football fan on the high school level or college football, then you are familiar with this region and its abundance of college talent. Every week features match-ups of well balanced teams, as well as individual match-ups of some of the best players in the state squaring off.