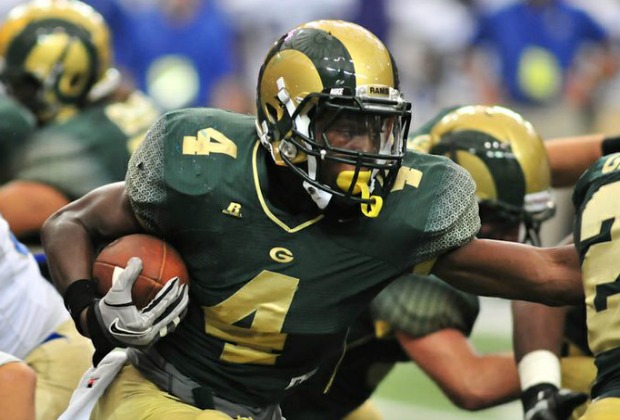 Terrance Johnson
We took an in-depth look at Georgia's most competitive regions heading into 2013 and ranked a top five. The criteria was based on the amount of playoff contenders in the region, performance outside the region and overall depth. Coming in at No. 5 is Region 8-AAAAAA who houses 2011 state champion Grayson, and a pair of teams that took the podium not too long ago in Brookwood and Parkview. Each week this region has upsets, rivals and former state champions under the lights.
Region 8-AAAAAA 2012 Final Standings
10-2 (7-1) Grayson
9-3 (7-1) South Gwinnett
9-4 (6-2) Parkview
7-5 (5-3) Brookwood
6-4 (4-4) Central Gwinnett
6-4 (4-4) Archer
3-7 (1-7) Shiloh
2-8 (1-7) Berkmar
1-9 (1-7) Dacula
GEORGIA'S MOST COMPETITIVE REGIONS
5. 8-AAAAAA
4. 7-AAAAAA (click for story)
3. 2-A (click for story)
2. 6-AAAAA (click for story)
1. 1-AAAAAA (click for story)
 Grayson faces challenging title defense
Heading into 2013, it appears that the race for Region 8-AAAAAA is going to be one of the most competitive in the state. In 2012, the region sent Grayson, South Gwinnett, Parkview and Brookwood into the postseason. All four teams advanced past the first round, sweeping Region 5 (Lassiter, Walton, Milton and Wheeler). From top to bottom every team won at least one region game, and two teams with winning records (Central Gwinnett and Archer) were left outside the playoffs.
Reigning region champion Grayson will enter the post-Robert Nkemdiche era without a senior recruit listed in Georgia's top 150. The Rams are always loaded with talent and we will likely see a new class of stars embrace the competition this season. Grayson's defense managed to allow just 10 points per game last season, and whether or not the unit will remain stout this season will be seen first hand, as a seasoned Colquitt County program and Grayson square off in the Georgia Dome in Week 1.
While Grayson will have to gain experience with its younger team this season, the rest of the region returns a lot of talent. Shiloh has not had a winning season since 2003 when it made the playoffs at 6-5 and in Troy Hobbs first season as head coach, Shiloh fell victim to it, going 1-7 in region play. Hobbs did not have it easy as he stepped in for Brian Montgomery who submitted his resignation after just one season (2011). Hobbs came from North Gwinnett and is more than qualified to bring stability back to Shiloh. Joining the staff is former Berkmar head coach Wendell Early who was St. Pius X's secondary coach last season and will come in as the Generals' new defensive coordinator.
At quarterback for Shiloh is Will Larimore and at running back is region champion track star Grant Swinton. Cam Stewart returns as one of the best wideouts in the state. Defensively Shiloh brings back three of four lineman and has Amari Newsome anchoring the unit at linebacker. The coaching staff and solid senior class will have the capacity of bringing Shiloh back to contention.
Parkview head coach Cecil Flowe helped his Panthers improve from a 4-6 record in 2011 to 9-4 last year. Flowe's program won four state titles between 1991 and 2002, and last year's quarterfinals appearance was the program's first since 2005. The Panthers look to continue their climb back to the top and the two overtime playoff wins last season, gave them invaluable experience heading into the season. The Panthers will rely on big plays from Turshard Kimble-Brinson, who sparked the team offensively as a receiver and in the secondary. Linebacker John Patterson is expected to make a huge impact on Parkview's defense, and will be the unit's leader in his senior season. A defining moment last season, was Parkview's 22-7 win over Grayson to open region play.
Central Gwinnett is coming off its first winning season since 2006 and Coach Todd Wofford believes his team was more energized this offseason because of it. They do not match the size of Grayson, Brookwood or Parkview, but will once again rely on their quickness and athleticism to compete in Region 8. LB Trey Johnson, an Ohio State signee, moves on after accumulating 456 career tackles. Replacing Johnson's production will have to be a collective effort. On offense, junior Eric Forrest transferred in from Union Grove and will get the opportunity for the starting quarterback job. Adonis Thomas stands 6-4, 210 pounds and will play receiver and linebacker this season for the Black Knights.
Brookwood comes off an interesting 2012 season. They started with a 35-24 loss to Walton and witnessed perhaps Tyren Jones' best performace as he gashed the defense for 300 yards on over 40 carries. The following week, they upset Mill Creek 31-21 and then edged Archer 20-19 in week 3. In the opening round of the playoffs, after upsetting No. 1 state-ranked and undefeated Lassiter 24-21 in overtime, they got blown out by Mill Creek in the rematch 56-21. Josh Brown returns in the Broncos backfield and will pace the offense again. Brookwood's defense was inconsistent last season and that is expected to change. Head Coach Mark Crews' team will open against another prolific rushing attack this year, with the Score Atlanta No. 4 preseason ranked McEachern Indians.
Archer's winning record last season provides confidence for 2013, but the main tune of Andy Dyer's Tigers will be finishing close games. Last year Archer opened up region play with two heartbreakers that could have otherwise sent them into the playoffs. A 20-19 loss to Brookwood and a 20-18 loss to Parkview were too much to overcome. After a solid summer in 7-on-7′s it looks like the leadership and focus is there with this team.
Archer has seven starters coming back on offense and appears capable of reaching the playoffs for the second time in program history. Quarterbacks K.J. Parmer and Gabe Tiller return and both bring something different to the offense. Parmer proved to have a knack for making plays by tossing two touchdowns, rushing for one and even catching a touchdown last season. Tiller has the more prolific passing ability, and threw for 1,116 yards and five touchdowns.
Dacula will have some important players to replace, but new head coach Tommy Jones is prepared to begin the rejuvenation process of the Falcons program. TE Josh Lovin, OL Vance Coleman, linebacker Bijan Sirleaf and running and defensive back Jacque Evangelister will be the leaders of this team. Sifleaf posted over 60 tackles last season.
Since Jonathan Sanks took over as the head coach at Berkmar in 2010, the Patriots have won five games the last three years. However, this season's 17 returning starters could be the winning formula. Rashad Hall is an explosive athlete who can step in at quarterback, wide receiver or cornerback. Quarterback Jaquan Morris returns and looks to build on the 2,000 passing yards and 11 touchdowns he threw last season. Linebacker Kaleb Catching is one of nine returning defensive starters and will lead an experienced group.
South Gwinnett has a chance to contend for the region title this season. Head Coach John Small and his team lost 41-0 to Grayson, but finished the year with three big wins and still managed to average 30.0 points per game on the season. Following the blowout they beat Archer 42-14, Brookwood 42-38 and Parkivew 16-14. This year South Gwinnett will open the season against Lincoln, Fla. on ESPN.
In this region we should expect close games on a weekly basis, and playoff runs following the season long battle for region title. While Grayson looks for a new cast of stars to reclaim the title, eight motivated teams will be standing in its path.