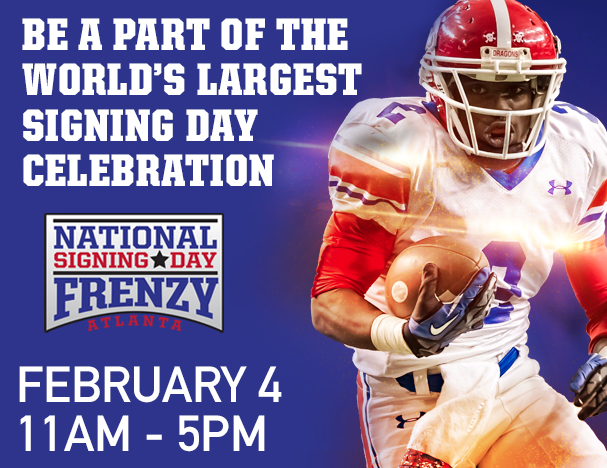 For the second time in Georgia history, the best high school football players in metro Atlanta will come together to celebrate National Signing Day. Scheduled for next Wednesday, Feb. 4, National Signing Day is sure to dominate headlines across the nation. Georgia will undoubtedly make some of the loudest noise and it will resonate from the second annual National Signing Day Frenzy at Stars and Strikes of Sandy Springs
TOP TALENT …
Either from Stars and Strikes or from the friendly confines of their respective schools, some of the best players not only in this state but also in the entire nation will put their highly-anticipated decisions in writing. Mark Richt and the Georgia Bulldogs already know they have one of the top prospects on board in Westover High School's Trenton Thompson. The 6-foot-4, 311-pound defensive tackle verbally committed to the Bulldogs last August. He was honored in early January with theAmerican Family Insurance Defensive Player of the Year Award, given to the top defensive performer in the nation by the U.S. Army All-American Bowl selection committee.
"They were my first offer," Thompson said of the Dawgs after making his soon-to-be-confirmed decision. "They were the first coaches that came down to see me and showed me the most love. Georgia has great coaches and I have good relationships with them. The fan-base has also showed a lot of love and I also think that in the classroom Georgia can help me be the best student I can be."
The fan-base will be even more fired up if Darius Slayton (Greater Atlanta Christian wide receiver) and D'Andre Walker (Langston Hughes defensive end) join a class that has already locked
Photo by Jon Barash
up early enrollees Jonathan Ledbetter (Tucker defensive lineman) and Natrez Patrick (Mays defensive end). Slayton and Walker are committed, although Slayton seems to be at least somewhat of a question mark. As for Georgia Tech, its in-state crop is highlighted by Alexander running back Mikell Lands-Davis and head coach Paul Johnson is making a late play on one of Georgia's most overlooked prospects in Benedictine Military Academy's Brad Stewart.
LINGERING QUESTIONS …
Arguably one of the most fun aspects of National Signing Day is also unquestionably one of the most nerve-wracking: almost nothing is certain. Take, for instance, Callaway High School's Terry Godwin. The all-purpose athlete committed to UGA and just recently maintained that he is "still 100 percent" with the Bulldogs, but uncertainty is hovering in the air like a plume of dark smoke over Athens. Godwin took an official visit to Alabama last weekend, not long after looking at Auburn. Colorado State, where former Georgia offensive coordinator Mike Bobo is now the head coach, also seems to be on Godwin's list along with Texas A&M.
Others are making it no secret that they are proverbial free agents heading into next Wednesday's festivities. Macon County's Roquan Smith is entertaining offers from Georgia, Michigan, Texas A&M and UCLA with no clear leader in the clubhouse. The 6-foot-2, 207-pound speedster of a linebacker was credited with 176 tackles as a senior and he returned both of his interceptions for touchdowns. Hapeville Charter defensive end Arden Key has already committed to and de-committed from South Carolina twice. He is apparently leaving room open for a third waffle, too, because he is expected to make another announcement on Monday-two days before signing day. Having already backed out of a scheduled announcement this week, Chidi Valentine-Okeke is also likely to make his intentions known next Monday. The Faith Baptist Christian Academy offensive tackle is considering SEC powers Alabama, Auburn and LSU.
"This is a period when I have to make a tough decision in my life," Valentine-Okeke told Fox Sports South on Monday. "I feel good, but schools are calling you. It's hard. I wanted to commit today, but I decided to change my mind this afternoon. I just want to feel free this week to make the right decision."
THE FRENZY …
Valentine-Okeke's comments punctuate the importance of the decisions that are soon to be made. National Signing Day is not only about college football teams positioning themselves for success in upcoming years, but also about life-changing moments for student-athletes. Because of those elements, combined with the fact the state of Georgia is a high school football hot-spot, it is only fitting for these players to be widely-recognized and applauded for their hard work and dedication. That is exactly what the National Signing Day Frenzy will hope to accomplish from 11 a.m. until 5:00 p.m. next Wednesday at Stars and Strikes.
The Score Atlanta event is being presented by the National Guard, a strong supporter of high school sports in Georgia. With more than 100 schools and close to 500 players set to attend, the NSDF will be the largest-ever signing-day celebration. It will, of course, showcase Atlanta-based high school football players destined for FCS powerhouses of the ACC and SEC. Just as importantly, though, the event will do the same for those who are taking their talents to smaller levels of the college game.
NSDF will be open to the public, so family, friends and fans are encouraged to make appearances and show their support
for these future stars. Lunch will be provided free to all signees and their head coaches. The radio partner for the event is 92.9 The Game, which will broadcast live from Stars and Strikes between 10 a.m. and 2 p.m. Reporters for 92.9 The Game will provide live call-in updates and player interviews while also serving as emcees.
Each high school team is assigned a time-slot during which its players will be publicly introduced before making their official announcements. Head coaches will personally introduce their respective players and are free to share stories with media and fans. Players are also allowed to address the crowd with a reflection on their high school football days and/or a look ahead to their college football careers. Additionally, various media outlets on site can look forward to the opportunity of conducting one-on-one interviews with both the coaches and the players. All in all, the National Signing Day Frenzy is sure to go down as a memorable event for players, coaches, media, family, friends, and everyone involved.