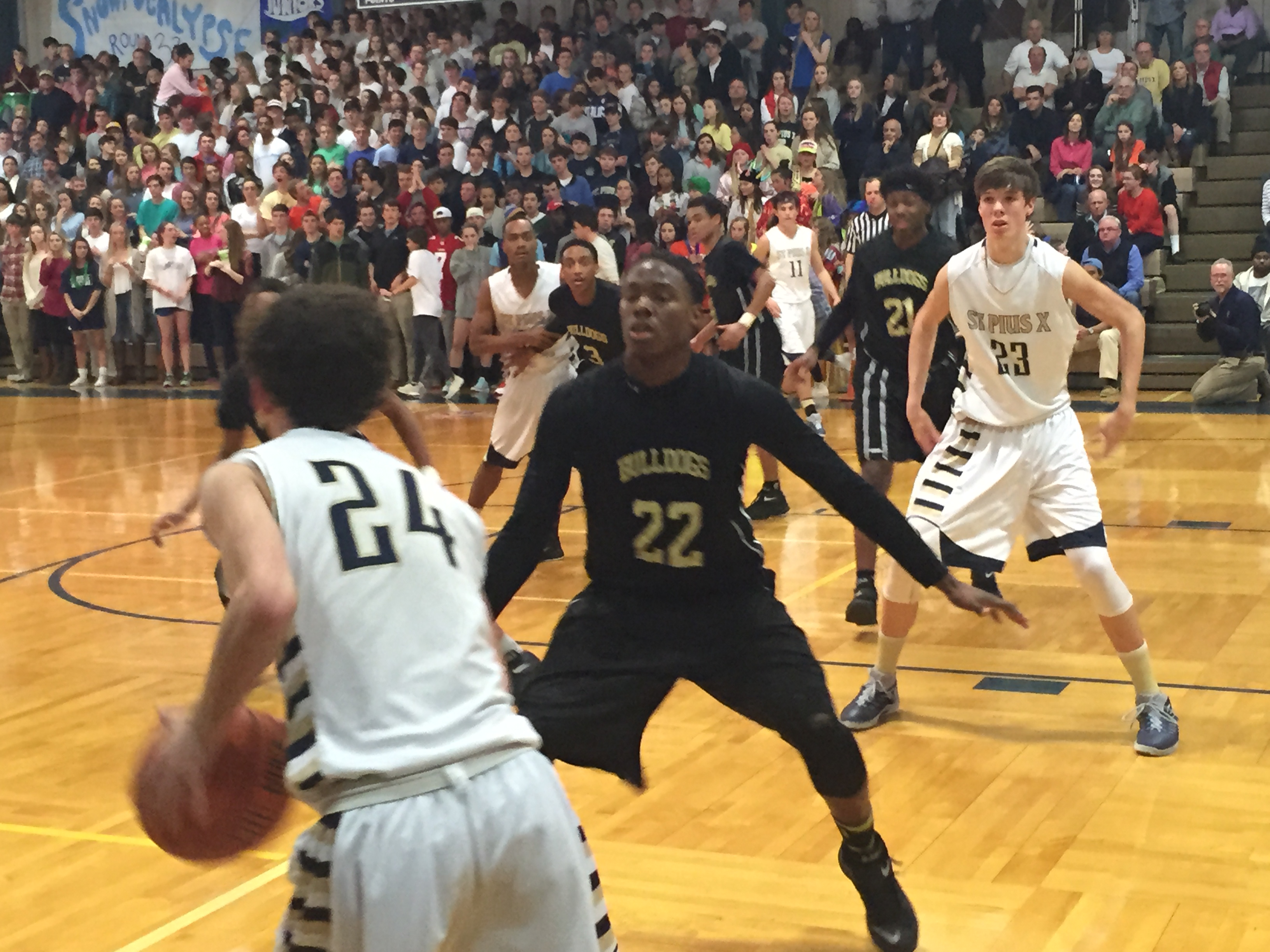 Photo by Craig Sager II
The fourth-ranked St. Pius boys (20-3, 14-2) closed out a 65-58 Region 6-AAAA victory over No. 3 Lithonia, snapping the visiting Bulldogs' 20-game win-streak and handing them their first region loss of the season. Lithonia (20-2, 15-1) got in early foul trouble but had the game tied 28-28 in the closing seconds of the first half before Louie Aponte banked in a three-pointer on the buzzer and put the Golden Lions ahead 31-28. In the third quarter, St. Pius beat the buzzer again with a Christian Merrill tip-in that gave the Golden Lions a 48-41 lead entering the fourth. Merrill was battling the stomach flu and his status was uncertain before the game, but he took over in the final frame, netting eight of his 16 points.
"I didn't even know he [Merrill] was going to play," admitted St. Pius head coach Aaron Parr following the game. "He wanted to and he was unbelievable in the fourth quarter. Back-door cuts. Finishing at the rim. He carried us."
Hamilton Crane led St. Pius with 21 points and hit five of St. Pius' eight three-pointers. Kesean Warren paced Lithonia with 20 points and Rodney Chatman chipped in with 11.
"This is a big win," added Parr. "We came in undefeated at home and we knew they carried 20 straight wins into the matchup. It shows that we can play with anybody and we are ready for tournament time."
Allatoona 67, Chapel Hill 55: No. 6 Allatoona received 18 points and six rebounds from Rodney Brown at home to advance to 21-2 overall and 16-0 in Region 5-AAAAA. Bradley Brevet pitched in nine points while Ephraim Tshimanga finished with 10 points and five steals. Chapel Hill (9-14, 6-10) was led by Efe Balfour who scored 18 points and Jarrett Jenkins who added 10. 
Duluth 57, Collins Hill 49: The Wildcats (17-6, 8-4) managed to knock off the visiting No. 8 Eagles (17-6, 7-5) and in the process gain sole possession of second place in Region 7-AAAAAA. Obinna Ofodile posted a double-double with 15 points and 10 rebounds for Duluth. Anthony Showell and Joseph Gordon both scored 12 apiece for the Wildcats while Kahir Jefferies finished with 10. Collins Hill was paced by Max Clark's 17 and JD Ozoh's 13.
Etowah 51, Woodstock 47: In the Battle of Towne Lake, the Eagles (13-10, 6-9) got the upper hand on the road. Four players scored in double figures led by Ryan Grigsby and Daniel Hogue who each scored 13. Josh Fullenwider added 11 and JT Thompson pitched in 10. Woodstock (4-18) drops to 2-12 in Region 5-AAAAAA. Tyreke Johnson led the Wolverines with 14, while Zack Wallace and Marcus Foo both finished with 11.
Hillgrove 76, North Paulding 36: No.10 Hillgrove shook off a sluggish first quarter to breeze by the Wolfpack (10-13, 0-12). The Hawks led by just one point after the first quarter, but Collin Sexton scored 14 of his game-high 20 in the second to lift Hillgrove. Jourdan Julian chipped in 11 to help the Hawks move to 18-4 overall and 10-2 in Region 4-AAAAAA. Dylan Autenrieth scored 14 and Chad Terrell added 12 to lead North Paulding.
Johnson-Gainesville 76, Chestatee 46: Class AAAA's No. 2 ranked Knights remained undefeated as Ty Cockfield finished with 28 points on Senior Night. Rod English added 16 and Laderius Odem chipped in nine to advance Johnson-Gainesville to 22-0 overall and 6-0 in Region 8. The War Eagles (12-12, 3-4) were led by Hunter Creamer who finished with 20 points. Mikey Petraroi pitched in 12 in the defeat.
Lambert 69, West Forsyth 39: A balanced scoring attack led the Longhorns (18-5, 13-3) to a road win over West Forsyth (10-12, 6-10) in Region 6-AAAAAA action. Andrew Melms scored 12, while Patrick Noble and Ross Morkem both finished with 11. In total, 12 Longhorns scored. The Wolverines were led by Jimmy Staiti and John Peterson who both scored eight points.
Langston Hughes 49, Campbell 47 OT: The Panthers (18-5, 8-4) battled back after trailing by seven points at the half, to pick up another big Region 3-AAAAAA win in overtime. Chuma Okeke had another big night scoring 26 points while running mate Khalil Cuffee finished with 12.  The Spartans fall to 14-9 overall and 5-7 in region with the loss.
Miller Grove 94, Druid Hills 37: No. 1 Miller Grove cruised at home to run their record to 21-3 overall and 13-0 in Region 6-AAAAA. Alterique Gilbert nailed seven 3-pointers on his way to finishing with a game-high 31 points. Lamont West posted a double-double with 11 points and 12 rebounds. Gamaun Boykin and Joshua Jackmon both finished with nine. Druid Hills (10-15, 4-9) was led by Jordan Foote's 16 points.
New Manchester 68, South Paulding 57: Behind 17 Clinton Bentley points, the Jaguars (12-11, 7-9) were able to upend the visiting Spartans (17-6, 11-5) in Region 5-AAAAA play. South Paulding was led in scoring by sophomore Kane Williams who finished with 17 points. Kinsey Burgess pitched in 11 in the defeat.
Pace Academy 91, Hapeville Charter 69: In Region 6-AA, Wendell Carter Jr. and Elijah Holifield helped lift No. 1 Pace Academy (20-2, 12-0) over host Hapeville Charter. Carter Jr. posted a double-double with 22 points and 12 rebounds while Holifield netted 19 points and grabbed six boards. Elijah Sheft also pitched in 14 points and five assists. Hapeville Charter falls to  10-12 overall and 5-7 in region.
Pebblebrook 85, East Coweta 50: The No. 4 ranked Falcons (18-5, 12-0) defeated the visiting Indians (1-22, 0-12) in Region 3-AAAAAA play. Jared Harper finished with 14 points and seven assists while Derek Ogbeide added 17 points and 12 rebounds. Ty Hudson also scored 14 on the night. The Indians were led by Sterling Tyson who scored a game-high 27 points.
Pope 49, Cherokee 40: No. 9 Pope (19-3, 12-2) won a low scoring Region 5-AAAAAA game after receiving 15 points from Chase Hutchins and 14 from Garrick DeBowles. Tyler Borko chipped in 11 to help the Greyhounds over the Warriors (14-9, 8-6). Jack Carroll led Cherokee with 11 points.
St. Francis 84, King's Ridge 45: In Region 6-A, No. 1 St. Francis (19-3, 9-0) received 23 points and seven rebounds from Malik Beasley to stay unblemished in region play. Kobi Simmons pitched in 20 and Kaiser Gates scored 16 to lead the Knights. King's Ridge (9-15, 4-7) was led by senior Jack Armstrong who scored 23.
Tucker 65, Lovejoy 51: No. 6 Tucker (23-2, 9-0) rolled on the road past Lovejoy in Region 2-AAAAAA action behind Avinde Russell's 26 points. Bryce Brown also poured in 17 points to help the Tigers stay perfect in region play. The Wildcats now drop to 5-13 overall and 4-5 in region.
Wheeler 76, Walton 61: Jaylen Brown scored 26 points as visiting No. 1 Wheeler (21-2, 14-0) defeated rival Walton (10-13, 6-9) in a Region 5-AAAAAA meeting. Walton was led by Junaye Colon's 18 points off five 3-pointers. Nick Wells scored 16 and Josh McGrath netted 15 in the loss.
GIRLS
Harrison 52, North Cobb 50: Harrison had three player in double figures in down-to-the-wire matchup at home against North Cobb (16-7, 6-6). Harrison (17-5, 9-3 in Region 4-AAAAAA) was led by Audrey Jordan who scored 15 points and had 10 rebounds. She was helped by Harper Vick with 13 points, seven rebounds and five steals, Sydne Wiggins added 12 points, six rebounds, six steals and 5 assists. The score at half was 25-23 in favor of Harrison and a solid defense late in the game put it away. North Cobb got scores from Chantel Strahorn with 17 points and Ty Broadwater with 11.
Mountain View 50, Peachtree Ridge 28:  Sixth-ranked Mountain View (19-3, 12-0 in Region 7-AAAAAA) put together a 22-2 run in the first quarter run past Peachtree Ridge (4-18, 3-9). Iceis Walker and Jordan Stallworth led the way with 13 points, Aneysa Williams added eight. The score at half was 35-13, allowing Mountain View to play the bench. Jazmin Smith and Sydney Brown paced Peachtree Ridge, both with eight.
Norcross 53, Mill Creek 43 : Eighth-ranked Norcross dodged an upset at home against Mill Creek (16-6, 9-2). The score at half was 28-24 in favor of Norcross (20-3, 11-1 in Region 7-AAAAAA) and a 12-6 run in the final quarter put the game away. Norcross was led by Allison Johnson with 19 points and 12 rebounds. She was helped by Bash Perry with 16 points and Ty Gillespie with seven. Mill Creek found scoring from Madison Phillips with 11 points and Morgan Simmons with eight.
Parkview 49, Archer 46: Third-ranked Parkview closed the game with a 27-13 run from the four minute mark in the third quarter to beat fifth-ranked Archer (19-4, 12-2). Raven Johnson led the way for Parkview (17-3, 13-0 in Region 8-AAAAAA) scoring 11 points with five steals. Vickie Harris added nine points and 12 rebounds, Bernice McGriff also had nine. Archer found scoring from Amber Skidgel and Autumn Newby with 13 points and Madison Newby with 12.
South Forsyth 75, Chattahoochee 47 : Class AAAAAA No. 1 South Forsyth (21-2, 16-0 in Region 6-AAAAAA) opened the game with a 27-9 run in the first quarter against visiting Chattahoochee. Sarah Myers led the way with 22 points and nine rebounds. She was aided by K.K. Storm with 12 points and Emily Dreslinski with 11 points. The halftime score was 46-19 and allowed South Forsyth breathing-room. Charity Starkes paced Chattahoochee (13-9, 7-9), scoring 12 points, Narissa Gore added 11 points and Aysia Key had 10.
St. Pius 41, Lithonia 18: St. Pius rested Louisville-commit and McDonalds All-American Asia Durr but took a 20-7 halftime lead after outscoring visiting Lithonia 10-0 in the second quarter and improved to 22-2 and a perfect 16-0 in Region 6-AAAA with the victory. Lithonia dropped to 0-16 in region play. Macey Carson led St. Pius with a game-high 12 points.
Westlake 75, Douglas County 62: Douglas County hosted fourth-ranked Westlake in a key Region 3-AAAAAA battle. Westlake (21-1,11-1) opened the game with a 22-14 run to apply pressure. Ariel Howard, a Texas A&M commit, led the way with 33 points. Lia Thomas and Marissa Cantrell both added 12 points. The score at half was 43-26 in favor of Westlake. Ashanti Brown paced Douglas County (16-7,10-2) with 13 points, Arsula Clarke added 12, and Tay Faust scored 11.
Woodstock 72, Etowah 51: Ninth-ranked Woodstock had three players in double-figures in the win against visiting Etowah (13-10, 10-5). Woodstock (22-0, 14-0 in Region 5-AAAAAA) put together a first half run of 33-17 put away the game. Ashton Sutton led the way with 20 points and three steals. Taylor Reed added 12 points, Kennedy Montgomery scored 12 points had eight rebounds and stole the ball three times. Etowah was paced by Tori Janos with 27 points and Mikayla Miles with three.