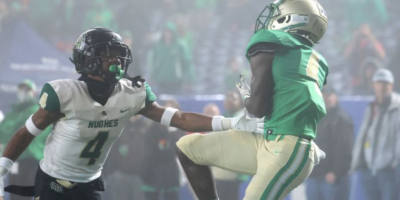 Georgia's signing day classes have been tracked in the Signing Day Frenzy database annually since 2013 and this year's results show another phenomenal year for the Peach State as the numbers continue to come in. Past years have seen more than 1,000 Georgia High School football players sign football scholarships in the same signing day and this year's list has already eclipsed 400 entries with many more still to come. The amount of college signees coming out of the state of Georgia is ultimately the most impressive statement about the quality of high school football in the state, but then the database allows a closer examination into what counties, schools and conferences are performing the best.
There were 58 players signed to play for SEC schools out of the first 408 entries—marking the most out of any conference and representing 14.22 percent of the entries. It's also no surprise that Gwinnett has the most signees and is leading the way with 62 entries, which is roughly 15 percent of the first half. For perspective, even if there were 400 more entries from outside of Gwinnett County, that would still mean that 1 out of 13 signees in the state is coming from Gwinnett County. Fulton is also well-represented with 42 entries and Cobb is still filling in with 37 entries.
The all-time record for most signees by a school in a single season came with Norcross' Class of 2013. The Blue Devils had 21 total signees that year and it was a team that had won back-to-back state titles and also had 62 seniors on that team. This year, Buford (14), Lee County (13) and Walton (10) are among the programs with double-digit signees. In the football world, having double-digit signees in one year is a major statement and a badge of honor for any program.
Now that the Class of 2022 signees have reached the final checkpoint on their recruiting journeys, it will be interesting to see the impact they have on the college landscape. When it comes to measuring Georgia's presence in college football, no other statistical breakdown showcases it more clearly than Steve Slay's annual report. After the conclusion of the 2021 college football season, Slay of the Georgia High School Football Historians Associations released a report that found 4,631 former Georgia High School football players were on college rosters during the 2021 season. Slay has documented this trend for the last 15 years and reports a 44 percent increase over the last decade. Additionally, there were 130 former Georgia High School Football players represented on NFL rosters during the 2021 season. The hub of Georgia High School Football is Gwinnett County, where eight of this year's Corky teams call home—including Grayson (70) and Norcross (53)—that had the most former players on college rosters last season.
To access the 2022 Georgia High School Signee Data CLICK HERE
Also, to submit any players that are not yet on the list, please forward that information to info@scoreatl.com