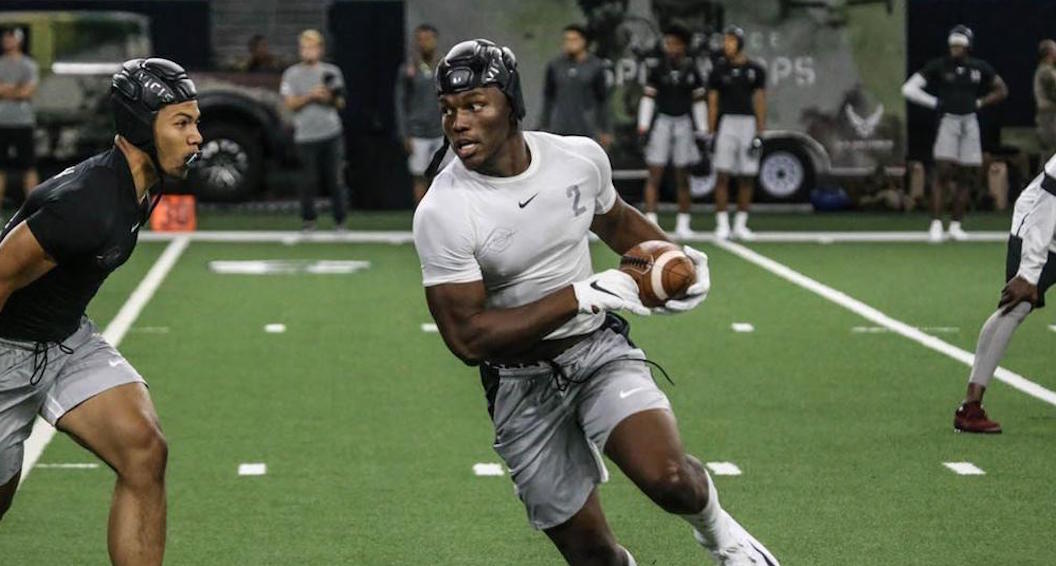 Photo by Andrew Ivins/247Sports
The 28th annual Metro by T-Mobile Corky Kell Classic is kicking off the 2019 GHSA football season in Rome on Thursday, Aug. 22 with a double-header. While there is an abundance of storylines leading up to the action, the massive interest and spotlight that will be surrounding Marietta's talent filled roster, especially when it comes to the Blue Devils' All-American senior Arik Gilbert is impossible to ignore.
Gilbert will be playing wide receiver and H-Back in the US Army All-American Game after his 2019 high school season, but the Blue Devils will be able feature him much more—using his 6-foot-5, 253-pound frame, and gifted athleticism, on the defensive line when he is not starring in Marietta's potent passing game as a versatile tight end. Gilbert currently has 43 more pounds on his frame than Calvin Johnson did when he was a five-star senior at Sandy Creek and is 15 pounds bigger than Johnson when Megatron was in the NFL.
Recruiting expert Rusty Mansell offered his description of Gilbert's skill set.
"He is unique, the biggest jumbo athlete I've ever covered," said Mansell. "He is a mismatch on every single play of every game. He forces teams to game plan against him. With the talent that Marietta brings to the table that is scary. Arik is going to demand double and triple teams. That makes everyone around him better because they will get great opportunities because of that. Specifically speaking, he is as big a freak athlete since Robert Nkemdiche. He was an NFL First Round pick and Arik certainly shares that potential. He is a problem, a big one to face against Marietta."
It's worth pointing out that saying Gilbert is too big to play receiver is a baseless claim, not to mention it was only several years ago when a 6-foot-4, 285-pound Robert Nkemdiche was doubling as a high school running back during his senior year at Grayson.
As for Gilbert, the uncommitted five-star hauled in a game-high 14 catches at last year's Corky Kell Classic and went on to lead Marietta with 88 catches for 1,210 yards and 14 touchdowns before their season abruptly ended with a first round loss to East Coweta. Starting quarterback Harrison Bailey and wide receiver Ramel Keaton were sidelined due to injuries and the offense lost its firepower. Also, East Coweta's Gerald Green, a Georgia Southern signee, exposed Marietta's defensive vulnerabilities and gashed the Blue Devils with 270 rushing yards and four touchdowns off of 36 carries to lead the Indians to their 28-26 victory. That disappointment, however, is in the rearview mirror as Marietta gears up for a run at the Class AAAAAAA title in 2019.
"Our season ended in a disappointing way," Marietta coach Richard Morgan told the AJC. "But the way they came back to work, instead of sulking, showed me we've got a shot to be really good. …I've got real high expectations for this team."
Bailey started all 10 games as a freshman, but has experienced injuries that kept him sidelined for portions of each of the last two seasons. Gilbert, who spent his freshman season at Woodward Academy came to Marietta the following year. Bailey started just six games in his first season with Gilbert and was able to compile1,824 yards, 20 touchdowns and five interceptions. His recovery from injury and eventual return in the playoffs helped Marietta make a run to the state quarterfinals before falling to eventual state champion North Gwinnett 51-41. This past season, Bailey put up 2,809 yards (312.1 ypg) with 29 touchdowns and six interceptions before getting injured nine games in.
When healthy, Marietta's offense is nearly unstoppable. Receivers Taji Johnson and Kobi Stewart and running back Kimani Vidal return, as does a talented and experienced offensive line led by Colorado-commit Jake Wray. Also, University of Florida-commit Rashad Torrence II is back to start at safety, providing Dawson Ellington and the rest of the secondary a massive boost after a GHSA ruling left Torrence ineligible for all of the 2018 season. Additionally, four-star B.J. Ojulari will be featured at defensive end. As for Gilbert and his individual impact this season, expect him to remain at the top of every opponent's game plan and recruiter's radar this season.
2019 Corky Kell Schedule 
Thursday, Aug. 22 at ROME HIGH SCHOOL
5:30 p.m. Calhoun vs. Ridgeland
8:30 p.m. Marietta vs. Rome
Friday, Aug. 23, at COOLRAY FIELD
5:30 p.m. Tucker vs. Archer
8:30 p.m. Milton vs. Buford
Saturday, Aug. 24, at MERCEDES-BENZ STADIUM
9 a.m. Mays vs. Kell
11:45 a.m. Walton vs. Norcross
2:45 p.m. North Gwinnett vs. Colquitt County
5:45 p.m. McEachern vs. Brookwood
8:45 p.m. East Coweta vs. Mill Creek