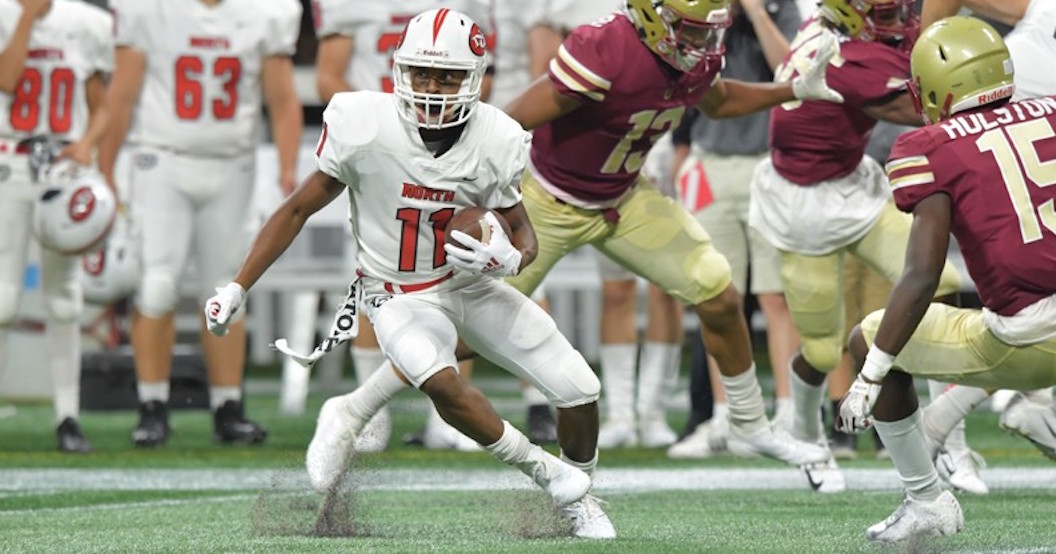 The 28th Annual Metro by T-Mobile Corky Kell Classic kicks off in exactly a month (Aug. 22) and will feature an incredible nine-game lineup spanning over three days at three separate locations. This massive celebration of Georgia High School Football has long held a reputation of staging ultra-competitive matchups between the top programs in the state, and this year is no exception. Within each of the matchups there will an incredible amount of individual star power to keep an eye on starting with the six Class of 2020 U.S. Army All-Americans set to take the field.
Arik Gilbert- Marietta
Gilbert hauled in a game-high 14 passes for 170 yards and a touchdown at last year's Corky Kell Classic while doubling as a defensive end on the other side of the ball. Standing 6-foot-5, 253 pounds, Gilbert is a walking mismatch that will demand double and triple teams. Still uncommitted, the versatile jumbo athlete recently hinted as September being the possible announcement date for his collegiate decision. He is being recruited as a tight end, but he will be playing receiver in the All-American game and a similar role in Rome against the Wolves.
Harrison Bailey-Marietta
Harrison Bailey is a Tennessee-commit and four-year starter at quarterback that will be leading one of the most talented offenses in the state this season. He began gaining significant recruiting attention his first year on the job and closed out his freshman campaign with 2,812 passing yards and 21 touchdowns with only seven interceptions. Bailey completed 36-of-51 pass attempts at last year's Corky Kell Classic for 443 yards and six touchdowns as the Blue Devils came up short in a 51-41 thriller against Rome. He has thrown 61 total touchdowns in his 25 all-time starts at Marietta with an average of 298 yards per game.
Paul Tchio- Milton
Paul Tchio is a 6-foot-6, 299-pound guard and defensive tackle for Milton. The four-star is the composite No. 3 ranked guard in the country and 79th overall prospect. Tchio committed to Clemson on November 25 of last season, just weeks before Milton defeated Colquitt County 14-13 to win the Class AAAAAAA state championship. He received his first offer (UGA) when he was only a sophomore and will be the marquee player for the Eagles this year in their quest to defend their historic first-ever state title.
Jamil Burroughs-McEachern
Georgia fans will get an opportunity to see Bulldogs-commit Jamil Burroughs take on Brookwood High School at Mercedes-Benz Stadium on Saturday, Aug. 24. Burroughs is a massive defensive tackle at 6-foot-3, 330 pounds that will be featured along McEachern's talented defensive front. He has been featured as a defensive tackle and defensive end in the past, and his potential impact playing under new McEachern head coach Franklin Stephens is an exciting storyline to look for this year.
Josh Downs-North Gwinnett
Josh Downs has been trending upwards at a rapid rate as more and more recruiters are seeing his explosive speed, crisp route running and exceptional catching ability. The previous three-star recently became a four-star and is currently committed to North Carolina. Adidas and B2C both have him ranked as the No. 1 receiver in the state.
Javon Baker- McEachern
Baker is an Alabama-commit and star receiver in McEachern's high-powered offense that joined the All-American roster on July 19. Baker is a four-star receiver and No. 18 overall prospect in the state according to 247sports.
2019 Corky Kell Schedule
Thursday, Aug. 22 at ROME HIGH SCHOOL
5:30 p.m. Ridgeland vs. Calhoun
8:30 p.m. Rome vs. Marietta
Friday, Aug. 23, at COOLRAY FIELD
5:30 p.m. Archer vs. Tucker
8:30 p.m. Buford vs. Milton
Saturday, Aug. 24, at MERCEDES-BENZ STADIUM
9 a.m. Kell vs. Mays
11:45 a.m. Norcross vs. Walton
2:45 p.m. North Gwinnett vs. Colquitt County
5:45 p.m. Brookwood vs. McEachern
8:45 p.m. Mill Creek vs. East Coweta