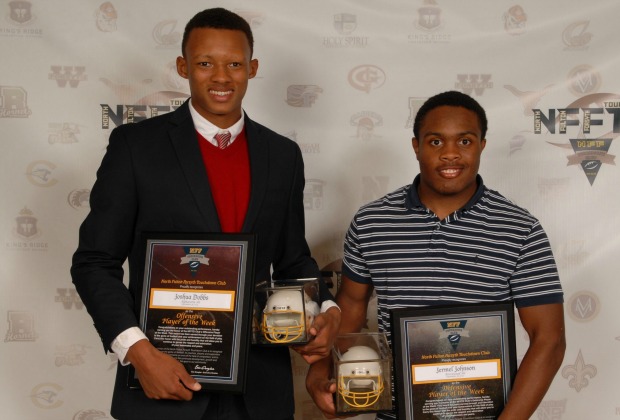 Julie Perdue/Main Street Photography
The North Fulton Forsyth Touchdown Club honored players from 22 high schools across northern Fulton County and Forsyth County Monday at Alpharetta's Metropolitan Club off Windward Parkway. Each month the club recognizes nominees from the high school football programs and one offense and one defensive player are then named the Player of the Week before receiving an award. The players are nominated as candidates by coaches, parents and fans, and each player must meet several important criteria including the pursuit of excellence on the field, possessing integrity in academics and displaying influence in the community. As usual, Fox 5′s Buck Lanford emceed the event, and this month, the club had former Clemson Tiger and NFL cornerback Dexter Davis speak to the players, families and coaches in attendance.
The weekly winners included Alpharetta's Joshua Dobbs and Riverwood's Jermel Johnson; St. Francis' Grayson McClain and Forsyth Central's Jack Longmore; Chattahoochee's Colin Lisa and West Forsyth's Hunter Belue; and Johns Creek's Denny Victor and Mount Pisgah's Jacob Delk. Dobbs, the Week 5 offensive winner, earned the honor after passing for 230 yards and one score while rushing for two more over South Forsyth. Chattahoochee's Lisa claimed Week 7 offensive honors after posting 10 receptions for 259 yards and three scores in a victory over South Forsyth.