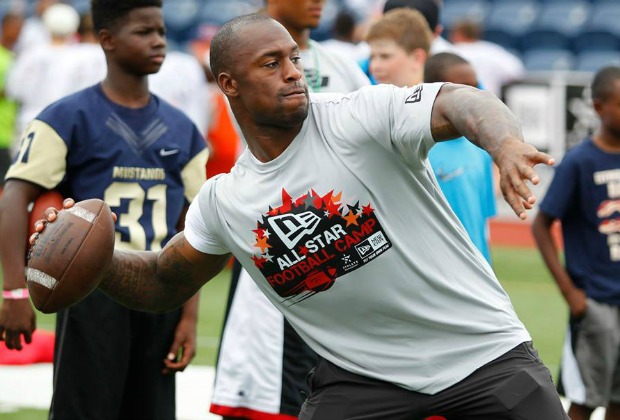 Five-Star Athlete Management
Five Star Athlete Management held its New Era All-Star Football Camp this week at Mount Vernon Presbyterian School, with numerous NFL talents in attendance to help out. I had a chance to catch up with a few of these players to ask about the Falcons.
There's no secret in Atlanta and beyond that the Falcons did not have the season they wanted in 2013. That said, many NFL players expect them to not be down for long. Indianapolis Colts cornerback and brother of San Francisco 49ers tight end Vernon Davis, Vontae Davis believes the Falcons can rebound in 2014.
"They've got pieces to be a good team," Vontae Davis said. "They've got the quarterback, receivers, and good defensive players. It's the NFL! Anything can happen! It takes one year, there's always a Cinderella team. Who's to say it can't be the Falcons?"
Vontae can relate to a team bouncing back after a very tough season. He joined his current team the Colts in 2012 after being traded from the Miami Dolphins, a year removed from Indy's awful 2-14 season. In 2012, the Colts went on to finish the season 11-5 to win an AFC Wild Card spot. This past season, the Colts won the AFC South.
Vontae's brother Vernon agrees and his veteran experience tells him that turnaround in the NFL can happen quickly.
"It's possible with any team," Vernon Davis said. "It's all on your approach. Your coach, the staff, your players, (and) the chemistry it's about all of that."
Vernon would know about a quick turnaround in the NFL. His 49ers went from a 6-10 record in 2010 under head coach Mike Singletary and interim coach Jim Tomsula, to a 13-3 regular season record and NFC Championship Game appearance under current head coach Jim Harbaugh the next year.
Kansas City Chiefs wide receiver Dwayne Bowe has also experienced the good, after the bad in the NFL. Like what Vernon Davis says, Bowe believes the formula to a bounce back for a football team is simple.
"(You do it) by forgetting about last season," Bowe said. "Just focus on every day. Every day was a grind from mini-camp to OTA's. Then when we got all the plus's, we had to put them together in training camp to get rolling."
Bowe has also been a part of the HBO reality series 'Hard Knocks.' The Falcons will of course be featured this season on the hit series filmed by the NFL. He really enjoyed his time on the show.
"It definitely was a great experience and I would do it again," Bowe said. "Especially for the young guys, to be able to show them what you can do when the pressure's on you, the camera's on you to be able to perform. It's definitely going to prepare you to be an elite athlete. I definitely think Hard Knocks brings that out of you."
Newly signed Jets wide receiver and former Denver Bronco Eric Decker has faced the Falcons during his career and knows they have the pieces in place to be a good football team. He also knows that anything is possible in the NFL.
"They've got a strong coaching staff, strong management, great quarterback in Matt Ryan, and they've got the players around him," Decker said. "It's a matter of putting the pieces together and that's what's so great about the NFL. Any year it's about staying healthy, executing, and anyone has a shot."
The Falcons will also be facing newly signed Detroit Lions wide receiver Golden Tate this fall, when they line up against him and his team in London. Tate says he's liked facing the Falcons in past seasons.
"They're a pretty good defense," Tate said. "Their cornerbacks and safeties are pretty good. I've had a good game every time I've played them, so I like playing against them, honestly. I think I've played them three times and scored twice."
Tate has indeed scored two touchdowns against the Falcons' defense over the past couple of seasons. He scored in the NFC playoff game inside the Georgia Dome and in their regular season meeting last season at the same venue. The Seahawks won the second matchup.
The  NFL players that were on hand at the camp believe the Falcons can bounce back in 2014. The question now is whether or not the Falcons can stay healthy enough to put themselves in position to win.