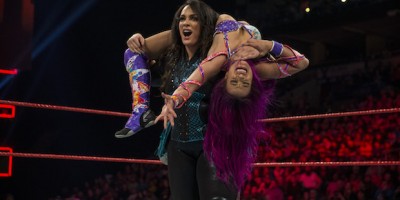 Nia Jax and her fellow Superstars are ready for RAW at Philips. Credit: WWE
Nia Jax fiercely stared down the trembling Joan King, who clearly didn't have a chance against the 6-foot, Aussie-born WWE Superstar known as the "Irresistible Force."
Well-suited for her protagonist role, Jax wastes little time. The athleticism and agility she displays with each carefully measured attack produce devastating effects. Slingshotting herself off the ropes, she hammers down an elbow drop that could have sent King through the floor of Detroit's Little Caesars Arena. Before King can escape, Jax drapes her over her shoulders, drops her and finishes the match with a pin.
"You don't get paid by the hour," jokes Monday Night Raw's ringside commentators during the March 12 broadcast of Monday Night Raw, with barely enough time to insert their Nia Jax-Mike Tyson comparison into the minute-long match.
It's easy to see why Nia Jax has become such a star in professional wrestling, and why the phrase "Not Like Most Girls" has stuck since she burst onto the scene as the intimidating newcomer who would stop at nothing to rule the Raw women's division. There is depth and physical dominance on display in every performance, and the sky is still the limit for Jax as Monday Night Raw comes to Philips Arena on April 2, the last stop before WrestleMania 34.
RAW READY FOR THE ATL
For Jax and all the other prime performers headlining Monday Night Raw in Atlanta, it will be the last chance for a web of storylines to come into focus before the sport's big event, WrestleMania.
"There's going to be a lot of emotions," Jax said. "It's all been building up for a while."
Jax's WrestleMania debut came a year ago in April as she fell short in a fatal four-way elimination match for the Raw Women's Championship. On Jan. 18 of this year, she competed in the first-ever Women's Royal Rumble, where she was one of 30 women competing, and it took six opponents working together to finally eliminate her.
This sparked a feud with Asuka, the Japanese star known for her unbeaten streak, and by her nickname "The Empress of Tomorrow." The two squared off on Feb. 25 in an Elimination Chamber matchup. Jax could have been in line for a championship match at WrestleMania 34 with a win, but came up short. Less than two weeks later, Asuka took their rematch via armbar and ended the feud.
So with less than a month until WrestleMania 34, Jax no longer had a set path for a shot at the Raw Women's Championship; she would have to forge a new way to reach her ultimate goal.
"In this sport, you have to be a chameleon and be able to change on the go," explained Jax. "You have to be able to take the mindset of 365 days a year on the role."
That new pathway opened immediately after her beatdown of King on the March 12 installment of Raw. As the victim of a backstabbing friend — current Raw Women's Champion Alexa Bliss — Jax wiped away tears and unleashed hell on the dressing room where Bliss, talking to Mickie James, had her conversation picked up by a boom mic and broadcasted for Jax and the entire Detroit crowd to hear. Bliss and James avoided Jax's wrath by disappearing through the back exit. But now, Bliss and Jax are set to square off at WrestleMania 34 in a highly anticipated showdown for the Raw Women's Championship.
In addition to Jax's ascent to a title match with Bliss, former UFC superstar Ronda Rousey's weekly appearances on Monday Night Raw make for an exciting time in WWE. The upcoming weeks are shaping up to be another defining moment for Jax, the sport and its future direction. And on April 2, the Monday Night Raw crowd at Philips Arena should get ready for a wild ride.