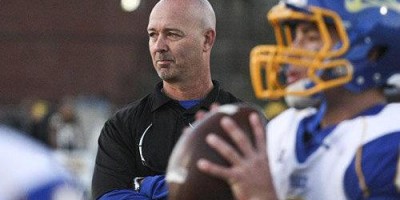 Crowder coaching at North Fulton's Chattahoochee High School.
Denmark High School won't open its doors until this upcoming August, but on April 30 head football coach Terry Crowder will lead the Danes through spring practice in an effort to prepare them for a full varsity schedule in both the school and program's inaugural year. Crowder, who was head coach at Chattahoochee from 2004-12 (including the Class AAAA state title in 2009) and Creekview from 2013 through last season, sports a 91-62 career record.
"You've got two options," explained Crowder. "Either play a varsity schedule right out of the chute, or some schools will elect to go non-region or play a JV schedule the first year. Forsyth County made the decision to play a varsity schedule next season and honestly, I wouldn't have come if it wasn't that way. I love to compete. I'm glad we are playing a varsity schedule and have a chance to go to the playoffs and do some things this first year."
Expected to be moved up (possibly all the way to Class AAAAAAA) by the 2020-21 school year, the new Forsyth County school will reside in Region 7-AAAA for the next two seasons. Last year, this five-team region housed both state finalists (Marist and Blessed Trinity) as well as Chestatee, White County and West Hall. The Danes will also be joined in Region 7 by Flowery Branch, which arrives from Class AAAAA and stiffens an already difficult slate.
Without the school open, much of Crowder's coaching staff will have to commute from their current schools to coach the boys this spring. The players will also be coming from multiple locations, including South Forsyth, West Forsyth and two different middle schools. To give everyone enough time to be accounted for, Crowder is aiming to start practice later, around 5:30 or 6 p.m.
The program is brand new, but Crowder is quick to point out that the players are coming from programs that aren't. One of the biggest names on this year's roster is current South Forsyth sophomore Ze'vian Capers. The 6-foot-3, 190-pound wide receiver has already been offered by Clemson and put up a career-high nine catches for 133 yards the last time he was on the gridiron (South Forsyth's 31-13 loss to Mountain View in the Class AAAAAAA playoffs).
"I'm really excited to get to coach Ze'vian," said Crowder. "He probably has a chance to be the best kid I've ever coached before. I've been at some great places like Tucker, Camden, et cetera. I know already that we have a special player with Ze'vian in addition to three really strong linebackers coming in. There's some really good talent to build with."
Crowder, who began working inside the school on March 1, has made sure to find the time to get to know his players and their parents before they hit the turf this spring.
"I love the parent meetings that I've had," he said. "I've met with probably 40 to 50 parents and their sons so far. I've put on 25 pounds because we meet at Wendy's or McDonalds, but it's been great. In the beginning there was some apprehension, but I think that's always going to be there when you build a new school. I think the excitement is starting to build and it's already starting to feel like a school and a community."
Spring practice will be an important evaluation process for the staff and will determine how quickly the installment of both offense and defense can be completed. Despite the challenges, Crowder and his players have already mapped out their goals and have their sights set on getting to work this summer.
"We've already set our team goals and our No. 1 goal was that we have to have a great summer," said Crowder. "Every Tuesday we have two turf fields so we have a great place to do 7-on-7s. We're going to have two to five teams come up and then at the end of June we do a camp with Rome High School. Of course everyone knows how good Rome is, so that should really make us a lot better."
Denmark's 2018 Schedule
8/11 Pickens (Scrimmage)
8/24 Cherokee Bluff
8/31 at North Springs
9/7 at Forsyth Central
9/14 Dawson County
9/21 at Chestatee*
9/28 West Hall*
10/5 Blessed Trinity*
10/12 at Marist*
10/19 White County*
11/2 Flowery Branch*
*Region 7 Game