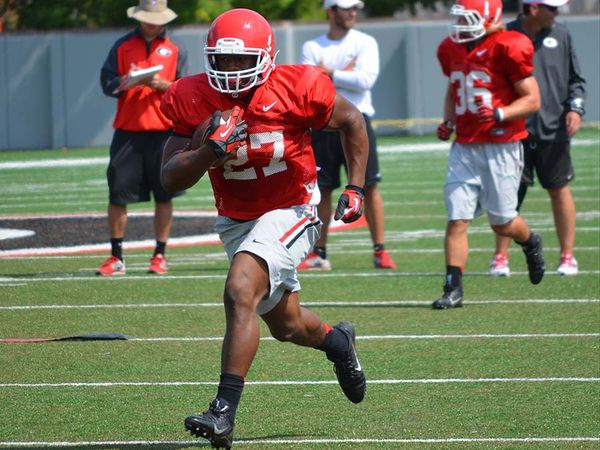 Steven Colquitt/ UGA Athletic Communications
Spring football is in the beginning stages for the Georgia Bulldogs, but that isn't stopping rising sophomore sensation Nick Chubb from trying to improve upon his stellar freshman campaign. Two weeks ago was spring break for UGA students and Chubb didn't take the opportunity to go lounge on the beach somewhere.
"I never had a spring break to go the beach in high school," Chubb said. "I always ran track. It was nothing new to me. Camera's just happened to be there that day."
Chubb is referencing the post from the website Dawgs247.com, as part of 247Sports.
He is going into his second season at Georgia, following a freshman campaign that saw him run for 1547 yards and 14 touchdowns. He also finished 2014 with 18 catches for 213 yards.
The Cedartown product is the reigning SEC Freshman of the Year and a first team all-conference selection.
People outside of the Georgia program didn't know too much about Chubb, before he took the field Clemson to run 47 yards to the end zone. He really made a name for himself, when he ran for 143 yards against Missouri.
These two games weren't the only times that Chubb went off for huge games last season. That said, he's not changing the way he prepares for this season.
"I've got to stay with what I've always done," Chubb said. "Just work hard and continue to stay focused. Don't get sidetracked and just keep going hard."
Chubb and the other running backs now work with new position coach/former UGA running back Thomas Brown. He of course came in when former position coach Bryan McClendon moved over to coach the wide receivers.
Even with the moves on the offensive coaching staff, Chubb says that things continue to stay the same for him.
"I can tell that they knew each other in the past," Chubb said. "Because they're just go hard and no slowing down in everything."
Chubb went on to say that he still hears the same things from Brown in running back drills, that he heard back when McClendon was the coach.
Coming into the 2015 season, Georgia will be looked upon to have the same potent running attack that they featured last season. One thing we can count on with Chubb, is that he'll try to remain the same player he was last season. I'm sure Georgia fans will take that, with a few more wins in 2015.