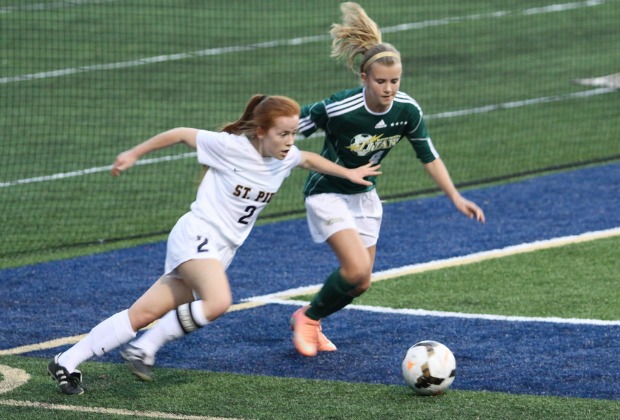 Photo by Billy Laube
It may be the middle of the regular season, but Marist and St. Pius X were eager to make a statement in Class AAAA last Friday. Marist's girls got the job done in the form of a 2-1 victory, although both teams walked away looking like serious state championship contenders. The War Eagles, who also trounced Columbia 10-0 last week, remained undefeated on the season.
It was St. Pius X, however, that prevailed in the boys' contest. Unbeaten and riding a streak of seven consecutive shutouts, the Golden Lions found themselves in the unfamiliar position of trailing at halftime. Marist's 1-0 advantage, though, was short-lived. St. Pius X senior Edmundo Robinson scored twice to bring his team from behind for a 2-1 victory. Robinson and company have upcoming dates with Grady and Dunwoody before their spring break. The Marist boys, meanwhile, have games this week against Cross Keys and Chamblee. The Lady War Eagles are set for consecutive contests Wednesday through Friday versus Cross Keys, Grayson and Chamblee.
One of this week's most intriguing matchups saw West Hall outlast Dawson County in an overtime thriller between Region 7-AAA rivals on Tuesday. Richie Castruita opened the scoring for West Hall before Sal Mendoza provided an equalizer for Dawson County just prior to halftime. The Tigers also answered in the second half, with Brandon Lung responding to a West Hall goal by Simon Cobian. Lung's successful strike ultimately forced an extra frame with the score tied 2-2, but the Spartans took control when it mattered most. Cobian and Alejandro Romero found the back of the net in OT as West Hall prevailed 4-2.
Two of the most highly-touted teams in Class AAA will be squaring off on Wednesday when Blessed Trinity hosts Westminster (both boys and girls). In Class AAAAAA, Walton is going up against Etowah and Harrison on Friday and Saturday, respectively.
BOYS
Class AAAAAA
1. Chattahoochee
2. Brookwood
3. Campbell
4. Lambert
5. Duluth
6. Walton
7. Roswell
8. Marietta
9. North Gwinnett
10. Harrison
Class AAAAA
1. Dalton
2. Greenbrier
3. Houston County
4. Gainesville
5. Starr's Mill
6. Heritage-Conyers
7. Sequoyah
8. Riverwood
9. Northgate
10. Glynn Academy
Class AAAA
1. St. Pius X
2. Woodward Academy
3. North Oconee
4. Whitewater
5. Johnson
6. LaGrange
7. Jonesboro
8. Southeast Whitfield
9. Buford
10. Eagle's Landing
Class AAA
1. Calhoun
2. Westminster
3. West Hall
4. Dawson  County
5. Blessed Trinity
6. Coahulla Creek
7. Jackson
8. Islands
9. Oconee County
10. East Hall
Class AA
1. Greater Atlanta Christian
2. Pace Academy
3. Lovett
4. Thomasville
5. Riverside Military
6. Holy Innocents'
7. Benedictine
8. Long County
9. Dublin
10. Union County
Class A
1. Paideia
2. Stratford Academy
3. Atlanta International School
4. Savannah Christian
5. St. Anne Pacelli
6. Fellowship Christian
7. Savannah Country Day
8. Savannah Arts
9. Athens Academy
10. Mount Paran Christian
GIRLS
Class AAAAAA
1. Harrison
2. Grayson
3. Lassiter
4. Walton
5. East Coweta
6. Pope
7. Lambert
8. Parkview
9. South Forsyth
10. Collins Hill
Class AAAAA
1. Northgate
2. McIntosh
3. Columbus
4. Gainesville
5. Alexander
6. Starr's Mill
7. Greenbrier
8. River Ridge
9. North Atlanta
10. Rome
Class AAAA
1. Marist
2. Woodward Academy
3. St. Pius
4. Veterans
5. Buford
6. Spalding
7. Whitewater
8. Grady
9. Mary Persons
10. Pike County
Class AAA
1. Blessed Trinity
2. Westminster
3. Dawson County
4. Decatur
5. Lumpkin County
6. Calhoun
7. Adairsville
8. Savannah Arts
9. Oconee County
10. Ringgold
Class AA
1. Greater Atlanta Christian
2. Lovett
3. Wesleyan
4. St. Vincent's
5. Holy Innocents'
6. Pace Academy
7. East Laurens
8. Bremen
9. Fitzgerald
10. Lamar County
Class A
1. Fellowship Christian
2. Athens Academy
3. Savannah Christian
4. First Presbyterian Day
5. Savannah Country Day
6. Paideia
7. Aquinas
8. Atlanta International School
9. Providence Christian
10. Mount De Sales