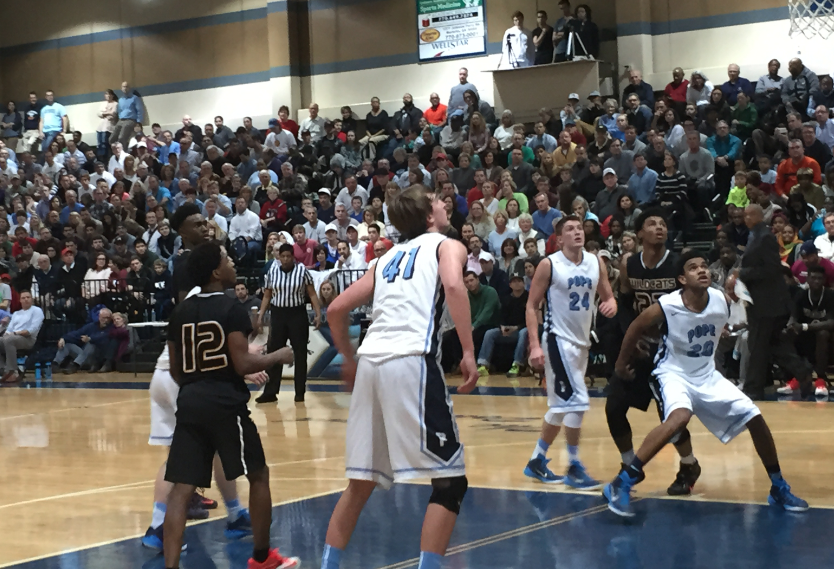 In a battle of 13-1 Region 5-AAAAAA opponents, visiting Wheeler jumped to a 35-23 lead at the half before closing out Pope and protecting its No. 1 state ranking with a 64-54 victory Tuesday night.
Jaylen Brown, the Peach State's most sought-after senior prospect, got Wheeler out in front early with a pull-up jumper and six first quarter points. Pope hung around with Chase Hutchins' seven-point outburst in the quarter but would trail 18-9 at the end of one.  Six Wildcats scored in the second quarter and a struggling Pope offense finally found life with back-to-back Mitch Hollis three pointers. However, before the Greyhounds could go into the half with a single-digit deficit, Wheeler's Makhai Eastmond drilled a 3-pointer at the buzzer to give the Wildcats a 35-23 cushion.
Pope looked to slow down the pace of the game against the explosive Wheeler lineup but failed to execute in the half court set once the pace was in its favor. The Greyhounds also did not attempt a single first half free-throw and had trouble finding lanes against the stout Wheeler defense. Pope's inability to protect the ball led to easy Wheeler baskets and that is the formula Pope head coach Pat Abney believes was the difference in this game.
"We can't win against a good team if we don't take care of the ball," said a frustrated Abney after the game. "Our half court execution tonight was absolutely horrendous. We didn't shoot the ball well but the game was lost because we didn't get enough shots up and that is because we didn't take care of the ball."
Pope shook off a slow first half with a 17-11 scoring advantage in the third quarter and trailed just 46-40 heading into the fourth. The Greyhounds finally began drawing fouls and got to the foul line nine times in the second half but converted just 3-of-9 attempts. Wheeler also struggled at the line, with 10-of-21 shooting, but a strong fourth quarter from Shembari Phillips was enough to help Wheeler runaway with the victory. Phillips netted seven of his 11 points in the fourth quarter and included 3-of-3 shooting from the foul line. Brown (four) and Cameron Jordan (five) combined for nine of the 18 Wheeler fourth quarter points and finished with 16 points apiece.
Pope got a game-high 21 points from Hutchins and 12 points from Garrick DeBowles. This duo's play on both ends of the court against No. 1 Wheeler showcased why Pope remains one of the top teams in Class AAAAAA.
"We've got a great team," said Abney ".Chase and Garrick are the leaders of this team and we are always going to be good because we bring it defensively each night and we compete. That's why this team can win. I give Wheeler credit but I am still disappointed… We did a good job boxing out. The three keys heading into the game were boxing out, taking care of the ball and shooting well and you have to do all three if you are going to beat the No. 1 team in the state. We just did one."
Both teams return to the court with Region 5 road games on Friday. Pope will visit Roswell and Wheeler will take a trip to Woodstock to take on the Wolverines.  The Wildcats look to continue their sweep of Region 5 opponents that has helped warrant their No. 1 ranking. Prior to Tuesday's 10-point win over Pope, Wheeler had won its last four region games (Lassiter, Walton, Roswell, Milton) by an average of 41 points per game.