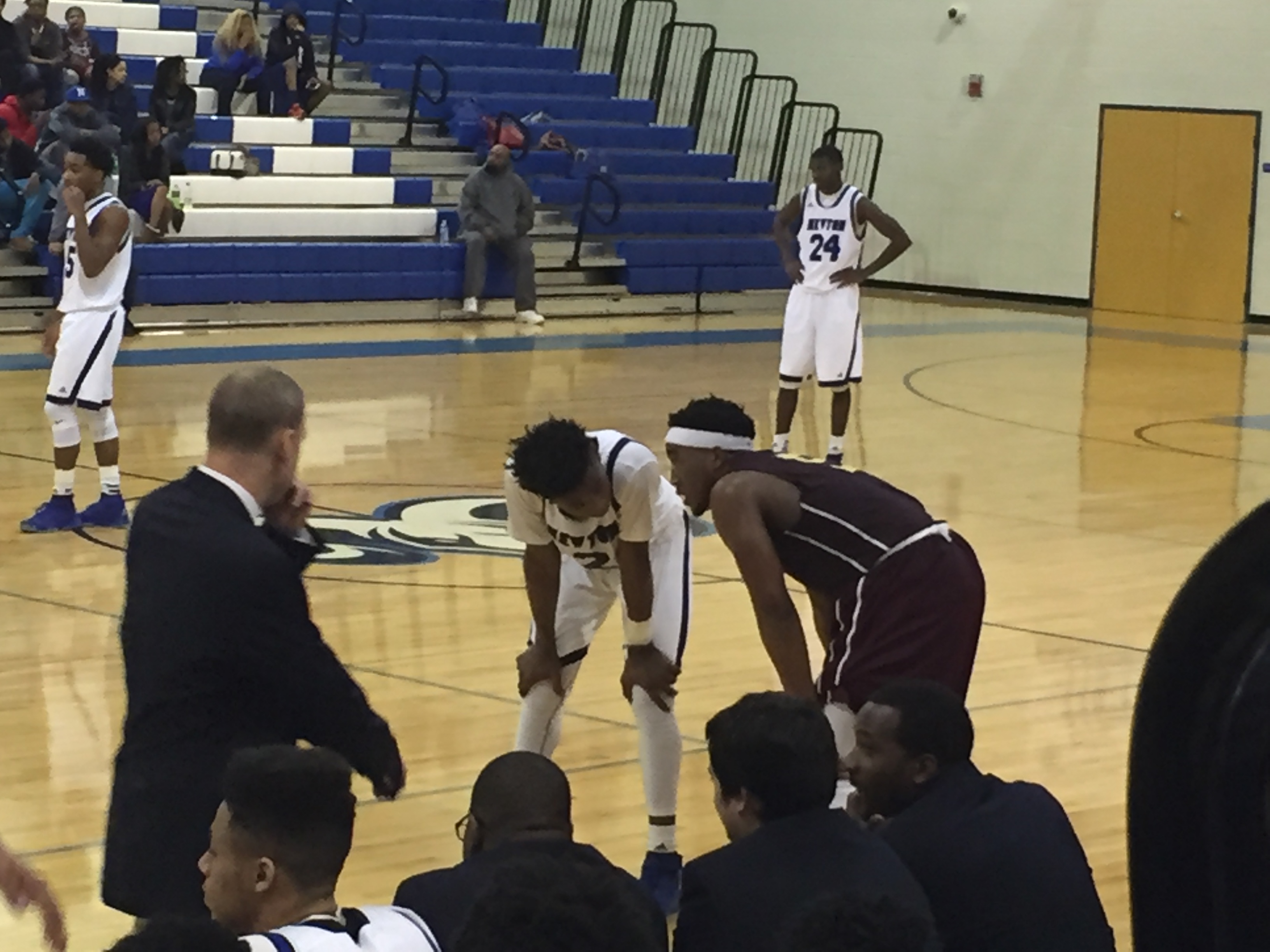 Photo By Kyle Sandy
It had been 719 days since the Tucker Tigers (17-5, 7-1) had last lost a region game. A 45-42 loss to Stephenson on Feb. 7, 2014 back in Class AAAAA was Coach James Hartry's last defeat. Last season the Tigers swept through their new home, Region 2-AAAAAA, and through the first seven region games of this season, they had started 7-0, surviving No. 5 Newton 57-56 at Tucker on Dec. 15.
Newton (19-2, 7-1), enjoying its best start since 2009-10 when the Rams opened 30-1 before falling to state champion Milton in the semifinals, entered Wednesday's make-up game at 18-2, using last season's state playoff run as a springboard into the 2015-16 season. As a No. 4 seed last year, the Rams knocked off defending state champion Tift County 52-49 in round one and took down No. 2 seed Dacula 58-54 in the Sweet 16 before falling to eventual state champion Wheeler in the Elite 8, 72-54.
With all of Coach Rick Rasmussen's recent success with the Rams, one win still eluded Newton: Tucker. Last night, the Rams were finally able to rid themselves of their demons and get the monkey off their back with a 58-48 win at home to take over first-place.
"It was a big win for us tonight," explained Rasmussen. "I thought we had a really good chance to beat them at their place and I thought we were certainly capable of playing better than we did the first time."
They did.
Things didn't start out so promising for the Rams however. Tucker jumped out to a 9-2 lead and looked like the more energized team, but Newton's leading scorer, junior JD Notae, shook the Rams out of the doldrums and scored their first eight points of the game.
To end the first period, freshman sensation Ashton Hagans drove on the fastbreak and found senior Jaquan Simms open in the left corner for one of his four three-pointers on the night to give Newton a 13-11 lead heading into the second quarter.
The onslaught continued for the Rams in the second quarter as Notae's early spurt in the first quarter ignited a 21-4 Newton run that flipped the score from a 9-2 deficit to a 23-13 advantage with 3:55 left to play in the second quarter. Tucker would pick itself off the mat and end the period on a mini 5-2 run, capped by a Tyler Payne steal and lay-in at the buzzer, cutting Newton's halftime lead to 25-18.
The third quarter saw Tucker senior center Adonis Green score back-to-back baskets but halfway through the frame Green picked up his fourth foul. Coach Hartry elected to keep him in the game and just 15 seconds later, Green committed his fifth personal, fouling out with 2:52 remaining in the third quarter and the Tigers trailing 33-26.
While Tucker was searching for answers on how to replace Green, but more importantly slow down Newton's guards, Jaquan Simms caught fire, canning back-to-back threes and drawing a foul on a deep ball. Simms scored eight of his 16 points in the third quarter and pushed the Rams' lead to 38-26.
However, once again it was Tucker using a late spurt to keep the game close. The Tigers ran off four quick points stamped by Kenton Eskridge's lay-up right before the horn to make it a 38-30 game entering the fourth quarter.
Tucker did not crawl much closer than eight points in the fourth quarter as Notae and Dante Johnson would not allow another late game disappointment. In their first meeting, the Rams blew the game at the line, connecting on just 7-of-18 attempts. Wednesday night, Newton sank 14-of-22 free throws, but more importantly 12-of-17 in the fourth quarter. Notae scored 11 of his game-high 22 points in the fourth including going 5-of-6 from the stripe while Johnson netted six of his eight points in the final frame, hitting all four free throws.
After a hot start for Eskridge, scoring six first quarter points, the Rams honed in on Tucker's playmaker and held him to four points over the next three periods.
The win was an important one for Newton, not only for region seeding, but for the overall psyche of the team, finally beating a program that has troubled them over the past two seasons. Coach Rasmussen understands there is still work to be done on Friday night as Newton hosts rival Rockdale County on senior night and the Tigers potentially looming in the region tournament.
"It feels good to get this one. I'm sure we're going to have to play them again in the region tournament, so I'm sure that will be another war and we're excited about it."