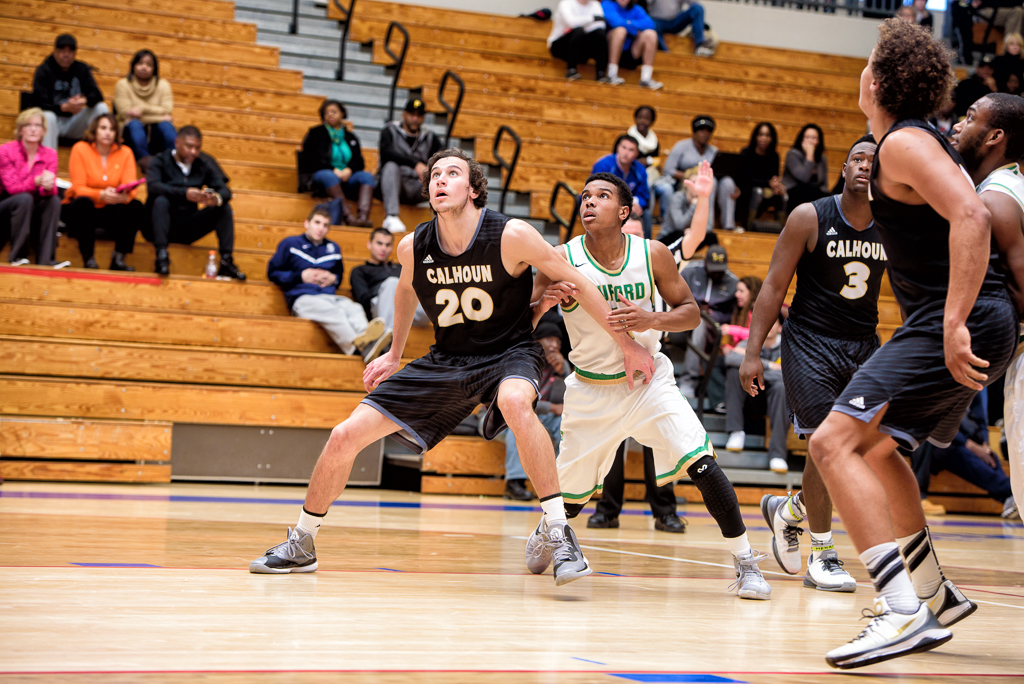 Photo By Ty Freeman
Welcome to February. The cold month of January heated up during its final week seeing a multitude of upsets that has given the rankings its most movement over the entire season. Class AAAAAA saw two powers take major hits. Westlake took over the No. 1 ranking from Shiloh back in Week 2 and held serve for eight weeks before falling to No. 5 this week after an 81-80 loss at home to new No. 9 Campbell on Tuesday and a 59-57 loss at Douglas County (13-9) on Friday. The Spartans have won five-straight now in Region 3, highlighted by wins over Westlake, Douglas County 72-61 and Langston Hughes, 79-74. The aforementioned Shiloh saw its struggles continue, dropping to No. 10 after a 62-59 loss to Brookwood on Friday, who debuts in the polls at No. 8. The Generals had lost two in a row before rebounding on Tuesday with a 74-44 throttling of Dacula (17-5), who started their downward spiral the week before. Shiloh looked back on track after the bounce back win, but the Broncos ambushed them. The Generals showed resilience on Saturday beating Grayson (17-5) 61-47. As Shiloh has sank in the ranking, they have dragged down Grayson and Dacula with them, knocking last week's No. 10 and No. 9 teams out of the top ten.
No. 8 Brookwood earned its signature win to enter the poll on Friday. It has been a long time coming for Coach Daniel Bowles. From a 5-win season in 2011-12, Bowles advanced the team to 16-10 the next year, but fell on hard times, going 12-14 in 2013-14 and 7-19 last season. The Broncos finished second to last in Region 8 last year but now find themselves in a log jam for fourth place. The resume has been impressive for Brookwood. Wins have come over Berkmar (14-7), White County (16-7), Johns Creek (21-2), GAC (14-9), Heritage-Conyers (17-5), Grayson (17-5) and now No. 10 Shiloh (16-5). Micah Kinsey and Bubba Parham have been a lethal 1-2 punch in the backcourt. Kinsey, an unsigned senior point guard, is as true a leader as they come averaging 11.5 points, 5.0 rebounds, 7.6 assists and 4.5 steals. Parham leads the team in scoring from his two-guard spot averaging 16.3 points.
No. 7 Newton drops two spots after a tough loss to rival Rockdale County (12-10) on Senior Night, 52-50. The Rams had taken first-place in Region 2 momentarily after beating Tucker (18-5) on Wednesday, 58-48. Pebblebrook leaps three spots to No. 3 and in the process pass No. 4 Tift County, who doesn't climb the top five even after two Westlake losses. The Falcons have been playing their best basketball of the season and received some scoring punch from someone other than Collin Sexton and Jared Harper, in Dwight Murray. The sophomore guard scored 18 points in a 72-48 win over Langston Hughes. Pebblebrook leaps No. 4 Tift County based upon strength of schedule and more importantly, Preston Horne, the Blue Devils' leading scorer, being out for the remainder of the season with an ACL injury. Pebblebrook has a chance to cement itself among the top five, getting a rematch at Westlake on Tuesday, a game they lost 76-70 at home earlier in the year.
On the precipice of cracking the top ten remain Lambert (21-2), Johns Creek and Collins Hill (20-3). The same goes for Lambert and Johns Creek as it does with Tift County. The Longhorns and Gladiators have complied great records and will be a legitimate No. 1 and No. 2 pair out of Region 6, but the region is weak and doesn't stack up to the likes of Region 3, 7 and 8, which has put six teams in the top ten (No. 1 Norcross, No. 3 Pebblebrook, No. 5 Westlake, No. 8 Brookwood, No. 9 Campbell, No. 10 Shiloh). Both teams are both still in search of their key signature win.
The only change in Class AAAAA came between the bottom two spots. No. 9 Effingham County moves up a spot over No. 10 Southwest DeKalb. The Rebels have passed every test presented to them in Region 3, with their latest A+ grade coming against Statesboro (17-6) last week, scoring a 51-35 win on the road. No. 10 Southwest DeKalb lost at home against No. 1 Miller Grove in front of a capacity crowd on Tuesday, 53-45. McDonalds All-American and UConn signee Alterique Gilbert scored a game-high 17 points to fend off a wild Panther rally, scoring nine of the Wolverines' 10 fourth quarter points. No. 5 Cedar Shoals and No. 8 Warner Robins both have challenges coming up. The Jaguars host Heritage-Conyers (17-5) on Tuesday in a rematch of a 54-51 victory which saw Cedar Shoals lead for only the last 6:06 of the game to earn the Region 8 road win. The Demons visit Jones County (14-9) and potent scorer Devin Wooten. The senior guard pours in 25.6 points per game.
Region 6-AAAA was won on Friday night as No. 2 Lithonia used an 11-3 run in the third quarter to pull away from No. 4 St. Pius and land a 56-48 win over the Golden Lions on Senior Night. UT-Chattanooga signee Rodney Chatman went off for a game-high 24 points and grabbed six rebounds in the region clinching win. Kerney Lane posted 19 points and seven rebounds in the loss. No. 3 Liberty County moves up two spots following a season sweep of No. 9 Thomson, 80-72 on the road.  Grady tumbles two more spots to No. 6 after a 67-62 loss at home to Lithonia on Tuesday. The Knights weren't at their best later in the week, but they still managed to pull out a 56-52 overtime win against Columbia. Sandy Creek (15-6) lasted just one week in the top ten after resurfacing. The Patriots lost 58-56 to Carrollton on Friday but quickly turned around and beat Fayette County 76-64. In for Sandy Creek is No. 8 Monroe, their second time in the poll. The Tornadoes get the nod over 17-7 Bainbridge. On Jan. 23, Monroe beat the Bearcats 65-52. UGA signee Tyree Crump was held to 8 points on 1-of-8 shooting. Emeshaun Offord leads Monroe in scoring and poured in 23 points in the win. The Bearcats are in consideration to make the top ten after drilling No. 10 Worth County 93-79 last week. Crump shook off his prior bad shooting performance and dropped in 45 points. No. 7 Upson-Lee ran its win streak up to 14 games with a 62-61 edging of Westside-Macon on the road. No. 1 Jonesboro beat Pike County 116-14; a 102-point win. It's not the first time Coach Daniel Maehlman has run the score up on the lowly Pirates. They drilled them 80-19 on Jan. 15.
No movement was seen in AAA. No. 2 South Atlanta survived a 36-point fourth quarter from Jackson-Atlanta on Tuesday to win 72-71 on the road. No. 3 Calhoun faces its last test of the season before entering the state tournament, welcoming 19-4 Coahulla Creek on Tuesday. The Colts lost by just eight in their previous meeting, 60-52. Jireh Wilson scored 31 points to lift the Yellow Jackets. Caleb Lewis and Alex Fisher will need monster games in order to upset Calhoun. Elsewhere, No. 6 Central-Macon survived Spencer (7-16) for their 14th straight win, 73-69. No. 7 Westminster puts its 18-game winning streak on the line against rival Blessed Trinity (11-11) this Tuesday. No. 9 Banks County got its revenge against North Hall. The Leopards won 62-47 at North Hall following a 67-66 loss on Dec. 21.
And then there was won. Lovett moves up two spots to No. 4 in AA and in the process kicks Pace Academy (11-10) out of the ranking after holding the No. 4 spot, with a 66-63 win in overtime against the Knights. Crawford Schwieger hit a three at the buzzer to send the game to overtime for the Lions. Henry Richardson torched the Knights from deep, hitting 6-of-9 threes for 23 points. Ryan Greer added 14 points, six rebounds and seven assists while Schwieger netted 12 points in the statement victory. Wendell Carter Jr. had 24 points and Isaiah Kelly 17 in the loss. Pace's roller coaster of a season now sees them out of the top ten late in the year. They have a respectable Region 6 record at 9-2, but the region as a whole has been up-and-down for various reasons. At points in the season, four teams filled the top ten, but now just Lovett remains. Holy Innocents' (15-6) drops from No. 9 to unranked following a 63-46 loss at Pace. The Golden Bears have been riddled with injuries. Brent Duncan, the team's top low post option at 6-foot-7, has missed half the season with an injury. Back up 6-foot-7 center Richard Surdykowski played exceptionally well, but a stress fracture in his foot has cut his junior season short. For GAC (14-9, 9-3), Garrett Covington a Gwinnett Daily Post Super Six selection has left in the middle of the season. Brian Coffey, a recent North Florida-commit, is gone as well leaving first-year Head Coach David Eaton's team in shambles.
Outside of Region 6's turmoil, Region 1 features a rematch of one of the best games of the year and possibly a future state championship matchup between No. 1 Thomasville and No. 2 Seminole County. The defending state champion Indians took down the bigger Bulldogs on Jan. 9 at home, 71-65. Thomasville has since regained the No. 1 ranking in the state and will try to hold it for good if they are able to slow down Jordan Harris (UGA) and Anfernee King. No. 6 Swainsboro moves up four spots and has proven that it is more dangerous than its modest record suggests. The Tigers drilled No. 8 Dublin 75-61. No. 9 Early County and No. 10 Macon County both re-enter the top ten after Pace and Holy Innocents' fall out.
In a legit battle of 7-footers in Class A-Private, No. 1 Greenforest crushed King's Ridge 74-45, dropping the Tigers (13-8) out after just one week as they lost three straight games. Justin Forrest finished with 21 points and five assists, collecting the 1,000th point of his career along the way. Ikey Obiagu battled with newly eligible Tolu Jacobs inside, nearly 14-feet worth of bodies. Obiagu outclassed Jacobs with 14 points, 11 rebounds and six blocks. Jacobs, with the muscle advantage, could only muster three points and fouled out early in the fourth quarter. No. 2 North Cobb Christian crushed Christian Heritage 73-39. No. 6 Our Lady of Mercy swapped places with No. 7 Lakeview Academy due to an impressive win at Walker 73-57, dropping the Wolverines out of the ranking. Replacing Walker and King's Ridge are No. 9 St. Anne-Pacelli and No. 10 Tattnall Square Academy. The Trojans sneak into the top ten thanks to a 69-67 win over No. 8 Stratford Academy and a 64-59 win over First Presbyterian Day before slipping to Landmark Christian 74-69. Tattnall Square has nice wins on its resume such as No. 9 St. Anne-Pacelli (14-8), 2A No. 6 Swainsboro (14-7), 1A-Public No. 1 Wilkinson County (16-5) and wins over No. 8 Stratford (15-5) and First Presbyterian (13-8).
Class A-Public saw Hancock Central fall from No. 1 to No. 5 following a 61-59 upset at Lincoln County, who rises four spots to No. 6. It was the Red Devils' first win over Hancock in over 25 years. Following back-to-back losses, Lincoln County has turned things around winning three-straight. They followed Tuesday's momentous victory over the Bulldogs with a 82-40 drubbing of Glascock County and a 61-54 win against Georgia Military in which they held Luke Lawson, the state's third leading scorer at 25.7 points per game, to two points. Ahmad Rand flirted with another triple-double, posting 10 points, nine rebounds and nine blocks. With Hancock's loss, No. 1 Wilkinson County takes over. The Warriors have great size inside and have won seven-straight. No. 2 Turner County continued along its warpath to the No. 1 spot while No. 4 Treutlen drops a slot due to strength of schedule. No. 10 Quitman County enters the top ten, but it is No. 7 Central-Talbotton who is making the most noise right now. A 66-61 win over No. 8 Taylor County pushes the Hawks into contender status.
Class AAAAAA
1. Norcross (20-2)
2. Wheeler (17-5)
3. Pebblebrook (16-7)
4. Tift County (21-2)
5. Westlake (16-4)
6. McEachern (19-3)
7. Newton (20-3)
8. Brookwood (16-6)
9. Campbell (16-5)
10. Shiloh (16-5)
Class AAAAA
1. Miller Grove (21-2)
2. Allatoona (23-0)
3. McIntosh (19-2)
4. Gainesville (16-4)
5. Cedar Shoals (22-2)
6. Riverwood (23-1)
7. South Paulding (20-3)
8. Warner Robins (15-2)
9. Effingham County (20-3)
10. Southwest DeKalb (20-4)
Class AAAA
1. Jonesboro (20-3)
2. Lithonia (18-4)
3. Liberty County (18-1)
4. St. Pius (19-4)
5. Eagle's Landing (22-1)
6. Grady (19-3)
7. Upson-Lee (19-3)
8. Monroe (16-5)
9. Thomson (16-4)
10. Worth County (17-4)
Class AAA
1. Morgan County (18-4)
2. South Atlanta (19-4)
3. Calhoun (21-0)
4. Laney (20-2)
5. Jenkins (19-3)
6. Central-Macon (21-2)
7. Westminster (19-2)
8. Callaway (14-3)
9. Banks County (21-2)
10. Johnson-Savannah (17-5)
Class AA
1. Thomasville (21-1)
2. Seminole County (18-4)
3. Crawford County (19-2)
4. Lovett (16-4)
5. Vidalia (21-3)
6. Swainsboro (14-7)
7. Chattooga (21-1)
8. Dublin (19-4)
9. Early County (17-5)
10. Macon County (16-5)
Class A-Private
1. Greenforest (20-2)
2. North Cobb Christian (17-3)
3. SWAC (14-8)
4. St. Francis (15-7)
5. Whitefield Academy (14-8)
6. Our Lady of Mercy (17-3)
7. Lakeview Academy (19-4)
8. Stratford Academy (15-5)
9. St. Anne-Pacelli (14-8)
10. Tattnall Square Academy (14-7)
Class A-Public
1. Wilkinson County (16-5)
2. Turner County (18-5)
3. Calhoun County (14-8)
4. Treutlen (19-2)
5. Hancock Central (16-5)
6. Lincoln County (14-5)
7. Central-Talbotton (16-8)
8. Taylor County (15-7)
9. Randolph-Clay (15-8)
10. Quitman County (16-8)