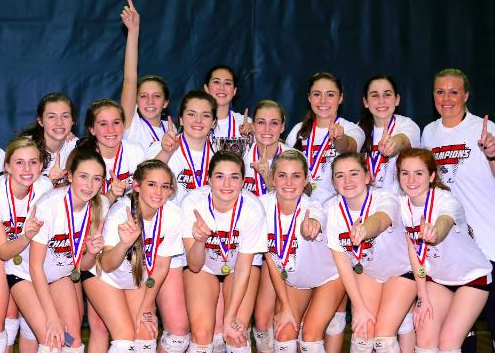 Holy Innocents' Athletics
Holy Innocents' volleyball head coach Taylor Noland's list of accomplishments grew longer as the 2-time state champion was named to the American Volleyball Coaches Association's 30 under 30 awards. The list consists primarily of college-level coaches but the level of success Noland has seen with the Golden Bears has drawn well-deserved national attention.
The American Volleyball Coaches Association (AVCA) created the award to honor 30 of the up-and-coming volleyball coaches under 30 years old at all levels of the game. Noland is the only female high school coach to make the list.
"It's humbling to be named by an organization like the AVCA," Noland told the Sandy Springs Patch. "I just want to add, however, that this wouldn't be possible without all the hard work from my players over the years, not to mention the support from the athletic staff and parents at Holy Innocents'."
In 2013, Noland led Holy Innocents' to its first-ever state title and the team repeated this past season by capturing the Class AA title. The 2013 championship made Noland the first person in state history to win state titles as a player and coach. Noland starred at Woodward Academy where she took home three state titles (2001, 2002, 2003) before graduating and heading to the University of Tennessee.
Holy Innocents' played one of the toughest schedules in the state the past two seasons and has finished 34-14 each of the last two seasons. Noland's other honors include 2013 A Coach of the Year, 2014 AA Coach of the Year, 2013 Area 7A Coach of the Year and Georgia Athletic Coaches Association Region Coach of the Year in 2012.
"Volleyball has made a huge impact on my life and I feel that I need to give back to the sport that has done so much for me," explained Noland. "It's never a "job" as long as you love what you do."