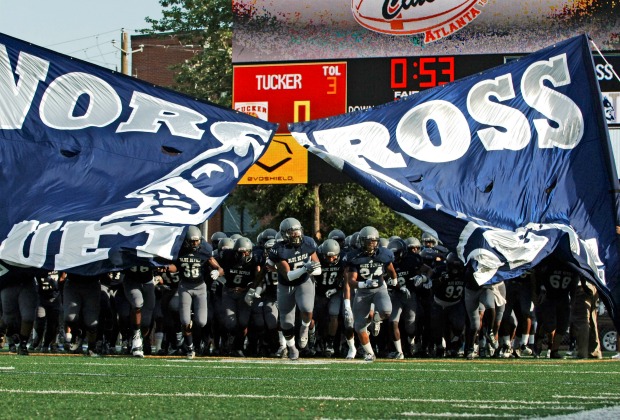 Sonny Kennedy
Game 4 of the Metro PCS Corky Kell Classic was exactly that – a classic. Norcross fought off a strong fourth quarter by Tucker and won the game 32-29 in overtime. Blue Devils kicker Blake Bingham made a 28-yard field goal in overtime, then watched as Tucker quarterback Garrett Rigby bobbled, then lost the snap on the Tigers' overtime possession. Norcross, Class AAAAAA's two-time defending champ, recovered to clinch its first win in three Classic appearances.
"It's huge for the group that we've got," said Norcross coach Keith Maloof. "We lost so many kids and for them to fight through an overtime game like that, and do the things that they did, I'm just extremely proud. A lot of mistakes were made on both sides of the ball but we were just able to finish the game off right there. I'm just proud of my kids for finishing."
It looked dicey for the Devils in the second half as the Tigers, who were making their Class AAAAAA debut, clawed back from a 22-7 deficit to tie it at 22 early in the fourth quarter. Tucker backs Delvin Weems, Raquan Rush and Elijah Sullivan ripped through the Norcross defense for large chunks of yardage during Tucker's comeback.
"They've got great running backs," said Maloof. "All three of them are D-1 guys and we knew that. They've just got and they showed tonight why they're going to be in the mix."
After a stop by the Tucker defense, Duke Shelley returned the Norcross punt to the Blue Devils' 36-yard line. Tucker, however, failed to convert a fourth-down play when Rigby was sacked on the 44. Norcross then drove 56 yards in four plays to retake the lead 29-22 with 7:03 remaining.
After the offense stalled again, Tucker's defense was up to the challenge. Akeam Peters intercepted a pass from Norcross quarterback Griffin Barker and returned it to the Norcross 28. Tucker was still alive.
"No, not in this kind of situation when you got a good defense like we have and it showed right there why," said Maloof. "Two goalline stands, two fumble returns on the goalline, you gotta give it to your defense. And I didn't do that. When we had a seven-point lead and we tried to go big one time and that's my fault as a coach. I've got to do a better job with these kids managing the game in these situations."
Five plays later, Weems was dancing in the end zone and the game seemed destined for overtime.
The Blue Devils, however, were not done yet. They drove to the Tucker nine after big plays from Barker to Jamir Billings and Jared Pinkney. In an odd twist, Bingham missed a game-winning field goal attempt, but was granted a reprieve as Tucker had called timeout just before the kick. But Bingham missed again, ensuring overtime.
A reporter asked Maloof what he said to Bingham after the misses.
"Nothing, nothing," he said. "I said don't worry about it, you'll get another chance. He's a great kid, great kicker, he's fine. It's okay, it happens."
Maloof was proved correct as Bingham knocked home the game-winner.
The game was sloppy at times as the teams combined for 25 penalties that cost a combined 222 yards. Tucker fumbled five times and lost four of them. Aside from the fumble in overtime, another on the Norcross one in the second quarter proved decisive in the end.