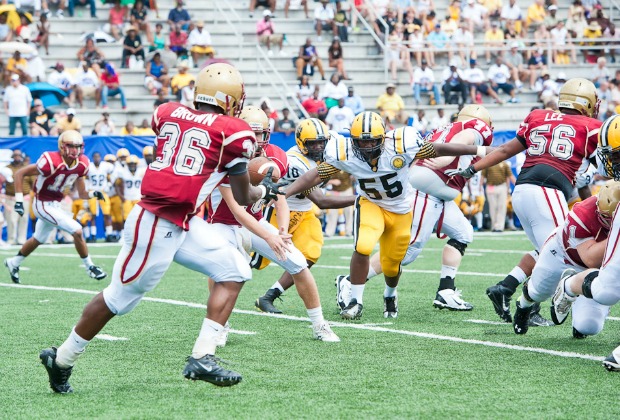 Ty Freeman
The Valdosta Wildcats traveled 250 miles north to McEachern's Walter Cantrell Stadium to take on Brookwood in Game 5 of the seven-game Metro PCS Corky Kell Classic. The Wildcats put on a memorable performance after a disappointing 6-5 2013 season and walked away with a 31-0 victory, the seventh shutout in Corky Kell history. Brookwood has lost eight of its last nine season-openers and the Wildcats have now won 10 straight season-openers against in-state opponents.
Valdosta held Brookwood without a first down in the opening half and took a 10-0 lead into the locker room after outgaining the Broncos 187-26. Brookwood finished the game 0-of-10 on third down and failed its only fourth down attempt.
Valdosta's secondary, led by Cincinnati commit Josh Norwood forced five of Brookwood's six turnovers. Norwood hauled in two interceptions and finished wih a team-high six solo tackles.
Valdosta head coach Rance Gillespie intended on rotating his quarterbacks and Cole Massingill and Seth Shuman combined for 14-of-22 passing for 177 yards and a touchdown.
Tim Griffin opened the scoring with a 2-yard touchdown and Brennan Goodson added his 32-yard field goal with 1:13 left in the half. Shuman took the bulk of the snaps at quarterback in the second half and hit Griffin for a 44-yard touchdown pass. Griffin added his third touchdown in the fourth quarter with a 12-yard run and cornerback Detravian Durden scored the final touchdown on a 13-yard fumble recovery.
Defensively, Brookwood showcased promising talent as linebackers Chad Price and Chase Middleton made plays. Price finished with nine tackles and three sacks and Middleton added five solo tackles and four assisted takedowns.