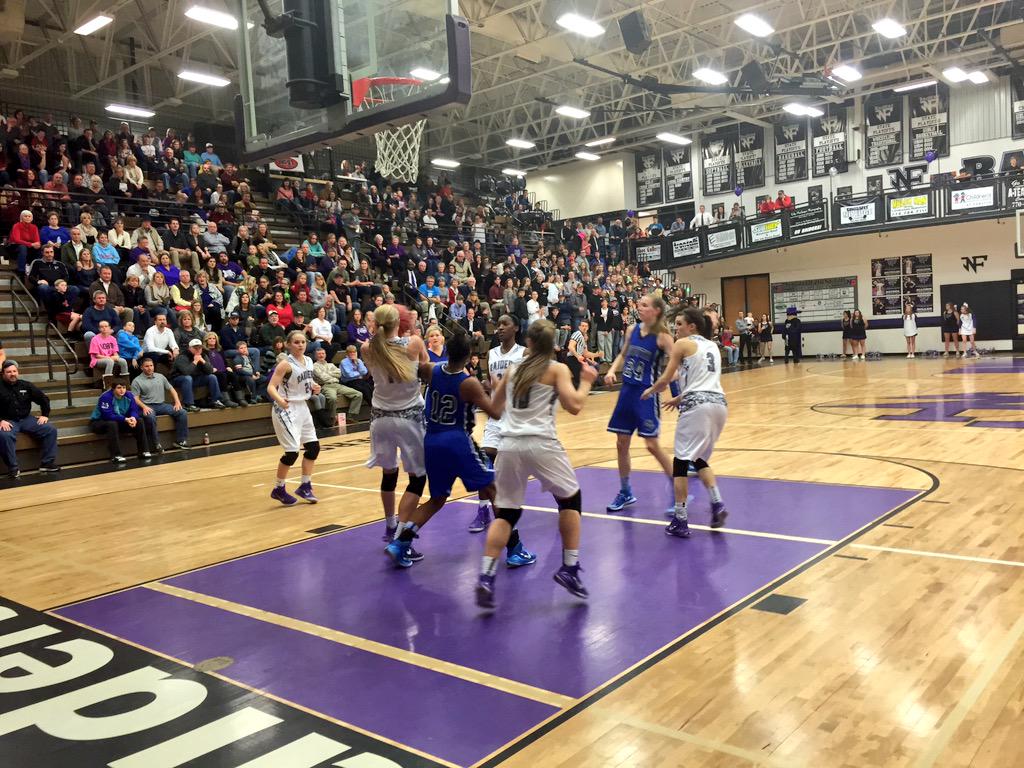 Photo by Craig Sager II
North Forsyth needed a victory Friday night over No. 1 South Forsyth for a chance to tie the War Eagles for first place in Region 6-AAAAAA. Then after securing a 55-49 victory, the Raiders watched South Forsyth win a postgame coin flip and earn the top-seed in next week's Region 6 tournament.
South Forsyth (21-4, 16-2) closed the first half on a 9-4 run but still trailed 30-24 at the break. The Raiders would start to pull away in the second half as seniors Caroline Bowns, Sydney Pefanis, Lochlain Corliss and Okwunne Ogbogu combined for all 25 of the Raiders' second-half points.
On the defensive end, North Forsyth (22-3, 16-2) held South Forsyth to just one made field goal in the third quarter and forced the War Eagles to earn their points at the foul line while battling for every loose ball and dominating the glass.
"We got outworked when they beat us last month (52-50 on Jan. 6),'' said North Forsyth coach Eric Herrick. "That was a point of emphasis we made heading into the game. We weren't going to let that happen again."
North Forsyth got double-digit scoring from Bowns (15), Corliss (14) and Pefanis (10), while South Forsyth got a game-high 20 points from Sarah Myers.
Harrison 70, McEachern 63: Harrison put together a 21-13 run in the third quarter to upset seventh-ranked McEachern. Harrison (18-7, 10-4 in Region 4-AAAAAA) was led by Sydney Wiggins with 19 points. Tea Cooper had 26 for McEachern (17-5, 10-3).
Mountain View 45, Norcross 43: Host Sixth-ranked Mountain View relied on a last-second shot from freshman Lillian Kennedy to secure the win against eighth-ranked Norcross (21-4, 12-2 in Region 7-AAAAAA). Iceis Walker had 14 for Mountain View (20-4, 13-1). For Norcross, Taylor Mason and Ty Gillespie both had 10.
Parkview 57, Central Gwinnett 45: Third-ranked Parkview (20-3, 16-0 in Region 8-AAAAAA) was led by Vickie Harris, who had 18 points and had 11 rebounds. Central Gwinnett (15-9, 10-6) was paced by Alex Frazier with 23 points and Maima Sonii with 10.
St. Pius 50, Marist 45: Third-ranked St Pius was led by Asia Durr's 35 points and finished their Region 6-AAAA schedule at 18-0 and 23-2 overall. Seventh-ranked Marist (18-4, 15-3) received 19 from Dominique Oden and 16 from Anabella Farabaugh.
West Forsyth 48, Chattahoochee 30: West Forsyth (20-5, 15-3 in Region 6-AAAAAA) was led by Jenna Staiti's 18 points. Chattahoochee (14-10, 8-10) was paced by Alayna Ford and Aysia Key, both with eight.
Boys
Wheeler 69, Pope 64: In the clash of Top 10 titans, top-ranked Wheeler (23-2, 16-0 in Region 5-AAAAAA) was able to break a tie with three minutes remaining to win at home and fend off a tough Greyhounds team. Jaylen Brown led all scorers with 29 points while Darius Perry added 12. Seventh-ranked Pope (21-4, 13-3) had four players finish in double digits. Drew Romich led the Greyhounds with 18. Garrick DeBowles scored 17, Chase Hutchins pitched in 16, and Tyler Borko chipped in 13.
Cherokee 46, Etowah 40: The visiting Warriors (16-9, 10-6) behind Jeremiah Gill's 11 points were able to upend the Eagles (13-12, 6-10) in Region 5-AAAAAA. Willie McClure and Jovan Morris both scored nine points to help lift Cherokee. Etowah was led by Daniel Hogue who scored 12 and Ryan Grigsby who finished with 11.
Blessed Trinity 61, Douglass 47: Eighth-ranked Blessed Trinity (21-4, 10-0) remained unblemished in Region 4-AAA after dropping Douglass to 5-17 overall and 1-9 in region. John Michael Bertrand finished with 14 points while Ben Shappard and Kyle Swade scored 11 and 10 respectively. Host Douglass received 12 points from Demontavius Franklin in the defeat.
McIntosh 71, Northgate 37: In Region 4-AAAAA, No. 2 McIntosh (25-0, 18-0) rolled at home to remain undefeated led by Jordan Lyons' 23 points. Will Washington scored 10 points and dished nine assists. Northgate (3-22, 1-17) received 10 points from Anthony Dickerson to lead all Vikings.
St. Francis 48, Mt. Pisgah 23: Top-ranked St. Francis was not phased by the Patriots' methodical four corners offense on the road and was able to move to 22-3 overall and 12-0 in Region 6-A. Kobi Simmons finished with 27 and Malik Beasley chipped in 12 in the low scoring victory. The Patriots (13-11, 6-6) were led by Aaron Winchester's nine points.
Centennial 46, Habersham Central 39: Adam Saeed scored 15 points as the Knights (15-10, 12-6) picked up a Region 6-AAAAAA road win. Terrell Dirton added 10 points and Paris Williams scored eight to lead Centennial. Habersham Central (7-18, 1-17) was led by De'Cellis Outlaw, who scored 10.
Woodstock 47, Lassiter 46: Woodstock (5-20, 3-13) received 14 apiece from Tyreke Johnson and Marcus Foo's and were able to edge the visiting Trojans (1-24, 0-16) in Region 5-AAAAAA. Justin Jackson paced Lassiter with 13 points.
Pace Academy 77, Wesleyan 58: The top-ranked Knights (23-2, 14-0) remained undefeated in Region 6-AA as Elijah Holifield poured in 28 points and seven rebounds to lead the charge. Wendell Carter Jr. posted 22 points and 12 rebounds to go along with five assists while Caleb Holifield added 11 points. Host Wesleyan drops to 11-13 overall and 4-10 in region.
Pebblebrook 71, Douglas County 43: Ty Hudson, Derek Ogbeide, and Jared Harper overwhelmed visiting No. 9 Douglas County (19-6, 11-3) in a showdown between Region 3-AAAAAA top ten teams. Hudson scored 21 while Harper finished with 13 points and 10 assists. Ogbeide posted a double-double with 15 points, 10 rebounds and five blocks to lift the third-ranked Falcons (20-5, 14-0).
Lithonia 65, Stone Mountain 60: After trailing by six at the half, third-ranked Lithonia (22-2, 17-1) was able to sneak past visiting eighth-ranked (16-8, 11-6) in Region 6-AAAA.  Rodney Chatman scored 17 points and recorded nine assists to pace the Bulldog offense. Kesean Warren chipped in 16 and Tyleen Patterson finished with 13 points and nine rebounds. Stone Mountain was led by the guard duo of Chris Jones and Ty-meer Pierce, who scored 23 and 16 respectively.
North Forsyth 61, South Forsyth 58: The Raiders (11-14, 8-10) grabbed a Region 6-AAAAAA home win over rival South Forsyth (8-17, 7-11) behind Chad Bureau and Dakota Holtzclaw. Bureau finished with 16 while Holtzclaw netted 15. Evan Cole was the high scorer on the night, pouring in 26 points to lead the War Eagles.
High School Basketball Scores
Boys
Archer 69, Dacula 58
Armuchee 63, Gordon Lee 46
Athens Christian 108, Providence Christian 32
Blessed Trinity 61, Doulgass 47
Bowdon 84, Chattahoochee County 62
Cass 68, North Springs 56
Chattahoochee 60, West Forsyth 44
Cherokee 46, Etowah 40
Clinch County 68, Lanier County 61
Dodge County 61, Islands 59
Grayson 67, South Gwinnett 56
Hillgrove 72, Osborne 70
Jenkins County 62, Calvary Day 57
Kennesaw Mountain 52, North Paulding 44
Macon County 47, Taylor County 42
Manchester 76, Temple 59
McIntosh 71, Northgate 37
Newnan 50, East Coweta 40
North Gwinnett 68, Mill Creek 41
Oconee County 63, Jackson County 50
Peach County 72, Westside-Macon 66
Riverside Military 57, Washington-Wilkes 46
St. Anne-Pacelli 83, Brookstone 66
St. Francis 48, Mt. Pisgah Christian 23
Stratford Academy 55, Our Lady of Mercy 51
Vidalia 69, Bryan County 55
Westlake 47, Langston Hughes 45
Westminster 58, Therrell 57
Woodstock 47, Lassiter 46
Girls
Archer 53, Dacula 43
Armuchee 67, Gordon Lee 64
Athens Christian 54, Providence Christian 37
Banks County 66, Fannin County 45
Bleckley County 74, Northeast-Macon 44
Buford 45, White County 26
Callaway 64, Rockmart 57 (OT)
Calvary Day 73, Jenkins County 24
Campbell 56, South Cobb 38
Carrollton 65, Troup 43
Chattahoochee County 41, Bowdon 40
Colquitt County 69, Lowndes 51
Dawson County 56, West Hall 49
Dodge County 73, Islands 14
East Hall 57, Franklin County 42
East Laurens 57, Harlem 29
Effingham County 50, South Effingham 47
Etowah 47, Cherokee 33
Fayette County 55, Whitewater 34
Grayson 58, South Gwinnett 42
Jackson County 49, Oconee County 46
Jefferson 69, East Jackson 33
Lambert 58, Johns Creek 35
Langston Hughes 41, Westlake 40
Lanier County 56, Clinch County 30
Manchester 65, Temple 33
McIntosh 47, Northgate 35
Mill Creek 55, North Gwinnett 39
Morrow 85, Mundy's Mill 76 (OT)
Mountain View 45, Norcross 43
Newnan 31, East Coweta 26
North Forsyth 55, South Forsyth 49
North Hall 53, Stephens County 49
Northside-Columbus 66, LaGrange 54
Osborne 63, Hillgrove 50
Paideia 44, Greenforest 43
Pinecrest Academy 46, Walker 45
Pope 63, Wheeler 57
St. Francis 71, Mt. Pisgah Christian 28
St. Pius 50, Marist 45
St. Vincents 49, Long County 39
Stone Mountain 62, Lithonia 37
Stratford Academy 46, Our Lady of Mercy 23
Taylor County 63, Macon County 27
Veterans 62, Mary Persons 51
Vidalia 52, Bryan County 33
Woodstock 77, Lassiter 16
Woodward Academy 51, Sandy Creek 44
Worth County 56, Crisp County 52