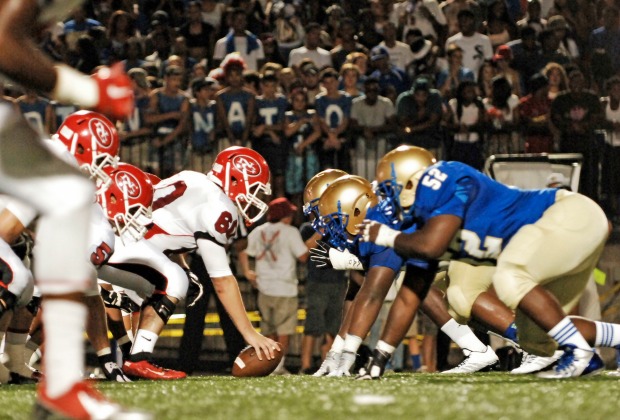 Sonny Kennedy
Fans at McEachern High School went home disappointed from the Metro PCS Corky Kell Classic on Saturday night (make that Sunday morning), but not without memories of a Classic that won't soon be forgotten. After Norcross edged Tucker in a tense 32-29 contest that ended around 10:00 p.m., McEachern fell to visiting North Gwinnett 52-49 in a thriller that wrapped up several minutes past 1:30 a.m.
"Both teams got hot tonight," North Gwinnett head coach Bob Sphire said. "There were a lot of big plays. That is kind of what our playoffs looked like last year; all five games."
One of those 2013 playoff games came against McEachern. This was a highly-touted rematch of last year's Class AAAAAA semifinals, won by North Gwinnett 27-21. And to say it lived up from the hype would be an understatement.
The two teams combined for 1,046 total yards, including 490 via the arm of North Gwinnett quarterback John Urzua. Bulldogs' receivers Josh and Daniel Imatorbhebhe combined for 18 catches, 246 yards and five touchdowns. Josh went for 173 yards and three scores, while Daniel caught 73 yards worth of passes and found the endzone twice on 10 receptions. McEachern, meanwhile, was led by Taj Griffin's 138 rushing yards and three touchdowns and Bailey Hockman's 302 passing yards and four scores.
Griffin did almost all of his damage early in the game before being contained in the second half and ultimately leaving with an injury in the final minutes. The University of Oregon commit rushed eight times for 43 yards on the first drive of the game and capped it off with an 11-yard touchdown run. He had 10 carries for 83 yards and three touchdowns by the end of the first quarter.
North Gwinnett found itself trailing 21-7 as a result, but the visitors responded with scoring strikes from Urzua to Josh Imatorbhebhe and Almonzo Brown. They stormed into halftime with a 22-21 lead after Josh Imatorbhebhe took a lateral from Kyler Knudsen and raced the remaining 30 yards of a 40-yard hook-and-lateral play to the endzone.
McEachern was quick to regain momentum and get its fans back in the game. The Indians stopped North Gwinnett three-and-out to begin the second half and T.J. Rahming promptly returned the ensuing punt for 43 yards before catching a 35-yard touchdown pass from Hockman on the first play from scrimmage to put the Indians ahead 28-22.
A roller-coaster ride soon saw North Gwinnett take back the lead despite its offense fumbling on McEachern's one-yard line. Avery Elford forced a fumble out of the back of the endonze two plays later, good for a safety. That gave the Bulldogs possession of the football and they went on an efficient nine-play, 55-yard drive that culminated in a seven-yard scoring pass from Urzua to Daniel Imatorbhebhe. After both teams exchanged fumbles, Daniel Imatorbhebhe caught another touchdown, this time on a fade route from four yards out. Just like that, the Bulldogs seized a 38-28 advantage.
North Gwinnett seemed to have the game in hand early in the fourth quarter, leading by 10 points and driving in its opponent's territory. A Tyler Woodly interception, however, gave the ball back to McEachern. Hockman promptly tossed a 72-yard touchdown pass to Tyler Smith and the Indians' next drive, Hockman hit Rahming with slant over the middle and the speedy receiver took it the rest of the 74 yards for a score. Even the scoreboard operators may have been struggling to keep up, but at this point the home team had seized a 42-38 lead with fewer than seven minutes remaining. Back and forth the teams went, with Josh Imatorbhebe hauling in a 29-yard touchdown pass and McEachern's Smith answering with a 22-yard scoring reception.
This time it was McEachern's turn to try its hand at sealing the deal with both a lead and the football. Instead, North Gwinnett—with no timeouts left—saw its defense come up big in a must-stop situation on 3rd-and-5. After forcing the Indians' to punt, the Bulldogs marched on a nine-play, 68-yard game-winning drive. The clincher came with nine seconds remaining on a nine-yard pass from Urzua to Knudsen.
"One of the best high-school games probably ever played," Sphire concluded. "And nobody saw it because it's 1:40 in the morning."