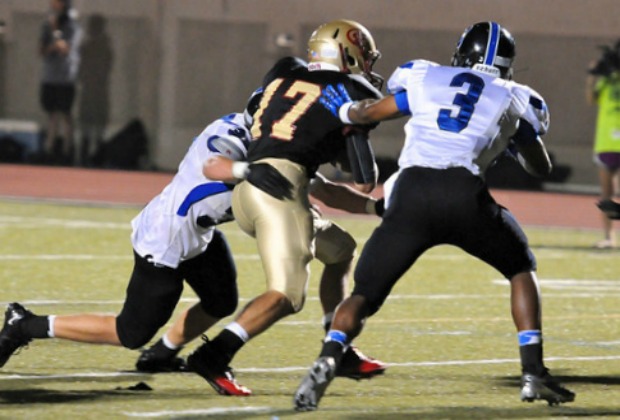 Elisa Herring
Lambert hosted the fourth annual NFFTD Chamber Bowl Saturday with more than 1000 people braving the cold to witness some intense all-star football. The North squad evened the all-time series at 2-2 with a 30-22 victory that saw Sid Maxwell's squad rush out to an early lead then withstand a rally from the South side. Vince Sciorrotta of North Forsyth got North on the scoreboard first with a 42-yard field goal early in the first quarter.
The South responded with a march down the led triggered by Holy Innocents' Stephen Williams. Roswell quarterback Ryan Monty capped the drive with a one-yard quarterback sneak to give the South team its only lead of the game.
Johns Creek's Skye Overton received the lion's share of snaps at quarterback for the North team, but it was Mike Randle of the North Georgia Falcons program that plunged into the end zone out of the wildcat formation to recapture the lead for the North team. Northview's Terrence Upshaw added on to the North's lead with a 19-yard touchdown.
After West Forsyth's Josh Gordon came away with an interception return deep into South territory, South Forsyth's Jantzen Jeffrey, finally healthy after a senior year where he missed several games due to a shoulder injury, scrambled for 16 yards and a touchdown for a 24-7 halftime lead. In the first half, the North defense came away with four turnovers while the South defense forced just two.
In the second half, Overton found Randle for a 34-yard touchdown reception to push the lead to 30-7 entering the fourth quarter. The South would mount a comeback as Centennial's Chase Rosenberg connected with Jonathan Albert of Roswell to get down to the two-yard line, and Rosenberg would take the ball into the end zone one play later on a nice read-option draw.
Following a two-point conversion and some outstanding defense, the South offense was on the field again as Monty found Chattahoochee's Joel Clay for a 14-yard scoring reception.
With the lead trimmed to 30-22, North ran the ball, attempting to kill the clock. Terry Crowder's South squad had two more chances but a deep pass from Rosenberg was completed short of the goal line and the North held on for the victory.
Randle was named the Offensive Player of the Game while Johns Creek's Denny Victor was the Defensive Player of the Game. Victor came away with several pressures, two deflected passes, a fumble recovery and an interception. The North team forced six total turnovers, two fumbles and four interceptions.