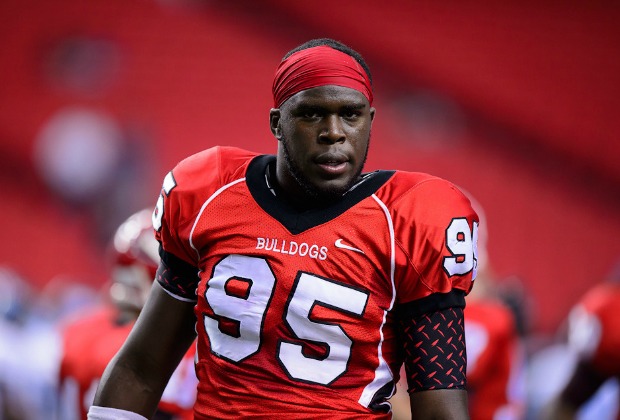 Photo by Ty Freeman
We are counting down to National Signing Day 2014 by putting the spotlight on 25 of Metro Atlanta's top prospects as they choose their college destinations. These athletes will be recognized for their outstanding varsity careers throughout Score Atlanta's record breaking coverage of the Peach State's signees. #NSDFrenzy
Dante Sawyer is a 6-foot-3, 262-pound defensive end that has been on recruiting boards since he was a freshman. Sawyer had to show a lot of patience during his long journey of college visits and countless collegiate fan mail, but made his committment to the University of South Carolina days after North Gwinnett made a trip to the Class AAAAAA state championship.
Head coach Steve Spurrier got the four-star to commit to the Gamecocks on Dec. 17 and it looks like Sawyer will fit right into the Gamecocks' recent history of athletic defensive linemen. This past season, while Sawyer terrorized opponents' backfields, he also threw for a touchdown pass, ran in a score and hauled in a diving interception in the state championship. The lineman also caught a 31-yard pass this season.
Sawyer has the perfect combination of height and strength and he can keep the low pad level that is needed to take on double teams and create a push in the trenches. At the collegiate level, Sawyer will be able to drop into coverage in certain passing situations and seeing how South Carolina uses his versatility on the field will be an interesting chapter in his career at the next level.
1. Nick Chubb
2. Lorenzo Carter
3. Nick Ruffin
4. Bryson Allen-Williams
5. Dante Sawyer
6. Cortez McDowell
7. Korie Rogers
8. Wesley Green
9. Mike Rogers
10. Orlando Brown
11. Detric Dukes
12. Nate Brown
13. Andrew Williams
14. Kendarius Webster
15. Allen Artis
16. Demarquis Gates
17. Kevin Mouhon
18. Elisha Shaw
19. Treyvon Paulk
20. Myles Autry
21. Taariq Shabazz
22. Kendall Baker
23. C.J. Leggett
24. Grant Haley
25. Evan Berry
(CLICK HERE For a list of all the signees in the state)