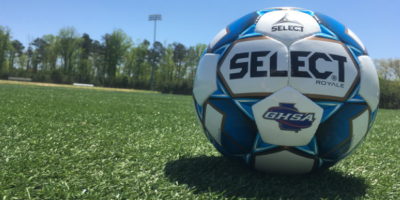 The 2022 GHSA Soccer State Championships will begin its four-day lineup on Tuesday and a total of 16 state titles will be earned by Friday's final pair of games. McEachern's Cantrell Stadium will host Class A Private (Tuesday), Class 3A (Wednesday), Class 5A (Thursday) and Class 7A (Friday), while Mercer's Five Star Stadium will host Class A Public (Tuesday), Class 2A (Wednesday), Class 4A (Thursday) and Class 6A (Friday).
In Class 7A, the Pebblebrook boys sit a victory away from capturing their first-ever state title and will have to face an undefeated Harrison (22-0) team looking for its first crown since 2007. The Hoyas have two of the top scorers in the classification with North Georgia-commit Tyler Vitelli and Lee Archer. On the girls side, defending state champion West Forsyth and Mill Creek both carry 12-game win-streaks into their Class 7A showdown.
Historic opportunities are on the line in Class 6A, where Lassiter has an opportunity to sweep titles for the first time in school history. The Lady Trojans will take on Cambridge—which is looking to complete an undefeated season and capture its first-ever title. In the boys finals, Lassiter will take on reigning state champion Dalton—which is one victory away from its sixth state title since 2013 and seventh all-time championship. Lassiter's last boys state championship came in 1996.
The St. Pius boys will take on Johnson-Gainesville in the Class 5A championship and it will be the first meeting between the programs this year. St. Pius scored all four goals in the first half in its 4-3 semifinal triumph over Blessed Trinity and Johnson (20-1-1) avenged its only loss this season in the semifinals by defeating Woodward Academy in a 6-5 thriller. The girls Class 5A finals features Chamblee and Midtown—which are both aiming for their first-ever state titles. Chamblee previously defeated the Knights 6-3 on March 29.
In Class 4A, Region 7 rivals Northwest Whitfield and Southeast Whitfield will battle once again for the state title. Southeast Whitfield took their regular season meeting 3-2 in overtime and will be looking to sweep the season series and secure its third state title since 2017. On the girls side, Marist and Jefferson will clash. Marist has outscored its four playoff opponents 26-0, while Jefferson has piled on a 28-1 scoring edge through the first four rounds.
Greater Atlanta Christian has an opportunity to sweep the Class 3A championship this year and will have to take on the Oconee County boys and Westminster girls in order to achieve that ambition. The Westminster girls have won six-straight state titles and boast 14 all-time championships and the Oconee County boys were recently crowned state champs in 2019—giving the Spartans a tremendous pair of opponents.
Class 2A will offer a double-dose of Region 6 rematches with Lovett and Pace Academy squaring off in both the boys and girls finals. Lovett won both regular season clashes—with the girls scoring a 4-0 victory and the boys taking a 2-1 win. Athens Academy and Atlanta Classical will meet in the boys Class A Private championship and Athens Academy has won 16-straight since tying Cedar Shoals 2-2 in its season opener and posting a 102-12 scoring advantage in the same span. On the girls side, defending state champion Holy Innocents' has won 14-straight since its 1-0 loss to Pinecrest Academy and will look to avenge that defeat in its rematch with the Paladins.
Finally, Class A Public's Drew Charter and Dalton Academy both sit a win away from a first-ever boys title and the Commerce girls will face Social Circle in another battle of programs looking for historic firsts.