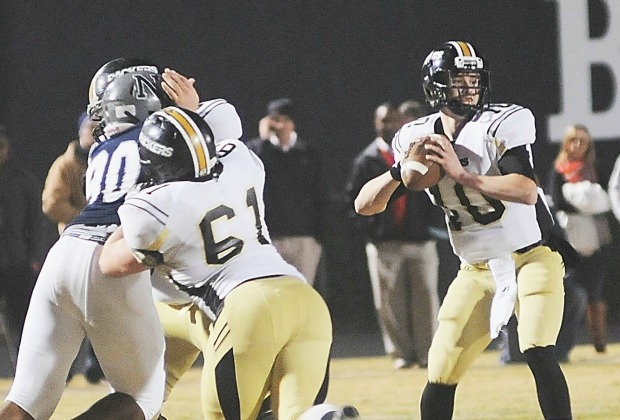 Colquitt County
It will be a matchup of metro Atlanta power against South Georgia tradition when the Grayson Rams meet the Colquitt County Packers in today's Metro PCS Corky Kell Classic. The Grayson program is only 14-years old, but already owns a state championship. Colquitt County Packers Head coach Mickey Conn's Rams defeated Colquitt County in the state semifinals 35-21 en route to the 2011 Class AAAAA title. The Packers have a state title of their own and play in what is now Region 1-AAAAAA with heavyweights like Valdosta, Lowndes and Camden County.
Grayson has a record of 4-1 in this event, all since 2008. Colquitt County is 1-4 in the Classic. Last year they were defeated by North Gwinnett 16-14 in the first appearance by the Packers under head coach Rush Propst's leadership.
Grayson junior quarterback Hunter Schuessler should be familiar in the Georgia Dome even if it will be his first start. His brother Nate was Grayson's quarterback during the Rams championship run. Last fall the younger Schuessler, who possesses arm strength comparable or stronger than his brother, led the JV squad to an undefeated season.
Grayson is only returning one starter on both sides of the ball combined. Schuessler will run Grayson's familiar "hybrid Wing-T" offense and will share the backfield with senior running back Aares McCall. McCall has big play potential. He rushed for 130 yards on just 14 carries in Grayson's scrimmage against Gainesville earlier this month.
Colquitt County is famous for their offensive firepower in recent years. Fans can count on seeing plenty of the football spiraling downfield, a trademark of Propst's offenses. Senior quarterback Daniel Mobley will get the keys all season after starting a handful of games last fall. How prolific is the Packers' offense under Propst? Colquitt County averaged over 28 points per game (including the playoffs) despite playing against stingy 1-AAAAAA competition in 2012.
There are high expectations again for the Packers' offense, and if the line gels quickly, look out. Propst has guided his squad to at least the state semifinals the last four seasons and this squad is hungry to celebrate the 100th anniversary of Packers football.
Colquitt County's defense will look a little different than last year's unit in a couple of ways. Tracy Buckhannon, formerly the secondary position coach, has been promoted to defensive coordinator and what tweaks and changes he'll install are still question marks. Buckhannon will start the season minus one, possibly two, playmakers. Senior safety Tim Sanders will miss the beginning of the season recovering from a broken leg, and senior linebacker Brandon Key is coming off an MCL injury. Senior tackle Jamiyus Pittman will disrupt opposing offensive lines.