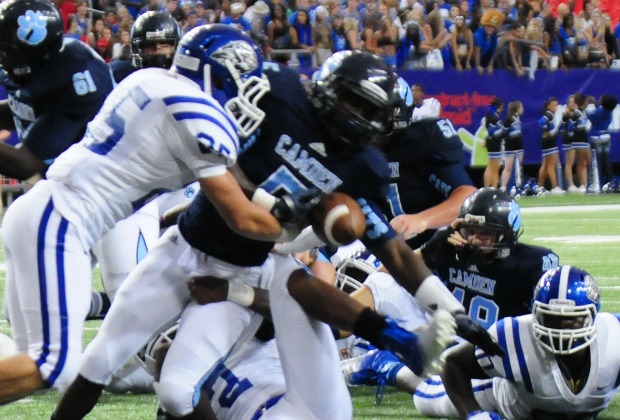 Sonny Kennedy
The Peachtree Ridge Lions are looking to be two things on the gridiron in the fall of 2013: improved and exciting. The Lions were a playoff team in coach Mark Fleetwood's first season at the Suwanee school in 2011 but last year, "The Ridge" went 4-6 in Region 7-AAAAAA.
This season, the Lions are looking to return to the playoffs and maybe more.
"Winning a region championship. That's our main goal," declared Fleetwood. "That's something we want to prove."
Peachtree Ridge has a strong, if not lengthy, tradition. The Lions have only been in the football business since 2003, but won a share of the state championship in 2006. In 2008, the Ridge added a runner-up finish. Last year was the first season since 2004 that the Lions did not post a winning record, so opponents can expect to face a motivated group of Lions in 2013.
The strength of the team figures to lie in the skill positions. "We've got some guys that have the ability to break a game open," added Fleetwood. Peachtree Ridge has two playmakers at running back in Jordan Ellis and Walden Davis. Brandon Johnson will be a threat on the outside at wide receiver.
One of the biggest challenges for Fleetwood in the offseason was replacing two key units, one on each side of the ball. On offense, only two starters return to the offensive line. And on defense, many of the top players from last year's rotation return, but the linebacking corps was hit hard by graduation. Both the offense and defense will show multiple formations, and the offense will definitely be up-tempo. In victories last fall, Peachtree Ridge averaged more than 38 points per game.
Fleetwood figures to mix in plenty of talented younger players. He's excited at the prospect of seeing at least 10 very talented sophomores compete and earn extended playing time from the onset of the season.
The most intriguing element for this team will be the addition of transfer Nick Glass from St. Pius X. Glass is a Georgia commitment. Fans can expect to see Glass on special teams as well and see him on the offensive side of the ball as well.
The Lions face stiff completion from the first kickoff facing Walton in the Metro PCS Corky Kell Classic. Peachtree Ridge will have revenge on their minds, as the Lions lost to the Raiders in 2011 in the Kell Classic.