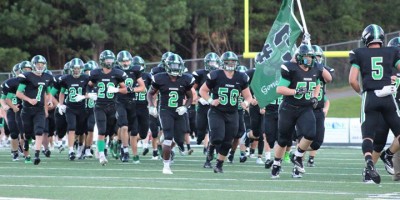 Pickens high school is in the middle of their best season in school history with a 10-0 record heading into the playoffs after winning their region for the first time in school history.
The excitement around the Dragons program is palpable and the team and coaching staff feels they are ready to make an impact in the playoffs. "It's really exciting to see how excited everyone is from the community to players and the assistants. It has really been a special season for everyone involved," said head coach Chris Parker.
Pickens has made the playoffs each of the last five seasons but has yet to make a deep run. This minimal success can be attributed to the lack of experience on former teams, but that is very different now. Coach Parker is in his seventh season at the helm for the Dragons and his senior class of players this season were part of the first group of kids from the Pickens middle school feeder football program. According to Parker, this continuity is a huge reason for the team's tremendous success this season.
When it comes to why this group of players has been able to make it work this season and have so much success Parker said, "They have played better because they are older and more mature on and off the field, and they are working as hard as they always have."
Pickens opens the playoffs Friday vs. White County, a team that they are familiar with as the two played each other in early September. In a season full of blow out wins for the Dragons, this matchup with White County was the closest game they played all season, winning 42-35.
The keys for a long playoff run for the Dragons are to stay healthy, not turn the ball over and to execute in the red zone, according to Coach Parker. "We just want to focus on the first game against White County and not get ahead of ourselves."
These statements on making a deep playoff run were echoed by dual-threat, junior starting quarterback CJ Stretcher. "We have to do what we have been doing all year and stay focused. It is important to treat every game like it could be the end. The key will be to not beat ourselves," said Stretcher.
Some other key players to look out for during the playoffs that have had a huge impact this season include senior captain Trevon Hawkins who plays linebacker and running back. They are also led by Zach Goss, a senior wide receiver committed to Tennessee Tech who holds every receiving record in Pickens history. On the defensive side of the ball is senior linebacker Hunter Hermann who provides a huge presence on the field.