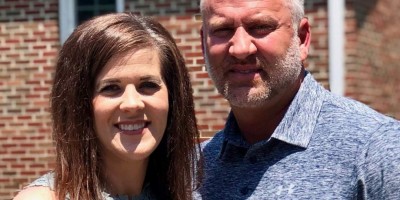 The Atlanta Falcons Coach of the Week program recognizes high school football coaches across the state of Georgia for their hard work and dedication to making a difference in student-athlete's lives on and off the field.
The ninth winner of the 2018 season is Wilcox County head coach Ken Cofer who has led the Patriots back to the playoffs for the first time since 2012. He is in his first year at Wilcox after coaching at Cook from 2010-13, Bacon County from 2014-15 and serving as an assistant coach at Dodge County. Cofer has been credited with helping Wilcox earn its playoff berth as well as boosting morale throughout the program.
"He has turned around a team that has only won 11 games total since 2013," said Chris Giddens, a technology specialist at Wilcox County High School. "Wilcox County competes in region 2-A which has produced at least one team, and usually two, in the semifinals and/or state championship game since the class A public private split in 2012."
Wilcox County entered the playoffs in 2012 for what would be the final playoff appearance until the Patriots current berth—which sets up a first-round showdown with Trion on Friday. For Wilcox fans, the upcoming playoff game brings back memories of a time when football in November could be written on the calendar in black Sharpie. Beginning in 2007, the Patriots became a force in Class A. Wilcox won region championships in 2007 and 2008 and a state title in 2009 before repeating the region in 2011-12.
Wilcox went 5-5 this season and its three big region wins Lanier County (61-22), Telfair County (22-10) and Atkinson County (40-0) were enough to earn the No. 23 seed in Class A-Public bracket. A lot of the success this year has been found in the weight room through proper training, conditioning and maybe an attitude adjustment or two.
"He is an excellent role model for his players and his assistant coaches," said Giddens. "He practices what he preaches and has made a dramatic difference in the attitude of our students, athlete and non-athlete. The whole moral of the school has been given a big boost by his addition to the school system."
The introduction of a new coach into a struggling program can provide boosts to so many aspects of the team and the school. At Wilcox, Cofer's knowledge across multiple fronts, coupled with some new equipment, has had an immediate impact.
"He has worked really hard with the athletes with making sure they are being safe in the weight room and lifting properly," Giddens explained. "He is also working to make sure kids learn the fundamentals of football and how to play correctly and safely. He is also USA Weightlifting Sports Performance Certified. Since his arrival, we have been able to get a new weight room with all new weights, some new helmets and other equipment."
Cofer also realizes the importance of his football team helping the community and, since his arrival, the Patriots' focus within the community has been welcomed on all fronts.
"Coach Cofer has had players involved in helping out locally in the community through some service projects," Giddens said. "The team is active in Patriots for Christ, reading to and being mentors to elementary school classroom. They also spend time and eating lunch with the special needs kids from the high and middle school. They also helped by being servers for the Wilcox County Elementary School breakfast with grandparents."
Most importantly, at the core of any coach who will have a lasting impression on all his student-athletes is the knowledge that he isn't just coaching the players on the field each week. He spends his time with each individual player because, from the starting quarterback to the last person on the depth chart, each player matters and Cofer is aware of that.
"He has been like a father to many of the athletes and non-athlete students at Wilcox County High School," said Giddens. "He has students-athletes that stopped playing sports back playing and sticking with it. He encourages the players whether they are a superstar, role-player or last kid on the depth chart."
Each week, one coach will be selected to be the Atlanta Falcons Coach of the Week based on his commitment to his team, community and player safety. The winning coach will receive a $1,000 equipment grant, a commemorative football and tickets to an Atlanta Falcons home game.