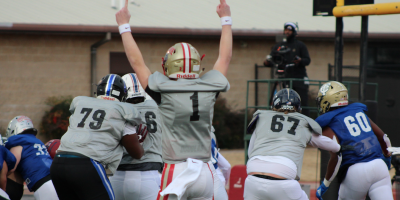 The ninth annual Georgia Elite Classic will feature a triple-header of all-star football games on Wednesday, Dec. 22 at Rome's Barron Stadium and will showcase top talent from the state's next five graduating classes. The Class of 2026 will take the field in the opening 8th Grade Game at 10 am and it will be the first middle school all-star game to ever be broadcasted on television. PeachtreeTV will continue its live coverage with the Class of 2022 and Class of 2023 squaring off in the Seniors vs. Juniors game at 12:45 p.m and then the Sophomores faceoff with the Freshmen in the grand finale at 3:30 p.m. and will represent the Class of 2024 and Class of 2025.
More than 1,200 college football players appeared in the classic prior to their collegiate careers since the inaugural 2013 edition and the spotlight continues growing exponentially. Additionally, the games have been exceptionally competitive over the event's history and the leadership at Georgia Elite Classic have built another year of outstanding lineups. Representing the Seniors will be, Class of 2022 quarterbacks Jake Parker (Cartersville), Brayden Mauldin (Paulding County) and Jett Miller (Wesleyan). Parker led the Purple Hurricanes to an undefeated regular season, Mauldin is fresh off a 2,643-yard passing season with 20 touchdowns through the air and Miller threw for 2,289 yards and was named Gwinnett Daily Post Offensive Player of the Week following a 401-yard, 5-touchdown performance against Loganville Christian. The Seniors will have plenty of talent at receiver with Creekview's Tristan Summers (38-583-6), Cartersville's Jacob Ray (16-422-5), Cherokee Bluff's Marlion Jackson (45-636-10), Cambridge's Carson Kent (14-248-4), Dalton's Karim Page and Mt. Pisgah tight end Cole Spence (55-957-5). The backfield will feature White County running back Silas Mulligan (219-1039-9) and Chattooga's Lashaun Lester (143-927-10). Athletes Caleb Thompson (Darlington) and Georgia Southern-commit Marc Stampley II (Starr's Mill) will bolster the firepower of the Seniors. The offensive line includes talent like Jarvis Germany of Mary Persons, a 6-foot-3, 320-pound, First-Team All-Region selection. Defensively, the Seniors boast Johns Creek's Andrew Guth—who helped led the Gladiators' defensive line this season with 82 tackles, 19 tackles for loss and six sacks. Central Gwinnett linebacker Lassana Simaga posted 127 tackles in just 10 games this season and Mill Creek cornerback Jayvon Henderson had 34 tackles, four interceptions, three tackles for loss and one forced fumble.
The Junior team will offer an incredible look at the Class of 2023 and Stephens County quarterback Ben Stowe will be under center after throwing for 1,647 yards and 12 touchdowns this season to go with his eight rushing scores. Stowe will have his top target from this season—Cam Lacy—who racked up 1,023 receiving yards and eight touchdowns off of 44 receptions. In the backfield, Pepperell's DJ Rogers is fresh off a junior season that included 1,481 rushing yards and 21 touchdowns to go with 229 yards and three touchdown receptions and West Forsyth running back Peyton Streko is coming off a 659-yard campaign that included 11 rushing touchdowns. The offensive line will feature standouts like Darlington's Gus Gammage—a 6-foot-5, 290-pound starter that earned Region 7-A Offensive Lineman of the Year this past season. Westminster's Josh Brockman and Heritage School's Mack Mikko will handle the kicking duties and are two of the most sought after kickers in the state for the Class of 2023. Defensively, the juniors will have Region 7-4A Defensive Player of the Year Eli Barrow (Cedartown) helping to lead the way.
The Georgia Elite Classic has served as a Launchpad for underclassmen over the years and the Class of 2024 has an incredible list of headliners appearing in this year's game. At quarterback, Prince Avenue Christian's Aaron Philo, Rome's Reece Fountain and Walton's Jeremy Hecklinski create the most talented group of sophomore passers to ever compete in the classic. Philo threw for 4,540 yards and 47 touchdowns this season for the Wolverines, Fountain led the Wolves to the Region 5-6A title and Hecklinski helped quarterback Walton to the Class 7A semifinals. Sammy Brown—the state's No. 1 ranked prospect and the nation's No. 5 ranked Class of 2024 prospect can play linebacker or running back. Mountain View's Justin Greene is also a four-star and he will lineup on the defensive line as the No. 3 rated defensive lineman in the nation. The Sophomore offensive line features Tattnall Square's Web Davidson—who was recently offered by Michigan State and Adidas All-American Parker McClendon of McEachern. Schley County's Jalewis Solomon will help lead the receivers after posting 61 catches for 989 yards and 13 touchdowns this season
The Freshmen will offer another first-hand look at the state's top underclassmen talent with some of the best Class of 2025 prospects in the country. Quarterback Antwann Hill (Houston County) is 6-foot-4, 205 pounds and has already been offered by UGA and Texas A&M. Hill will share snaps with dual threat quarterback Austin Guest of Creekview. Running back Chance Arthur took 72 carries for 284 yards and four touchdowns this season for Kennesaw Mountain and Commerce running back Jaiden Daniels accounted for 1,640 all-purpose yards this season. Arthur and Daniels are joined by Cedar Grove's Bo Walker and Fellowship Christian's TJ Lester. Woodward Academy wide receiver Josiah Abdullah had 19 catches for 188 yards and two touchdowns as a freshman this season and has already been offered by Georgia Tech and Pittsburgh. Additionally, Westlake's Juan Gaston will be on the offensive line and is a 6-foot-8, 320-pounder that started for the Lions this season.
In the 8th Grade Game, the dynamic Harrison Faulker, who is a Class of 2026 prospect heading to North Oconee, will be taking the field with Mac Nelson of Mary Persons and Teddy Jarrad of St. Francis. The middle school games have been a staple of the Georgia Elite Classic lineup over the years and televising this year's game offers an incredible opportunity to witness Georgia's future gridiron stars compete.
The Games will also be streamed digitally on CBS46.com. For more information visit GeorgiaEliteClassic.com
2021 Georgia Elite Class Schedule
10:00 AM        ELITE 8TH GRADE KICKOFF
12:45 PM         ELITE SENIORS & JUNIORS KICKOFF
3:30 PM           ELITE SOPHOMORES & FRESHMEN KICKOFF