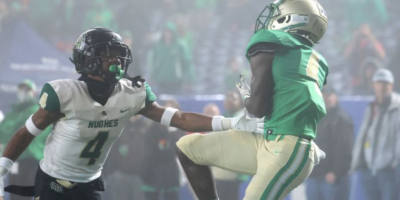 JASON GETZ FOR THE ATLANTA JOURNAL-CONSTITUTION
Collins Hill went wire-to-wire No. 1 in Class 7A and defeated No. 2 Milton 24-8 in Saturday's championship. Mill Creek, Grayson and Walton round out the top 5 and Roswell, North Cobb, Brookwood, Lowndes and Colquitt County also earned spots in the final poll. The Class 6A poll is topped by Buford—which defeated Hughes 21-20 on Friday in the championship. Carrollton, Lee County, Dacula, Westlake, Cambridge, Johns Creek, Northside-Warner Robins and Brunswick also earned spots in the final poll.
Warner Robins clinched the Class 5A title in a 38-14 win over Calhoun and closes out No. 1 ahead of the Yellow Jackets. Cartersville, Ware County and Blessed Trinity round out a loaded top 5 and Woodward Academy, Creekside, Clarke Central, St. Pius and Whitewater also appear in the final poll.
In Class 4A, state champion Benedictine leads a top 5 featuring runner-up Carver-Columbus and No. 3 Marist, No. 4 Cedartown and No. 5 North Oconee. Bainbridge, Dougherty, Perry, Riverdale and Jefferson also closed out the season in the poll.
Cedar Grove has won the 3A title four times in the past six seasons following its 56-26 victory over Carver-Atlanta in the championship game. Carver-Atlanta finished at No. 2 ahead of Pierce County, Appling County and Crisp County. Fitzgerald tops Class 2A after winning its first state title since 1948. Since 2000 under head coach Robby Pruitt, Fitzgerald has been to the title game five times and lost in four of them. Runner-up Thomasville finished at No. 2 ahead of Rabun County, Callaway and Putnam County.
Trinity Christian tops Class A Private after winning the program's first-ever state title with a victory over defending-champion Prince Avenue Christian in a rematch of last year's championship game. Prince Avenue finished at No. 2. Eagle's Landing Christian finished at No. 3 with Fellowship Christian and Calvary Day rounding the top 5.
Brooks County won its second overall title and first since 1994, both under head coach Maurice Freeman, after beating defending-champion Irwin County in a rematch of last year's title game. Irwin finished at No. 3 with Metter, Macon County and Schley County chasing.
Class 7A
1. Collins Hill
2. Milton
3. Mill Creek
4. Grayson
5. Walton
6. Roswell
7. North Cobb
8. Brookwood
9. Lowndes
10. Colquitt County
Class 6A
1. Buford
2. Hughes
3. Carrollton
4. Lee County
5. Dacula
6. Westlake
7. Cambridge
8. Johns Creek
9. Northside-Warner Robins
10. Brunswick
Class 5A
1. Warner Robins
2. Calhoun
3. Cartersville
4. Ware County
5. Blessed Trinity
6. Woodward Academy
7. Creekside
8. Clarke Central
9. St. Pius
10. Whitewater
Class 4A
1. Benedictine
2. Carver-Columbus
3. Marist
4. Cedartown
5. North Oconee
6. Bainbridge
7. Dougherty
8. Perry
9. Riverdale
10. Jefferson
Class 3A
1. Cedar Grove
2. Carver-Atlanta
3. Pierce County
4. Appling County
5.  Crisp County
6. Peach County
7. Oconee County
8. Thomson
9. Monroe Area
10. Burke County
Class 2A
1. Fitzgerald
2. Thomasville
3. Rabun County
4. Callaway
5. Putnam County
6. Bleckley County
7. Swainsboro
8. Northeast
9. South Atlanta
10. Haralson County
Class A Private
1. Trinity Christian
2. Prince Avenue Christian
3. Eagle's Landing Christian
4. Fellowship Christian
5. Calvary Day
6. Holy Innocents
7. First Presbyterian
8. Darlington
9. Wesleyan
10. Pacelli
Class A Public
1. Brooks County
2. Irwin County
3. Metter
4. Macon County
5. Schley County
6. Wilcox County
7. Turner County
8. Bowdon
9. Washington-Wilkes
10. Manchester