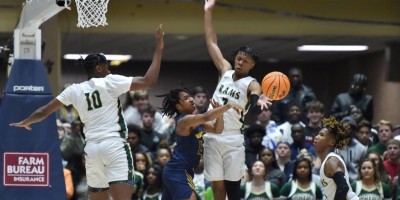 In Class 7A, McEachern improved to No. 4 after a solid Holiday season that includes a 64-62 win over former No. 4 ranked Grayson and an ongoing seven-game winning streak. Additionally, East Coweta replaced Archer and debuts at No. 10 with a 9-2 start to the season. Wheeler earned the No. 1 spot in Class 6A with its recent 69-64 win over Buford on Dec. 28. The Wildcats take over at No. 1 ahead of No. 2 Buford and undefeated Shiloh (11-0) and Osborne (8-0). Tucker debuted at No. 9 and Kell dropped from No. 6 to No. 10.
Class 5A saw St. Pius jump Tri-Cities for No. 2 behind top-ranked Eagle's Landing and Southwest DeKalb and Jonesboro remain in the top 5. Woodland-Stockbridge replaced Calhoun in the poll and currently sits at 12-2 overall. McDonough took over No. 1 in Class 4A with its victory over former No. 1 Baldwin and Westover improved to No. 2 ahead of Baldwin after also scoring a win over the Braves. Additionally, North Oconee and Miller Grove were replaced in the poll by Bainbridge and Marist.
The Class 3A poll saw Groves replace Johnson-Savannah and Chattooga replaced Lovett at No. 10 in the Class 2A poll. The Heritage School (10-3) replaced George Walton at No. 10 in Class A Private and Lanier County kept its 11-0 perfect season going to jump from No. 7 to No. 4 in Class A Public.
Class 7A
1. Newton
2. Pebblebrook
3. Berkmar
4. McEachern
5. Milton
6. North Gwinnett
7. Grayson
8. South Gwinnett
9. Norcross
10. East Coweta
Class 6A
1. Wheeler
2. Buford
3. Shiloh
4. Osborne
5. Centennial
6. Statesboro
7. Westlake
8. Alexander
9. Tucker
10. Kell
Class 5A
1. Eagle's Landing
2. St. Pius
3. Tri-Cities
4. Southwest DeKalb
5. Jonesboro
6. Chapel Hill
7. Lithia Springs
8. Walnut Grove
9. Woodland-Stockbridge
10. Lithonia
Class 4A
1. McDonough
2. Westover
3. Baldwin
4. Jefferson
5. Spencer
6. Monroe
7. Bainbridge
8.  Fayette County
9. Mays
10. Marist
Class 3A
1. Windsor Forest
2. Sandy Creek
3. Americus-Sumter
4. LaFayette
5. Salem
6. Cross Creek
7. Thomson
8. Greater Atlanta Christian
9. Lakeview-Fort Oglethorpe
10. Groves
Class 2A
1. Columbia
2. Pace Academy
3. Westside-Augusta
4. Washington County
5. Thomasville
6. Butler
7. Vidalia
8. Putnam County
9. Rabun County
10. Chattooga
Class A Private
1. Greenforest Christian
2. Galloway
3. King's Ridge
4. Darlington
5. North Cobb Christian
6. Mt. Pisgah
7. Christian Heritage
8. WD Mohamed
9. Providence Christian
10. Heritage School
Class A Public
1. Drew Charter
2. Social Circle
3. Dublin
4. Lanier County
5. Manchester
6. Calhoun County
7. Chattahoochee County
8. Turner County
9. Portal
10. Warren County