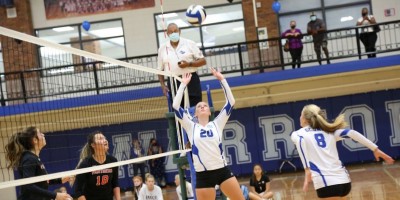 The 2021 GHSA Volleyball State Playoffs begin Tuesday evening and the championships will take place on Nov. 6. Class 7A Walton enters the postseason at the top of the poll and Lambert jumped up from No. 5 to No. 3 after Cherokee's 3-1 loss to Etowah that sent the Warriors down to No. 5. Etowah returned to the poll at No. 10 in place of Roswell. Class 6A saw Lee County improve from No. 10 to No. 8 and Lakeside-DeKalb cracks the poll at No. 9 in place of Allatoona.
In Class 5A, No. 1 St. Pius enters the playoffs with 32-straight victories. McIntosh climbed from No. 8 to No. 5 behind rival Whitewater and Eagle's Landing rounds out the poll at No. 10. Class 4A saw Jefferson move up from No. 8 to No. 5 after earning a top seed out of Region 8 and Savannah Arts moved up from No. 8 to No. 5 in Class 3A.
Bremen jumped Armuchee for No. 5 in Class 2A/A Public and Holy Innocents' replaced George Walton in Class A Private and enters the playoffs at No. 10.
Class 7A
1. Walton
2. Alpharetta
3. Lambert
4. North Forsyth
5. Cherokee
6. North Cobb
7. West Forsyth
8. Forsyth Central
9. Newnan
10. Etowah
Class 6A
1. Pope
2. Buford
3. Sequoyah
4. Lassiter
5. Kennesaw Mountain
6. Johns Creek
7. Creekview
8. Lee County
9. Lakeside-DeKalb
10. Dacula
Class 5A
1. St. Pius
2. Blessed Trinity
3. Greenbrier
4. Whitewater
5. McIntosh
6. Woodward Academy
7. Northside-Columbus
8. Harris County
9. Starr's Mill
10. Eagle's Landing
Class 4A
1. Northwest Whitfield
2. Fayette County
3. Marist
4. Islands
5. Jefferson
6. Heritage-Catoosa
7. Chestatee
8. Flowery Branch
9. Columbus
10. North Oconee
Class 3A
1. Greater Atlanta Christian
2. Sandy Creek
3. Westminster
4. LaFayette
5. Savannah Arts
6. Oconee County
7. Morgan County
8. Hart County
9. Richmond Academy
10. Cherokee Bluff
Class 2A/A Public
1. Lovett
2. Pace Academy
3. Gordon Lee
4. Davidson Arts
5. Bremen
6. Armuchee
7. Woodville-Thompkins
8. Lamar County
9. Union County
10. ACE Charter
Class A Private
1. Athens Academy
2. ELCA
3. Mt. Paran
4. Brookstone
5. Savannah Christian
6. Landmark Christian
7. Prince Avenue Christian
8. Trinity Christian
9. Hebron Christian
10. Holy Innocents'