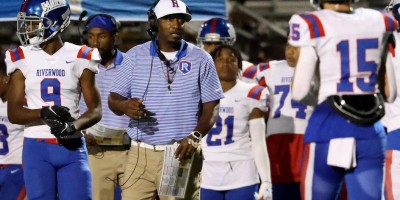 Georgia high school football is well-known for its competitiveness, rich history and impressive talent and being a head coach in the Peach State is a rewarding undertaking that former first-round draft pick Robert Edwards has embraced since joining the profession. Rarely does someone take a head coaching job their first-ever year as a coach, but that is exactly what Edwards committed to following a playing career that included stops with the University of Georgia, the Patriots, Dolphins, Montreal Alouettes and Toronto Argonauts.
"When it comes to getting into coaching, I don't want to say I looked into it. It was more that I was blessed into it," said Edwards. "I happened to be at a school in Fairburn with my wife who was actually coaching basketball at the time and the head master walked up to me and figured out who I was at the time and asked me if I would be interested in coaching. I told him I had never coached before and I love the game of football and working with young kids. I had worked with young kids in the past, but I had never coached a whole team. The name of that school was Arlington Christian School, which is in GISA. A couple days later, I had thought about it and decided to take the job and was the head coach. So my path was a little different than most people. I have never been an assistant coach. I have been a head coach since I entered coaching and I have had to learn along the way the hard, the good and the bad. I just love the game and enjoy everything that goes into it with the preparation, the ups and downs, because I think dealing with those things just makes me a better human. That's how I got into coaching and I just enjoy seeing the kids' faces when we do things well and pick them up when we do bad and just continue to be around the game of football."
Following a two-year stint at Arlington Christian School (2010-11), Edwards accepted the head coaching job at Greene County where he led the Tigers for the next six seasons and reached the state playoffs in four of those years. After the 2017 season, Riverwood High School's head coaching job opened up and on Jan. 30, 2018 it was announced that Edwards was hired to be the Raiders' new head coach.
Edwards' impact was seen almost immediately at Riverwood. In 2019—his second season at the school—the Raiders earned the program's first-ever region championship, completed their first-ever perfect regular season and also earned their first-ever playoff win. Fast forward to the current 2021 season, and Riverwood carries a 6-1 overall record and is just weeks removed from a 44-15 road win over No. 4 ranked River Ridge. The success Edwards has had as a head football coach comes down to his love of the game of football and the impact he wants to have on the lives of his players on and off the field.
"I think for high school coaches, we play a big role in these kids' lives, because we don't get to choose who is on our team," said Edwards. "You kind of just get what you get and you have to work with it, develop it and mold it into what you want your team to be and it changes every year. You have new kids coming in that may not have ever played before and others that just need fine tuning. Dealing with my injuries and what I have had to go through is just a reminder that everyone is going through something. I get to learn these kids' backgrounds, not only with the struggles they have on the field, but also what they are dealing with off the field and I get to be an inspirational part in helping them develop into men outside of football."
This year's team features senior Avery Smith at quarterback, who was just a sophomore when he helped quarterback the Raiders to an undefeated regular season in 2019. Smith is well-versed with Edwards' offensive system with a ton of games under his belt and he is lighting it up this year with more than three touchdown passes per game, and a 307.8 passing yards per game average.
"Anytime you have had a kid for 3-4 years, they understand who you are and what you want and what you dislike and that is it with Avery. He understands the offense, he knows what we are trying to do, he studies the game and he is very competitive so he wants to get out there and do his best and he is a team guy that wants everyone else to do well. So he will put everyone in positions to make plays and get on the field. There will be times during the game where he will say coach let's go 20 personnel so so-and-so can get into the game so he is thinking about the game throughout the game and he wants players to be involved in everything that we are doing, even guys that don't necessarily get to play much so he is thinking at all times. He is a leader on and off the field and he is having a great year because he understands the offense in and out and knows what I want to call before I call it. That's how well he understands me and the offensive playbook."
Football continues to provide Edwards with an opportunity to compete and inspire the next generation of players and his younger brother Terrence is so coming into his own as a high school football coach in Georgia. The two brothers are five years apart in age, so they never got a chance to play high school football together, but they did get to be teammates for one year in the Canadian Football League—which is something that meant a lot to the older Edwards.
"We actually had an opportunity to play with each other one season in Canada with Montreal, when I got there he was able to get on the team and that was awesome to see his work habits and get to interact with him every day at practice and in games. I just think growing up our parents instilled a competitive edge in us and to be the best in what we do and it has translated over the years. We just want to get out there and do the best and I think it has transitioned into coaching where we want to help these kids be the best that we can be and to put the best product out on the field that we can. Dad always told us that if you know better you will do better. It's about understanding why you are doing what you are doing and that is going to take you a long way on and off the field when you understand why you are doing what you are doing."
Terrence is currently on Pace Academy's staff as offensive coordinator and he and Robert have plenty of football left to be played this season. That being said, once the season wraps up, the two brothers will have one more game to look forward to at this year's Georgia Elite Classic All-Star Game.
"Last year he coached with me on the staff, but this year, remember I said we are really competitive and we will be coaching against each other. So that is going to be fun to line up against him. He is the head coach of one team and I am the head coach of the other team so obviously each of us wants to have bragging rights. No matter who else knows the outcome of the game, we are going to know and we want to beat each other. He will probably speak political games about it and say it is just a game and we want to just come out there and have fun, but he wants to beat me. He grew up with me. He doesn't want to lose to me and vis-a-versa, I don't want to lose to him. I think we are going to have fun with it and it will be exciting to coach against him."
Riverwood will host Cambridge this Friday night on PeachtreeTV in the featured game of the week.