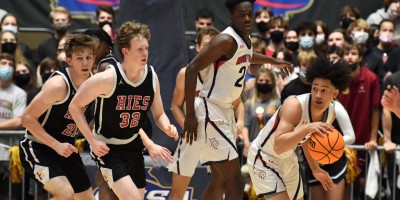 The reclassification cycle shook up the statewide landscape and pinned defending champions and intriguing title contenders in a fresh field of competition. In Class 7A, eight-time state champion Wheeler moves up from Class 6A and debuts at No. 1 ahead of reigning Class 7A state champion Norcross at No. 2. Two-time state champion Buford makes its Class 7A debut at No. 3 and powerhouses Pebblebrook and Grayson round out the top 5 ahead of No. 6 McEachern, No. 7 Newton, No. 8 Berkmar, No. 9 Osborne and No. 10 Carrollton—who is also new to the classification.
In Class 6A, defending state champion Grovetown returns to No. 1 ahead No. 2 Hughes, No. 3 Jonesboro, No. 4 Alexander and No. 5 Etowah. Marist moved up from Class 4A and debuts at No. 6 and Sequoyah, St. Pius, Lanier and Paulding County round out the poll.
Defending state champion Tri-Cities returns as No. 1 in Class 5A ahead of a stacked poll that includes No. 2 Eagle''s Landing, No. 3 Tucker, No. 4 Chapel Hill and No. 5 Kell.
McDonough debuts at No. 1 in Class 4A ahead of four-time state champion Pace Academy—who comes into the class after competing in Class 3A. Two-time defending state champion Cross Creek tops the Class 3A poll ahead of Sandy Creek, No. 3 Monroe and No. 4 Johnson-Savannah.
Defending state champion Westside-Augusta debuts at No. 1 in Class 2A ahead of Spencer and Drew Charter—which won the Class A Public state crown last season. King's Ridge gets the nod for No. 1 in Class A Division I and Greenforest Christian tops the Class A Division II poll after earning last year's Class A Private state crown.
Class 7A
1. Wheeler
2. Norcross
3. Buford
4. Pebblebrook
5. Grayson
6. McEachern
7. Newton
8. Berkmar
9. Osborne
10. Carrollton
Class 6A
1. Grovetown
2. Hughes
3. Jonesboro
4. Alexander
5. Etowah
6. Marist
7. Sequoyah
8. St. Pius
9. Lanier
10. Paulding County
Class 5A
1. Tri-Cities
2. Eagle's Landing
3. Tucker
4. Chapel Hill
5. Kell
6. Statesboro
7. Dutchtown
8. Hiram
9. Calhoun
10. Mays
Class 4A
1. McDonough
2. Pace Academy
3. Baldwin
4. Westover
5. Miller Grove
6. Westside-Macon
7. Woodland-Stockbridge
8. Madison County
9. Lovett
10. Holy Innocents'
Class 3A
1. Cross Creek
2. Sandy Creek
3. Monroe
4. Johnson-Savannah
5. Beach
6. Dougherty
7. Thomasville
8. Salem
9. Wesleyan
10. Monroe Area
Class 2A
1. Westside-Augusta
2. Spencer
3. Drew Charter
4. Thomson
5. Columbia
6. North Cobb Christian
7. Butler
8. Putnam County
9. Sumter County
10. Washington
Class A Division I
1. King's Ridge
2. Social Circle
3. Dublin
4. Woodville-Tompkins
5. Mt. Vernon
6. Mt. Bethel
7. Chattooga
8. Tallulah Falls
9. Darlington
10. Paideia
Class A Division II
1. Greenforest Christian
2. Christian Heritage
3. Calhoun County
4. Dooly County
5. Manchester
6. Hancock Central
7. Portal
8. Wilkinson County
9. Warren County
10. Charlton County