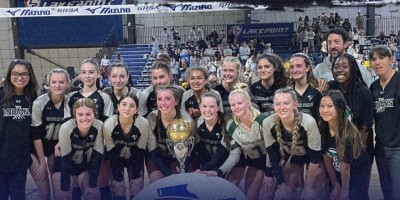 In Class 7A, pre-playoff No. 1 ranked Buford survived a five-set marathon over Lambert to win the state title. The Longhorns move up to No. 2 and North Gwinnett finishes at No. 3 after falling to Buford in the semifinals. Walton entered the playoffs No. 4 and finishes No. 4 after falling to Lambert 3-1 in the semifinals. Additionally, No. 5 Cherokee, No. 6 North Cobb and No. 7 Hillgrove did not shift. East Coweta moved up two spots to No. 10 and West Forsyth moved down to No. 9 ahead of No. 10 Denmark.
Pope replaces Sequoyah at No. 1 after its 3-2 win over Chiefs in the Class 6A finals. Glynn Academy finishes the season No. 10 and Marist finishes at No. 9. The Red Terrors replaced Woodward Academy after defeating them in the quarterfinals and Marist earned its spot in the poll after advancing to the quarterfinals and falling 3-2 to No. 6 Johns Creek.
In Class 5A, Greater Atlanta Christian maintained its spot at No. 1 with a 3-1 victory over Chattahoochee in the finals. Chattahoochee entered the playoffs No. 3 and replaced McIntosh at No. 2 after defeating the Chiefs 3-2 in the semifinals. Jefferson moved up a spot to No. 4 after defeating previous No. 4 Kell 3-1 in the Sweet 16 and the Longhorns fell to No. 5. Additionally, Locust Grove moved up to No. 8 and Statesboro joined the poll at No. 10 after its run to the quarterfinals.
Pace Academy closed out its sixth-straight state title over Lovett in Class 4A and tops the poll and Morgan County takes over No. 1 after defeating Oconee County in the Class 3A finals. Mt. Paran remains No. 1 in Class 2A after topping Landmark Christian in the finals and Tallulah Falls takes over No. 1 in Class A with its win over Mt. Bethel in the championship.
Class 7A
1. Buford
2. North Gwinnett
3. Lambert
4. Walton
5. Cherokee
6. North Cobb
7. Hillgrove
8. East Coweta
9. West Forsyth
10. Denmark
Class 6A
1. Sequoyah
2. Pope
3. St. Pius
4. North Forsyth
5. Alpharetta
6. Johns Creek
7. Allatoona
8. Newnan
9. Marist
10. Glynn Academy
Class 5A
1. Greater Atlanta Christian
2. Chattahoochee
3. McIntosh
4. Jefferson
5. Kell
6. Winder-Barrow
7. Greenbrier
8. Locust Grove
9. Northside-Columbus
10. Statesboro
Class 4A
1. Pace Academy
2. Lovett
3. Whitewater
4. Cherokee Bluff
5. Trinity Christian
6. Westminster
7. Heritage-Catoosa
8. Starr's Mill
9. Sonoraville
10. North Hall
Class 3A
1. Morgan County
2. Oconee County
3. Sandy Creek
4. White County
5. Hebron Christian
6. Savannah Christian
7. Wesleyan
8. St. Vincent's
9. LaFayette
10. Dawson County
Class 2A
1. Mt. Paran
2. Landmark Christian
3. Athens Academy
4. Savannah Arts
5. North Cobb Christian
6. ELCA
7. Providence Christian
8. Elite Scholar's Academy
9. ACE Charter
10. Fannin County
Class A
1. Tallulah Falls
2. Mt. Bethel
3. Mt. Vernon
4. Mt. Pisgah
5. Armuchee
6. Prince Avenue Christian
7. Galloway
8. Woodville-Thompkins
9. Dade County
10. Whitefield Academy