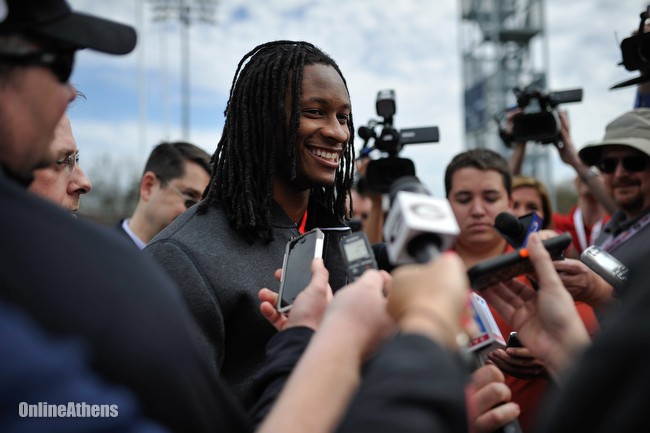 AJ Reynolds/ Athens Banner-Herald
Wednesday allowed for Georgia's draft eligible players to work out in front of NFL front office personnel. For the most part, a lot of the Bulldogs were happy with their results.
Some of the Georgia players decided to sit out most if not all of the events in front of the people who could determine their place of employment on the next level. Players like wide receiver Chris Conley and defensive back Damian Swann were a couple of the players that decided to sit out on some of the events. Those two in particular were happy with some of the results had at the combine in Indianapolis.
Running back Todd Gurley is one of the players who could not participate in the on-field workouts. Of course, he is still recovering from the torn ACL.
Even though Gurley can't work out in front of scouts/coaches right now, he's still confident that a team will take a chance on him early in the draft. He says he's letting his work and communication help his case.
"Good thing I've got a little film to prove something," Gurley said with a laugh. "(I'm) just keeping them updated with my rehab and telling them what type of person I am. Whatever question they have to ask me and just answer it the best I can."
One of those additional questions throughout this process that teams are asking Gurley about is the very thing that got
him suspended for four games this past season. That would be the pay for autographs that was caught on tape.
When it comes to those questions, Gurley says that honesty is the best policy.
"I made a dumb mistake," Gurley said. "It's something I did in my freshman and sophomore year. I should have never done it. I knew the rules and I still broke them. I'm definitely ready to move on and get on with my life. It's still going to be something that's brought up and it's just something I learned from."
We had heard it numerous times during the suspension that Gurley was very much a team guy and not about his own self interests. He did carry himself as such during his career with the Bulldogs.
His college head coach Mark Richt says he carried that to his immediate post-Georgia career as well. The team was prepared to push pro day back as far as possible in order to accommodate him having a better chance to work out.
"Todd said hey coach don't do that for me," Richt said. "He said I'm going to have plenty of opportunity. Make it where it's the very best for the rest of the guys. If they want to go earlier, let's go earlier."
Georgia had their pro day later in the draft process last year, with quarterback Aaron Murray able to work out in front of NFL teams. He like Gurley was also recovering from a late season torn ACL.
Gurley says that he has already visited with the Detroit Lions and will talk with the Carolina Panthers on Thursday. He will also continue to work in Pensacola, Florida with Dr. James Andrews staff.
Georgia wide receiver Chris Conley took part in the passing and receiving drills with senior quarterback Hutson Mason. That is because of the stellar results he put forth at the combine. That said, he still wanted to prove things to the league's eyes in Athens.
"That I can continue to get better," Conley said. "Some guys relax after the combine, they drop weight or they're not ready to perform when it comes to position drills. Right now it's about work. You're not employed yet. You have a good combine and you're not done. Really at this point, it's about showing these guys that I'm continuing to work, I'm ready to come into camp and help their team out."
Another area that Conley is trying to impress teams with, is his intelligence. He's confident that teams are finding out that he's NFL ready for their playbooks, because of his experience playing a "pro-style" offense during his Georgia career.
"When they say that Georgia is a pro-style offense, it truly is," Conley said. "There's a lot of overlap in what we do and what a lot of teams do not only in scheme, but sometimes in the route specifically. We may run the same route, sometimes we call them something different. But, the way we read coverage and that we run routes is similar to a lot of teams."
Conley and Mason have already worked out for the Tampa Bay Buccaneers and Dallas Cowboys. Conley believes that more work outs could be in his future before the draft starts in late April.
Linebacker Ramik Wilson is another player that could have helped his draft stock, with a strong 40 yard dash time. Scouts clocked him at a 4.62 second time.
Over the last two years, he was Georgia's leading tackler. He played on the inside at Georgia, but feels like he can help outside if needed too. That is especially if he's drafted by a team that runs a 4-3 defense.
"I can play all three spots," Wilson said. "I can play Sam, Will, (and) Mike it doesn't matter. Anything to help the team win and I played in the 4-3 in high school. So it's nothing new to me."
Not that pro day is in the rear-view mirror, Mark Richt says that the future is quickly approaching. He referenced a time that a director of recruiting came in to talk with his players about life in the NFL and after it.
"He said men it's one of the greatest temporary jobs you'll ever have," Richt said. "He really emphasized education and even in the offseason preparing for the rest of your life. Because, there's going to be a rest of your life, even if you go eight, nine, or ten years which is a long time. You're 30 years old, you're still a young guy, and you've still got a long way to go in life. You've got to have a plan for that."
When April 30-May 1 and 2 comes to pass, only a handful of Bulldogs will be drafted. Even further than that, only a few will make NFL rosters come September. For some of those few guys, the work continues to intensify before decisions on their football careers are finalized.