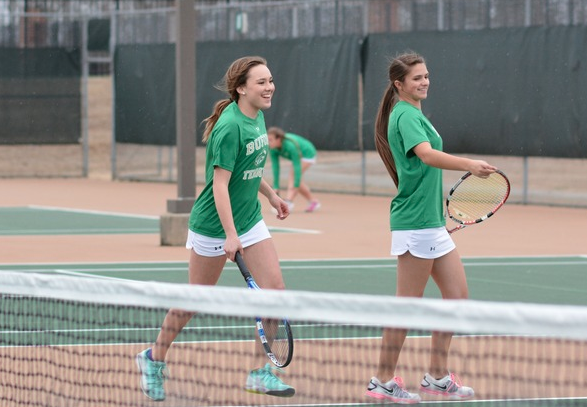 http://bwolvestennis.teamsitesnow.com
Buford's girls earned 5-0 sweeps on Monday and Tuesday over Stephens County and Madison County, respectively. Annalea Stevens, Bailey McCammon and Tamia Wayne took care of business in singles on both days. The doubles teams also remained constant, as Savannah Whaley and Abbey Mitchell got the job done twice at No. 1 while the No. 2 pairing of Katie Quinn and Peyton Wolfe also had little trouble on both occasions. Buford improved to 7-1 on the season and 5-0 in Region 4-AAAA.
On the boys' side, Buford downed Stephens County on Monday. The Wolves (6-1, 4-0 Region 4-AAAA) got singles victories from Dalton Counts, Cameron DeLoach and Kurt Knudsen. Truett Adams and Caleb Harris won at No. 1 doubles; Garrett Jordan and Cole Tarleton prevailed at No. 2.
Greater Atlanta Christian swept Mt. Paran Christian on Tuesday. The Eagles at least made things interesting in the boys match by putting up a point in doubles, but Greater Atlanta Christian rolled through the singles thanks to Alex Khan, Andrew Chitty and Tucker Bryant. In the girls' tilt, the Spartans got singles wins from Remi Andre, Phoenix Gandy and Rachel Chupp. Micaiah Kimbel-Glover and Bailey Brown teamed up in doubles for a victory at No. 1, while Stephanie Breon and Taylor Moore were victorious at No. 2.
In Class AAAAAA, Walton improved to 5-0 overall and 5-0 in Region 5 by blanking Wheeler 5-0 on Tuesday. Morgan Stone, Francis Yang and Raymond Zhang comprised a dominant singles lineup for the Raiders. Crews Enochs and Trevor Croyder led the way in doubles along with Jonathon He and Bailey Honig.
Additional results included a Holy Innocents' sweep of Whitefield Academy. Justin Samples cruised at No. 1 singles for the Wolfpack, but the Holy Innocents' boys won everywhere else for a 4-1 victory. The girls' match progressed in similar fashion, with Whitefield Academy's Rachel Hicks getting the job done at No. 1 only to see her team succumb 4-1 to the Golden Bears.