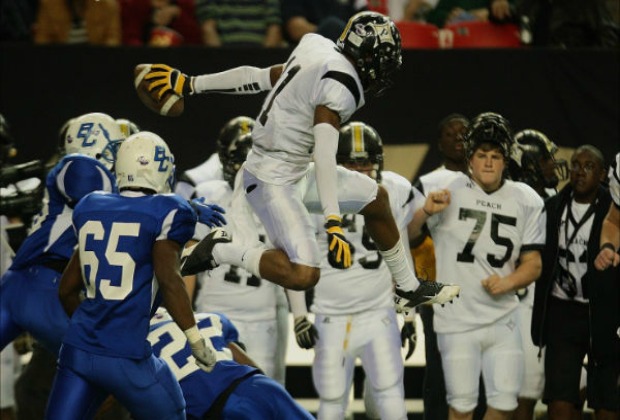 As the calendar flipped to 2013, several in-state recruits decided to flip their college commitment as well. The biggest surprise came from Alpharetta's Naim Mustafaa, a former Score 44 member. After committing to Georgia back in June, Mustafaa surprised the recruiting world by de-committing over the weekend and flipping to Oklahoma State. Mustafaa played strong-side defensive end for the Raiders this season, but at 6-foot-4, 235-pounds could have dropped back to play some linebacker with the Bulldogs.
Trey Johnson, a Score Final 50 linebacker, made his intentions known at the 2013 Under Armour All-American game, announcing that he was headed to Ohio State. Johnson had previously pledged to Auburn but re-opened his process once Auburn changed the coaching staff. Johnson was a force during his career at Central Gwinnett, piling up 456 career tackles according to the Gwinnett Daily Post.
Clemson was bitten by a pair of flips, both at receiver. Lassiter's Ryan Jenkins elected not to join his brother at Clemson and instead attend the school where his father played, Tennessee. Jenkins played at Milton before transferring to Lassiter for his senior season. Clemson also lost Demarcus Robinson for the second time as the Peach County receiver pledged to Florida for a second time. Robinson initially committed to Clemson on July 20 only to de-commit on Dec. 12 and pledge to the Florida Gators. Just five days later, Robinson went back on his word and re-committed to Clemson, though that commitment would last just 20 days as he tweeted out Monday that he was re-committing to Florida. Will Muschamp will probably feel like he truly has the four-star prospect when the letter of intent comes across the fax on National Signing Day.
Finally, Columbia's Mackendy Cheridor pledged to Georgia State Sunday and could play either tight end or defensive end for new head coach Trent Miles. Georgia State has been hot of late, landing Newton County's Kingsley Ejike, East Paulding's Kyler Neal and ML King's Trenton Hill.