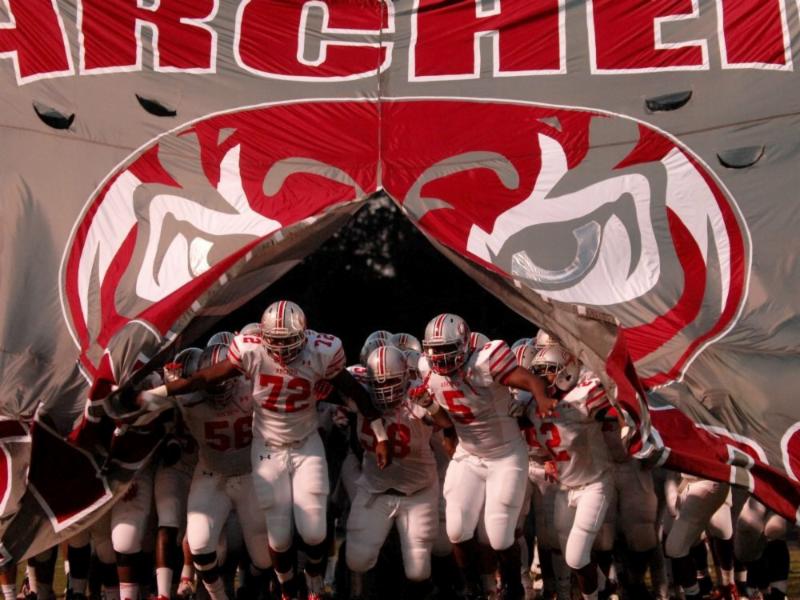 Photo by Sonny Kennedy
Class AAAAAA
Archer is headed to the semifinals for the first time in school history,  building a 56-0 halftime lead over visiting Hillgrove and cruising to a Class AAAAAA 56-13 quarterfinals win with a running clock in the second half. Archer junior Dylan Singleton found the endzone three times in the first half and gave the Tigers' their early 7-0 lead with an 11-yard touchdown run. Archer sophomore Jamyest Williams extended the lead to 14-0 with the first of his two touchdown runs and Will Bearden found Singleton on a double-pass for a touchdown before the end of the opening quarter that made it a 21-0 advantage.
In the second quarter, Archer quarterback Gabe Tiller tossed an eight-yard touchdown pass to tight end Connor Redmond for the first of the Tigers' five touchdowns in the quarter. Randy Nails scored on a 12-yard run less than two minutes later and Williams found the endzone for his second touchdown with 6:24 left in the half to make it 42-0. Hillgrove was forced to punt on its next possession and Singleton returned it 58 yards for his third touchdown. Beardon closed the half with a two-yard quarterback sneak that made it 56-0
In the third quarter, Sonny Harris ran in a Hillgrove touchdown and Archer blocked the point after to maintain its 56-6 lead. Hillgrove found the endzone once more in the fourth quarter on a Bryson Parks touchdown pass to Bingo Long and the extra point made it 56-13 before Archer ran out the clock. Region 4 champion Hillgrove finishes the season 9-4 and Archer, which lost its first three games of the season, moves to 10-3 after recording a 10th consecutive victory.
Colquitt County 42, Milton 35: Top-ranked Colquitt County survived a high-scoring thriller against visiting Milton to book its spot in the Class AAAAAA semifinals. Sihiem King rushed for 133 yards and two touchdowns, the second of which proved to be the game-winner from eight yards out with 2:37 remaining. Milton never led but tied the score on three different occasions, including at 35-35 with six minutes left on a 57-yard pass from Austin McLeod to Obe Fortune. Isaiah Hawkins had an interception return for a touchdown to the help the Eagles, whose final comeback attempt stalled near Colquitt County's 20-yard line on a fourth-down incomplete pass in the closing seconds. Chase Parrish completed 16 of 21 passes for 221 yards and three touchdowns in addition to scoring once on the ground to lead the Packers.
Etowah 43, Newton 29: Etowah outscored visiting Newton 21-8 in the fourth quarter and became the first Cherokee County school to ever advance to the state semifinals. Newton's Romario Johnson found Jeremiah Holloman for a touchdown in the first quarter and a 2-point conversion to Deandre Huff gave the Rams an 8-0 lead. Etowah answered with a 48-yard Robbie Knox touchdown and claimed a 14-8 lead with the first of three Tyra Devezin touchdown runs. Johnson ran in a score and found Davonta Jones for a 50-yard touchdown reception between a 2-yard touchdown run by Etowah's Scott Morgan and Newton led 22-21 at the half. The teams went scoreless in the third quarter and Johnson ran in a Newton touchdown with 9:17 left to give the Rams a 29-21 lead. Morgan answered with an Etowah touchdown run and a successful 2-point conversion knotted it at 29-29. Newton fumbled twice and Etowah took advantage of the miscues with Devezin's second and third touchdown runs to close the game.
Class AAAAA
Mays 44, Jones County 41: Mays stunned Jones County on the final play of the game when Asahnia Aderhold threw an 18-yard touchdown pass to Julius Whitehead. Jones County had taken the lead with two minutes remaining after Davin Price punched it in from two yards out following a botched punt snap by Mays. Aderhold finished with three scoring strikes, including a Hail Mary to Tayshawn Brown that ended the first half. The victorious Raiders also got scores via reception and kickoff return by Deparis Carter.
Northside Warner Robins 31, Glynn Academy 7: Northside-Warner Robins shut down Glynn Academy's offense as the host Eagles cruised into the Class AAAAA semifinals. The Terrors got within 14-7 early in the second quarter on a 92-yard kickoff return for a touchdown Deejay Dallas, but they found no other success. Northside-Warner Robins scored all four of its touchdowns on the ground; two from T.J. Anderson and one each for Willie Jordan and Tobias Oliver. Justin Alonso nailed a 31-yard field goal for the Eagles at the end of the first half.
Stockbridge 42, Houston County 22: Stockbridge  came into the quarterfinals with momentum after dominating Stephenson last week 27-7. Only putting up 14 points in the first half, Stockbridge scored 21 unanswered points in the second half. A 73-yard run by Jajuan Jackson in the second quarter, a 44-yard and 74-yard runs by Artemus Mitchell in the third and fourth quarters, respectively, put the Tigers into the semifinals to play Mays.
Class AAAA
St. Pius 31, West Laurens 13: Ransom Klinger's three-yard touchdown with 2:36 remaining gave host St. Pius a 24-13 lead, and the Golden Lions tacked on their last score with a Dalton Wilson five-yard run shortly after. Joey Connors rushed for 89 yards and a touchdown to lead St. Pius, and Reed Egan was 5-for-8 passing with a 33-yard touchdown pass to Cameron Fannon. Darius Bradford rushed for a game-high 163 yards and an 80-yard touchdown for West Laurens.
Woodward Academy 35, North Oconee 32: Woodward came out on top of a back-and-forth showdown against visiting North Oconee. Woodward trailed 12-0 early in the second quarter, put up 28 unanswered points prior to halftime, got outscored 20-0 in the third quarter to fall behind 32-28, then scored the game-winner with 43 seconds left on an 18-yard pass from Jes Sutherland to Joshua Johnson. Woodward also found the endzone on a kickoff return by Antone Williams and a fumble recovery by Matthew Clopton.
Class AAA
Blessed Trinity 28, Jefferson 21 (OT): In a battle of unbeatens, quarterback Conor Davis found Pat Jasinksi for a 15-yard game-winning touchdown in overtime as visiting Blessed Trinity stamped its first trip to the semifinals in school history.  Blessed Trinity's Milton Shelton and Jefferson's Sammy Williams traded touchdowns after a scoreless first quarter and Davis found Matthew Higgins twice for passing scores to build a 21-7 Blessed Trinity lead in the second quarter. Jefferson answered with a Shirreffs touchdown pass to Rodney Carr before the half and tied it at 21-21 with another Shirffeff-to-Carr touchdown with 3:58 left in the third. Jefferson had a field goal blocked with 6:04 left in the game but intercepted Davis on the Titans drive with 1:30 remaining to force the overtime.
Class AA
Benedictine 31, Lovett 10: Senior receiver Brad Stewart led host Benedictine past defending champion Lovett with two touchdown receptions, helping the Cadets advance to the semifinals for the second straight season. The teams traded field goals and in the opening quarter before Benedictine found the endzone on a touchdown run by sophomore John Kennedy. The Cadets missed the extra point but Stevie Powers found Stewart for his first touchdown before the half to put Benedictine up 16-3. Powers opened the second half with his second touchdown pass to Stewart. Lovett answered with a 76-yard Willie Candler touchdown pass to senior Alex Sayles to cut it to 24-10 but Benedictine iced the game with a Chance Jackson touchdown run in the fourth quarter.
Class A-Private
Calvary Day 35, Mount Pisgah 21: Robert Heyward led host Calvary Day with a game-high 213 rushing yards and three touchdowns off 18 carries. Calvary Day built an early 21-0 lead with a Brent Sanders touchdown pass to Tyler Kilgore and rushing scores from Heyward and Sanders. Mount Pisgah found the endzone on the final play of the half with a Aaron Winchester touchdown pass to Nicky Piccapietra to cut the deficit to 21-7. Heyward ran in a six-yard touchdown in the third quarter and then found the endzone to open the fourth quarter on a one-yard dive that gave Calvary Day a commanding 35-7 lead. Winchester cut the final score to 35-21 with a rushing touchdown and a touchdown pass to Ben Miller.
Mount Paran 35, Savannah Christian 14: Imani Williams returned the opening kickoff 97 yards for a touchdown and rushed for two more scores to lead undefeated Mount Paran to the state semifinals for the first time in school history. Visiting Savannah Christian trailed 14-7 at the half before Williams took back-to-back handoffs for touchdowns in the third quarter. The first Williams' touchdown run came from 15 yards out and on Mount Paran's next snap, Williams took the handoff 55 yards for the score to make it 28-7. Dorian Walker added a 2-yard touchdown in the fourth that grew the lead to 35-7. Williams finished with four carries for 67 yards and two touchdowns to go with his kickoff return touchdown and one reception for 27 yards.
Class A-Public
Irwin 40,  Dooly County 29: Things looked bleak for Irwin County early in the second half. Down 6-0,  Dooly County's quarterback Kevin Slade broke up middle for 27 yards and put the Bobcats up 7-6. But Irwin responded with 20 unanswered points and advances to the Class A public state semifinals to face Commerce. Irwin took advantage of four Slade interceptions, three of which led to scores. Also, the Indians broke loose on offense with 261 yards in the second half and had 355 total. Robert Moore led Irwin with 118 yards on 18 carries and a score. Jakyron Young added 74 yards rushing on 11 carries. He also had an interception and two scores. DJ Pollard had 57 yards on six carries and an interception. Ty Hogan also had an interception, a touchdown and 56 yards rushing on four carries.
Marion County 53, Mt. Zion-Carroll 14: Lorenzo Smothers scored three touchdowns for host Marion County, with a 17-yard rush, a 23-yard reception and a 65-yard punt return. Smothers finished with 53 rushing yards and 76 receiving. Johnny Royal rushed nine times for 110 yards and two touchdowns, and Dustin Eckert was 8-for-9 passing for 132 yards and two touchdowns. Bryson Murray had eight tackles and returned a punt 30 yards for a touchdown for Marion County, and Derrick Lawrence had nine tackles and 1.5 sacks.