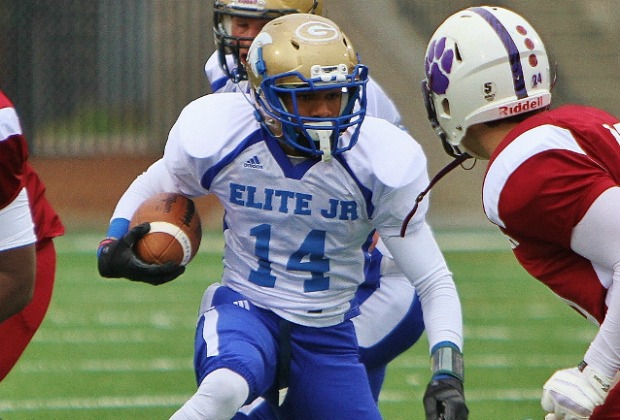 Rob Saye
Spring practice is over and that means recruiting for 2015 is starting to heat up. Some of the best college football programs in the country are targeting the state of Georgia to get top recruits and three different schools were able to commitments this week.
On Thursday, McEachern running back Taj Griffin committed to Oregon. The 5-foot-10, 165-pounder picked the Ducks over UGA, Clemson and Ohio State. Griffin, who played in the inaugural Elite Junior Classic, tallied 1,194 yards and nine touchdowns in 14 games. And this was a player that was battling an ankle injury all season.
"He's one of the most explosive players in America, and (Oregon) wants to get him in space," McEachern coach Kyle Hockman told the AJC. "He's 0 to 60 mph in a flash. He's strong, and one of those guys that has that desire to win."
Griffin also had interest in Georgia Tech, but it did not make the final cut. His older brother, Ty Griffin plays quarterback at Georgia Tech. He has another older brother, Tre Grffin, who plays defensive end at Georgia Southern.
Another Elite Junior, Kaleb Kim, will play for the Auburn Tigers in 2015. Kim picked Auburn over Georgia on Thursday. The offensive lineman from Mill Creek visited both schools the same amount of times and he knew where he wanted to go after visiting Georgia early in April.
Kim's commitment to Auburn makes him the third offensive lineman from Georgia to commit to the Tigers this week. The other two were Bailey Sharp (Sprayberry) and Marquel Harrell (Creekside). Sharp committed to Auburn last weekend and brought 22 of his family members to Auburn to make the decision. He chose the Tigers over Clemson and UGA. Harrell committed on Monday and chose the Tigers over Tennessee and Alabama.
McEachern has another Elite Junior on the team and he also made his commitment this week. Offensive lineman Chuma Edoga committed to USC on Monday night and chose the Trojans over UGA, Tennessee and Stanford.
Edoga will still make official visits to five schools, but the commitment to the Trojans is rock solid. He made an unofficial visit to USC during his spring break and said the Trojans were the leader before saying all schools were equal.
With Edoga committed to USC, three of the top offensive linemen in Georgia will play out of state. The other two offensive linemen are Mitch Hyatt (Clemson) and Dallas Warmack (Alabama).