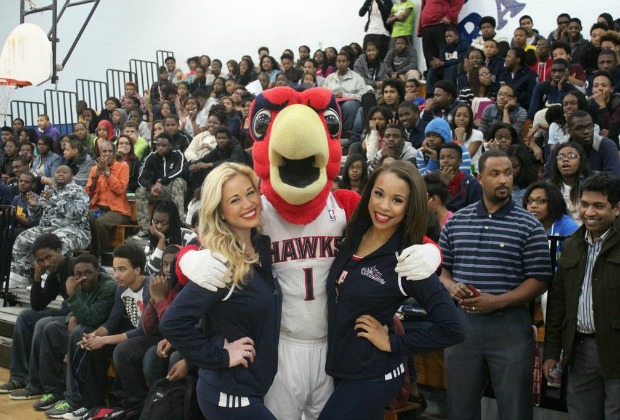 On March 25, the Redan Raiders were the host high school in this week's installment of the "Atlanta Hawks School of the Week" pep rally series, sponsored by the National Guard and Atlanta Hawks. This weekly event is given in support of scholastic and athletic achievement
Hawks alumni player and current analyst Mike Glenn along with Redan alum Sergeant Buchanan of the National Guard were there to honor the Class AAAA state championship Lady Raiders basketball team.
The hallways blared with the sound of music from the Redan marching band as it led students into the gym. Upon entering, students were welcomed by dancing Atlanta Hawks Cheerleaders and also received raffle tickets for a chance to attend a Hawks game.
During the ceremony each member of the undefeated Lady Raiders were individually announced and celebrated. Team members were given a basketball by Sgt. Buchanan and t-shirts from Hawks Cheerleaders. The senior captain of the team spoke briefly, thanking everyone for the support of this years' team as well as assuring the crowd that the remaining players would bring home another state championship next year.
The festivities went on as Harry the Hawk facilitated a dance battle between the Redan students, while he himself joined in a dance a routine with the Redan dance team. Hawks Cheerleaders threw souvenir towels into the stands and one lucky Redan student won tickets to a Hawks game.
Athletics director and assistant principal Mrs. Janice Boger said "The pep rally was great! The students were excited and I heard many comments about this being the best pep rally we have had". The Hawks and the National Guard continue to take pride in the community and create lasting memories for these well-deserving students.
For more information on Hawks' community outreach events and the NBA Cares program, visit Hawks.com. For more information about the Georgia National Guard visit nationalguard.com.