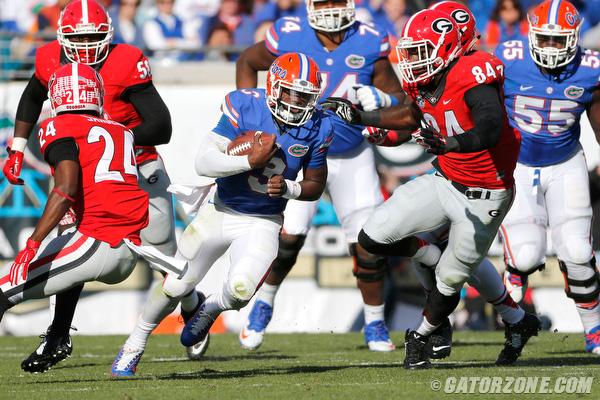 GatorZone.com
2014 like most seasons in Athens was entered with huge expectations by the media, fans, and team. The way it ends in the regular season is with a 9-3 mark and no berth to the SEC Championship.
The last part that I just mentioned is the goal every season that head coach Mark Richt and the program roll out. Their first goal is to win the SEC East and get to Atlanta for the conference championship. Richt has said it numerous times before that if you "win the SEC, then you're probably in good position for the national championship."
The truth of the matter is that Saturday's 30-24 loss in overtime to Georgia Tech capped off a very up and down season for UGA. The low's seemed to far outweigh the highs in 2014.
The purpose of this piece is to look at just how low those lows were and just how high their high was this year.
In terms of the lows, you could point to the losses to South Carolina and Georgia Tech. But, the significant low has to be the dismantling against Florida.
Lowest Point in 2014: 38-20 Loss To Florida
No loss this season seemingly hurt this team more than that one in Jacksonville. The Gators running back duo of Matt Jones and Kelvin Taylor absolutely demolished this Georgia defense that seemed to be making significant strides since their first loss of the season against South Carolina. This loss also included freshman Nick Chubb fumbling when it looked like the momentum was about to be re-captured by the Bulldogs. The loss also knocked you out of first in the SEC East and proved that you would never recover from that defeat.
Highest Point in 2014: Dismantling Missouri Without Todd Gurley 34-0
Seemingly it looked like you were going to be facing Missouri for the second straight season, after dealing with significant losses on your roster. Up until this point, Georgia had been pretty fortunate on the injury front. This time it was a suspension for payment on autographs that forced running back Todd Gurley off the field. That said, Georgia was able to dominate Missouri and introduce Nick Chubb to the college football world. Who knew that this team would seemingly peak in week seven of the football season?
2014 Grade: C
This year was not special and it wasn't terrible. It was just a good season. This is why it gets this grade.