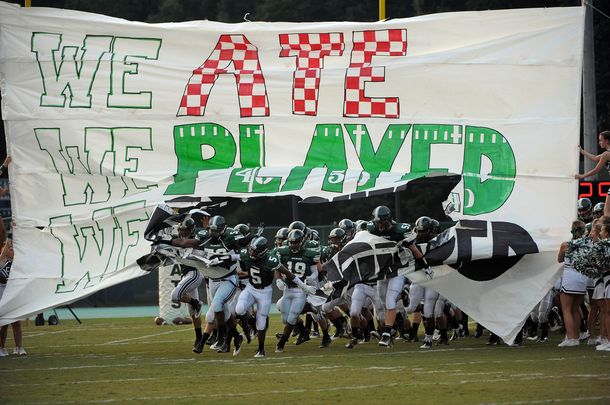 Photo by David Tulis
Blessed Trinity vs. Washington County
Blessed Trinity and Washington County will be squaring off in a rematch of a 2013 quarterfinal showdown, won by Washington County 46-17. A.J. Gray threw for 133 yards, rushed for 84 yards and accounted for two touchdowns in that game to lead the visiting Golden Hawks past Blessed Trinity and ultimately into the championship (lost to Buford). Current junior Milton Shelton paced Blessed Trinity with 146 yards on 19 carries, but the underdogs will have to find more success through the air if they want to avenge their 2013 loss. Conor Davis completed just six of 23 passes and was picked off three times by Washington County, which has home-field advantage this time around after winning a coin toss last weekend. As impressive as Gray was last year, he has taken his talents to new heights in 2014. The Georgia Tech commit rushed for 1,161 yards and 20 touchdowns during the regular season while throwing for 1,278 yards and 17 scores. He made up for five interceptions by picking off five passes from his safety position, returning four to the endzone. Gray ran 17 times for an incredible 442 yards and eight touchdowns in the Golden Hawks' 62-35 quarterfinal victory over Pierce County. Four of his eight scores came from more than 50 yards away. Washington County is averaging 53 points per game this year and has scored more than 70 three times. Blessed Trinity's defense, however, is a force in its own right. The Titans boast three shutouts this year, have limited opponents to single-digits six times, held fellow semifinalist Westminster to 11 and kept Jefferson to a season-low 21 in the quarterfinals. They are led by linebackers Pat Jasinski and Logan Craighead and defensive end Joe Camacho. Also a standout tight end, Jasinski will be crucial in the Titans' effort to find success against a Washington County secondary that befuddled them last year.
Westminster vs. Calhoun
Calhoun churns out state semifinal appearances like clockwork; Westminster is making its first trip to the final four since 1996. One reason for the Wildcats' drought was none other than Calhoun, as the Yellow Jackets ousted Westminster in the second round in both 2008 (38-20) and 2010 (36-19). This has been a season of script-flipping for the Wildcats, however, so they could be poised for revenge. They scored their first win since 2011 over arch-rival and 2013 Class AA state champion Lovett and their 27-10 defeat of previously-undefeated Central-Carroll put them in the quarterfinals for the first time since 2003. New single-season rushing record-holder Zay Malcome, a sophomore, has been the focal point of the offense all year. That was especially the case last week against Hart County with quarterbacks Rankin Woley and Keller Harper both sidelined due to injuries. Malcome ran in a 34-yard score and threw a 40-yard touchdown pass to account for all of his team's points. In the last 10 years, Calhoun has two quarterfinal finishes, five runner-ups, one state championship (2011) and now another semifinal showing. This season's run almost ended in the quarters, but the Jackets held off visiting Elbert County 19-17 last Friday.They won a sloppy game in which they turned the ball over four times, clinching victory in fitting fashion with a safety in the final minutes. Calhoun's defense has not allowed more than 18 points in a game this season, has two shutouts and six times has limited opponents to single-digits. Unlike Westminster, the Yellow Jackets will frequently take to the air on offense. Dual-threat quarterback Kaelen Riley attempted 19 passes against Elbert County while throwing for 160 yards and rushing for 85 more. Riley and running back Cole Jackson will be facing a Westminster defense that has been dominant in the playoffs and is led by linemen Charlie Trense and Russell Ude.