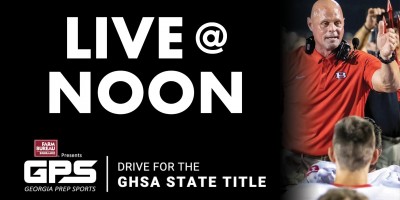 The 161st episode of the Georgia Farm Bureau "Georgia Prep Sports: Drive for the GHSA State Title" video podcast will feature Bowdon head coach Richard Fendley Jr.—whose Red Devils are off to a blazing 7-1 start and 1-0 record in Region 7-A II ahead of Friday's home game against Cross Keys. Bowdon's recent victory was a 42-21 triumph over Christian Heritage and the program carries the No. 3 ranking in Class A Division II heading into Week 10.
Host Craig Sager II, the Chief Editor of Score Atlanta, will also welcome on Gainesville head coach Josh Niblett—who has led the Red Elephants to an undefeated 7-0 start in his first season at the helm. Gainesville scored a 34-0 win over Habersham Central on Friday to improve to 3-0 in Region 8 and are currently ranked No. 5 in the Class 6A poll.
Also, Score Atlanta reporter and content strategist Najeh Wilkins will join Craig to break down more developments ahead of the Week 10 slate and discuss the Georgia High School Football Hall of Fame celebration this upcoming weekend.
The podcast is produced by PlayOn Sports, which runs the National Federation High School Network, and airs Mondays, Wednesdays and Fridays starting at noon.